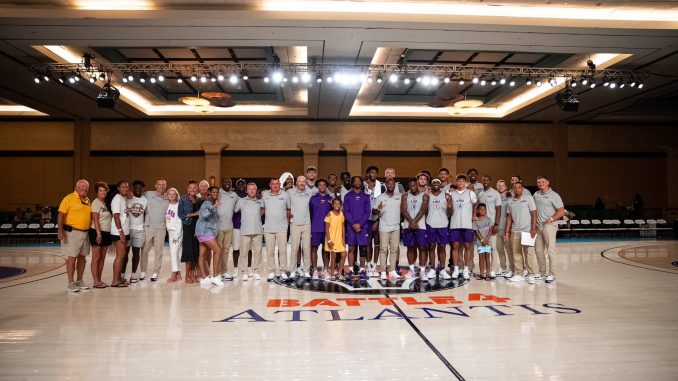 Led by LSU's frontcourt combination of Will Baker, Daimion Collins, Hunter Dean and Corey Chest, the Tigers punctuated a 3-0 showing in the Bahamas with a 118-78 win on Thursday over Obras of Argentina.
The aforementioned group for coach Matt McMahon combined for 49 points and LSU shot 56.8% from the field.
"I loved our start today in the first quarter; I thought everyone came out with great energy," McMahon said. "We were able to create some turnovers on the defensive end of the floor that got us out in transition, and I thought everyone played with great unselfishness and got a lot of good looks. We didn't shoot the ball exceptionally well from three but really did a good job attacking the rim and getting some good baskets. I thought Jordan Wright in the first half was just terrific on the offensive end of the floor, enabling us to build a big lead.
"As for the trip, this has been just terrific for our team," McMahon said. "The time we've gotten to spend together, the ten practices before we left, the time outside of basketball this week in the Bahamas has been really good. As we try to take these six returning players and nine newcomers and start to build the chemistry of our team, the commitment to winning, and the understanding of what each player is about. I think it's so important that you have trust in the locker room and you usually see that carry over to the court. This has been really beneficial for us."
Baton Rouge native Jordan Wright, a transfer from Vanderbilt, topped LSU with 27 points on 10-of-19 shooting that included four 3-pointers in 24 minutes of action.
"Well, I think the guys play the right way on the offensive end of the floor," McMahon said. "We weren't running a lot of plays, we were just trying to play out of concepts and be very unselfish. Guys stepped up and knocked down not only the threes Jordan (Wright) made, but the post-up opportunities for Will Baker, and you saw his efficiency in there. I thought Corey Chest gave us great energy, chasing rebounds, and finishing plays around the basket. Everyone we played was able to contribute, not just today but throughout the trip. It's been a really good learning experience for us."
Baker hit all five shots inside the arc and finished with 19 points in 16 minutes, while Collins, Chest and Mwani Wilkinson each posted 12 points. Tyrell Ward was in double figures for the third straight game with 11 points in 15 minutes.
Obras, 0-3, in the Bahamas, shot 35.3 percent for the game (24-of-68) and 12-of-41 (29.3 percent) from distance.
LSU jumped out to a 14-2 lead in the first five minutes and one of the game's standout moments came in that quarter on one possession when LSU offensive rebounded that eventually led to a Collins putback.
The Tigers led 62-39 at halftime and their biggest lead was 48 at 118-78. Trae Hannibal who had nine boards and an impressive 11 assists and just two turnovers.
Earlier in the tour, the Tigers defeated Puerto Rico, 86-82, and Raw Elite Talent (a Bahamas club team), 120-59.
"Yeah, really excited about our team, love our group," McMahon said. "Obviously, we need to get healthy. We had four guys who were unable to play on the trip and look forward to getting them back when we start the Fall semester of classes. I love the talent and athleticism. We have great character in our locker room and those things give you a foundation to build a team that can win. Can't wait to get back to Baton Rouge and get started this fall."