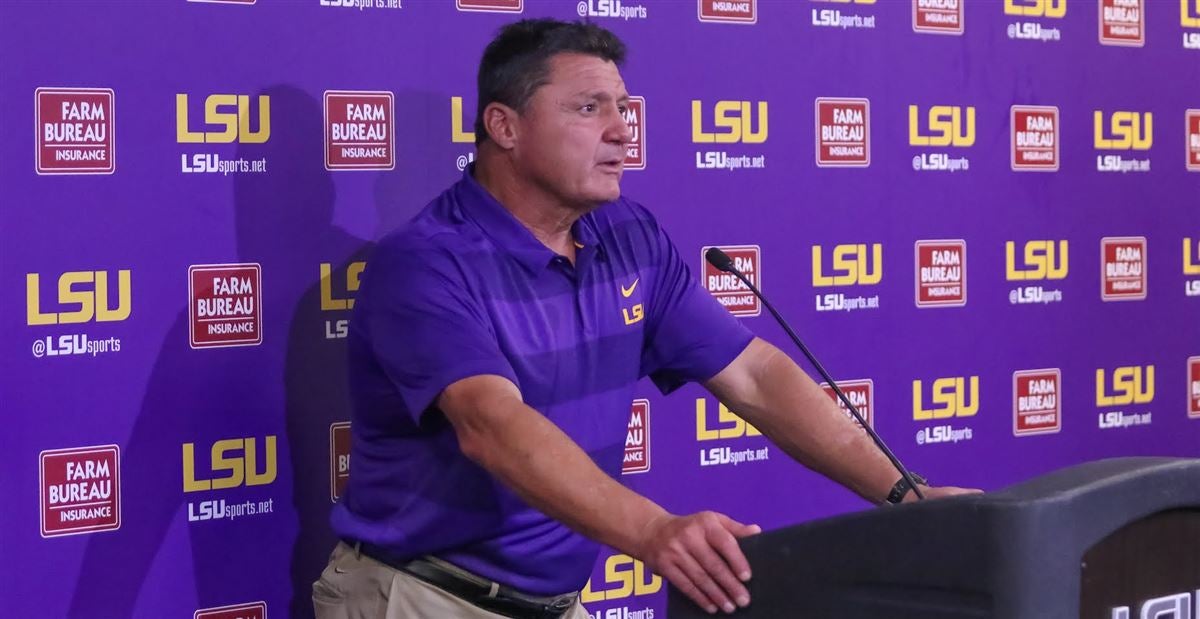 The top three wide receivers of Justin Jefferson, Ja'Marr Chase and Terrace Marshall may have separated themselves from the pack, but a couple young wide receivers have also impressed during fall camp.
Orgeron had a lot of praise for junior receiver Jontre Kirklin and freshman Trey Palmer, the latter of whom only arrived in practice for the first time this week.
Kirklin spent his first season with the Tigers playing defensive back before making a move to wide receiver during the 2018 season.
Now, Orgeron seems to think he's primed to make an impact as a receiver in LSU's newly-tuned offense.
"He's doing really well. Really well," Orgeron said. "He's fast. He's learning the offense and catching the ball a lot better than he has. He's on the second-team right now, getting a lot of reps and catching a lot of balls."
Palmer arrived in practice for the first time Monday, and apparently his impact could be felt immediately.
Orgeron said the speedster caught a 70-yard touchdown pass in his first practice back, living up to the big talk coaches had for him leading into fall camp.
"He showed his speed," Orgeron said. "He had a big, physical hit today… he ran over a cornerback. He shows tremendous skills. We test our players, and he's extremely smart. Our coaches are really impressed with him.
Special day for special teams
With the second scrimmage of fall camp right around the corner, Ed Orgeron said he expects to see a lot from his special teams unit on Saturday.
"All of it," Orgeron said. "We're doing it all. We're punting, punt return, recovering punt. … It's going to be a big day for special teams. All facets of the game."
The only special teams stats Orgeron spoke about last week involved freshman kicker Cade York, who he said successfully booted 8 of 10 field goal attempts through the uprights, including a 51-yarder.
With spot punter Josh Growden transferred to West Virginia, Zach Von Rosenberg will likely take over full-time punting responsibilities, though kicker Avery Atkins has apparently been trying his hand at punting as well.
Orgeron also confirmed freshman cornerback Derek Stingley will start the season as the Tigers' primary punt returner, saying he's excited to see what he does at the position.
Young RB's making mark
Two of the most talked-about freshmen entering the 2019 season have been running backs John Emory and Tyrion Davis-Price.
Both seem to have impressed Orgeron so far throughout fall camp, and he mentioned both as athletes who will make an impact this season.
"Davis-Price had a great day yesterday," Orgeron said. "It was short-yardage, and he was lowering his pads. He had a big, physical day."
Orgeron went on to say that analyst and former USC coach John Robinson compared him to a number of great backs he's coached.
He then went on to call Emory one of the most talented young players on LSU's roster.
"Those guys are going to play well this year. They're elite backs."
Photo Credit: Terrill Weil