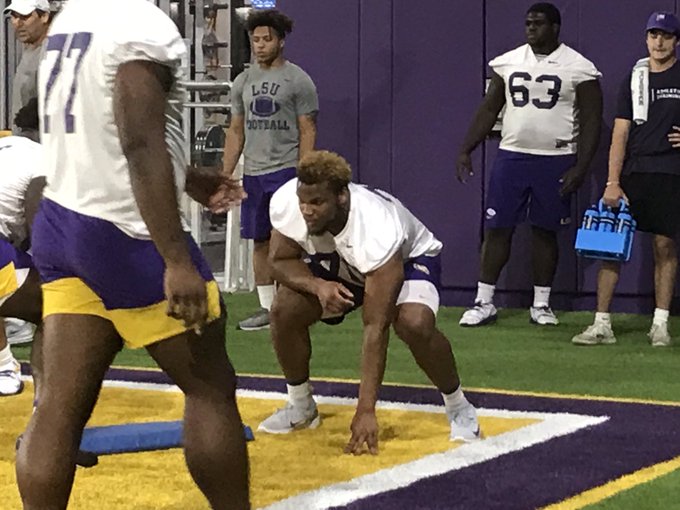 The reinstatement of Ed Ingram following a suspension that lasted more than a year figured to shake up the left side of LSU's offensive line sooner rather than later.
Emphasis on sooner, it turns out.
Ingram will start at left guard against Utah State on Saturday, LSU coach Ed Orgeron announced during his post-practice presser Thursday evening. It'll be Ingram's first game action since the 2017 Citrus Bowl.
"Ed Ingram is going to start," the coach said. "He's earned a starting spot."
The shakeup doesn't stop there, either. Adrian Magee, ostensibly supplanted by Ingram at left guard, will get the start at left tackle in place of Saahdiq Charles, Orgeron added.
Orgeron didn't elaborate on why Magee will be playing in place of Charles against Utah State. Charles didn't play in the Georgia Southern or Northwestern State games for undisclosed reasons.
"Adrian is going to play left tackle this week," Orgeron said.
Magee started the first four games of the season at left guard, but it seems Ingram beat him out for the job in practice.
Ingram was reinstated to the team on Sept. 20 after aggravated sexual assault charges in his native Texas were dismissed. He'd been suspended from the team since the start of camp last season.
"We stayed in touch with the administration and they guided us along the way," Orgeron explained. "They told us what to do the whole time. We followed the rules the whole time and now he's back. We believe in Ed and I'm happy for him."
His ascension to the starting lineup in such short order speaks both to Ingram's talent and the work he put in while away from the team. He both lost weight and stayed current enough with the offense to step right in.
"Ed lost a lot of weight," Orgeron said. "He was down to 280-something, and obviously he's gained his weight back. He was always working out on his own. He just kept his mouth shut and waited his time. We're proud of him."