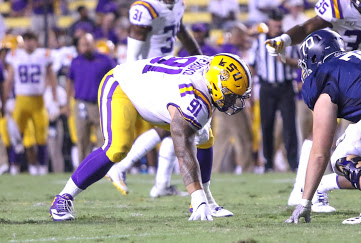 For all the talk of Tyler Shelvin and Siaki "Apu" Ika battling for a starting role at the nose tackle position during the offseason, it looks as though another name as entered the mix as LSU prepares for No. 9 Texas
LSU head coach Ed Orgeron said in his final meeting with the media before the bout Thursday that defensive end Breiden Fehoko has been getting work at the position this week.
"Breiden works at nose tackle," Orgeron said. "I want to get Breiden more reps. He's considered a starter for us. I think you'll see him more in the rotation this week."
Fehoko spent the bulk of last season playing nose tackle, so it's nothing new for him, and he could bring a lot of experience to a position loaded with youth in a high-profile game this early in the season.
If you can't take the heat…
The Tigers may used to playing in high temperatures being located in one of the hotter climates in the continental United States, so that projected 103-degree high on Saturday may not look so daunting at first glance.
But what LSU isn't used to is playing on turf, which can make make things even hotter on the field than usual in those conditions.
Orgeron said the Tigers have taken precautions and even asked for advice in preparation of the heat.
"We prepared. We have air conditioning that will be in the locker room before the game. We've heard the locker room doesn't have much ventilation. We got the cool zones on the sideline. I did talk to Louisiana Tech, and they felt that the sun was not on their sideline at 7:00."
Scouting Sam
After defending the triple-option last weekend against Georgia Southern, the Tigers will get their first look at a somewhat traditional quarterback this weekend in Texas' Sam Ehlinger.
Orgeron said LSU backup quarterback Myles Brennan has served as the scout-team quarterback during practice this week, and though he's been good, he hasn't been able to replicate Ehlinger's ability to run.
Orgeron lauded the Longhorns' quarterback for his ability to scramble and use the middle of the field to hurt defenses in pressure situations.
"I do expect them to run the quarterback more," Orgeron said. "He's dangerous when he scrambles, especially inside, not outside the pocket. He runs it between the tackles like a running back. That's where he makes a lot of his plays."
Photo Credit: Terrill Weil