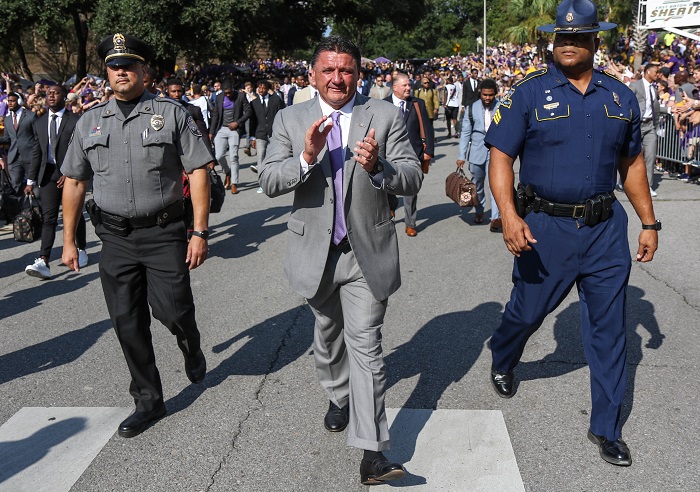 Thanksgiving night 2016 will forever be remembered as one of the wildest nights in the history of LSU football.
Inside Kyle Field, LSU closed out its regular season with a record-setting 54-39 rout of Texas A&M. A group of players who'd stayed the course after the firing of Les Miles celebrated the victory by dousing interim coach Ed Orgeron with a Gatorade shower.
Orgeron, thought to be coaching for his dream job, took time to celebrate with family and thank his players and assistants. Orgeron made a point to seek out interim offensive coordinator Steve Ensminger and throw his arms around him: "Hung 50 on 'em, baby," Orgeron grinned. "You did it."
Meanwhile, away from the playing surface, the rumor mill kicked into overdrive. It began with a report out of Austin that upstart Houston coach Tom Herman was closing in on an agreement to become LSU's next head coach.
LSU AD Joe Alleva vehemently denied that any such deal had been reached with Herman, but the whispers crescendoed nonetheless. Word clearly reached Orgeron once he left the field that night, which made for one of the more surreal postgame press conferences you'll ever here.
Word also reached the players who'd laid it all on the line for Orgeron during his two months as their interim leader. They weren't shy about making their feelings on the coaching search known, either.
"He's building something here, and it's going to be special," cornerback Tre'Davious White said that night. "I feel like our LSU program would be in great hands with him."
"His energy is contagious," fullback JD Moore added. "I think the reason we're able to drown out the noise is because he does it. He hasn't changed the way he's coached us from the first day to now."
The events of the next two days shaped the course of two storied programs for the foreseeable future. Orgeron interviewed for the full-time job the following day. Later that day, Texas fired Charlie Strong and LSU called off its pursuit of Herman.
Alleva summoned Orgeron to campus the following morning. Orgeron famously broke the speed limit driving up I-12 to accept and was formally introduced as the full-fledged coach at a press conference that very day.
The two finalists for LSU's head coaching vacancy will cross paths again this Saturday night under a national spotlight in Austin on opposite sides of a top-10 showdown.
For his part, Orgeron has shown no public interest in the Orgeron-against-Herman subplot. He said Wednesday that he doesn't know the Texas coach and wasn't sure he's ever so much as shook Herman's hand.
"Don't care," Orgeron said about the storyline as a whole. "I'm happy to be the coach at LSU. This is about our football players against their football players. None of that means anything."
For No. 6 LSU, the meeting with No. 9 Texas will be only the second non-conference road game between top-10 teams in program history. The other happened way back in 1970, a 3-0 loss at Notre Dame.
A lot has changed since LSU made the decision to remove the interim tag from Orgeron's dream job. Both Orgeron and Herman led their respective programs to 10-win seasons in 2018 that were capped off with rousing wins in New Year's Six bowl games.
Both came into the 2019 season with championship aspirations, and now each stands squarely in the other's way.
One thing hasn't changed since those chaotic three days in November of 2016: the way LSU's players feel about their Cajun coach.
There aren't many holdovers from that 2016 roster, but the veterans who remain are some of the leaders of the current group.
Players like Rashard Lawrence and Lloyd Cushenberry claim they weren't caught up in the Orgeron-versus-Herman hoopla back in 2016 — nor the headlines going into this week — but are openly thrilled with the way it all worked out.
"As a football team, we can't really look into those kind of things," Lawrence, a senior defensive end, said. "We like our coach. We like him a lot, so we're going to follow him. He's going to lead this program until we're where we want to be, and I think we're definitely on the right track right now."
"I wasn't paying attention. I was just trying to do my job as a player, but we all believe in Coach O and we try to not even think about that," added Cushenberry, LSU's starting center. "You couldn't ask for a better coach than Coach O. We love him. He's always going to have our back, and we're going to have his back no matter what."
LSU's players embraced Orgeron back in 2016 because he did things differently than his predecessor. He immediately cut down on practice time to keep players fresher, something a policy still in place today, and tried to make things more fun by borrowing the weekly calendar concept from Pete Carroll.
Look at the way Orgeron ran camp with a more veteran roster this season.
Experienced players like Joe Burrow, Grant Delpit, K'Lavon Chaisson and Kristian Fulton were given plenty of time to rest what Orgeron called "minor camp injuries." Starters were held out of live scrimmages. As a result, LSU is largely healthy going into this weekend's massive matchup.
Simply put, Orgeron is a player's coach, and his players love him because of it.
"He communicates with us," Lawrence explained. "When he sees guys having nicks and bruises, he doesn't feel sorry for us, but he understands. So cutting down 15-or-20 minutes of practice. That kind of thing helps. He's always got an open office, so if you've ever got a question or concern, you go in and he'll shoot you straight. There's no lying to you about depth charts of how we're doing every day."
"He's a player's coach," Cushenberry added. "He's all for LSU. He's all for us. Being a guy from Louisiana, he's going to want the best for LSU. He's wanted to be here his whole career. He's going to do whatever he can in our best interests."
LSU's players have long been sold that calling off the pursuit of Herman in favor of Orgeron was the right move.
Photo by Jonathan Mailhes