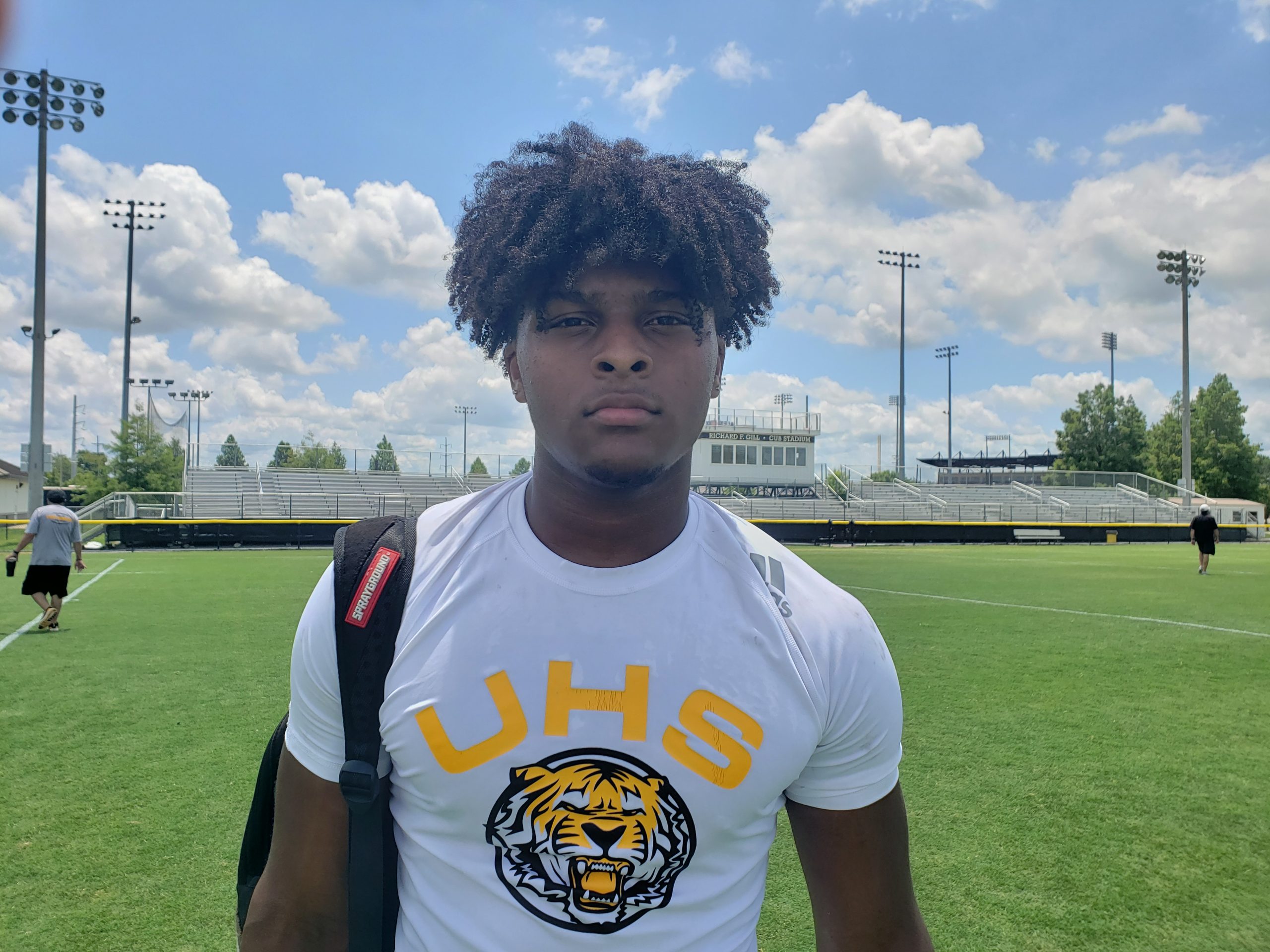 His first recollection of attending an LSU football game was in 2010.
That's when Jaiden Ausberry found himself inside Tiger Stadium watching the No. 15 Tigers defeat No. 22 West Virginia, a victory that ultimately took shape on the shoulders of a 60-yard punt return for a touchdown by Patrick Peterson, one of the program's most recognizable players.
That was 12 years ago, and Ausberry's been a regular at most LSU home games where his father, Verge Ausberry, has been a 20-year member of the school's athletic department. Before that, the elder Ausberry was a linebacker for the Tigers between 1986-89.
"Since my dad worked there, from the West Virginia game until the eighth or ninth grade I went to every LSU home game," Jaiden Ausberry said. "I went on the field, went in the locker room. I could go places at LSU with the players. That was really cool growing up. Now I'm about to possibly, maybe, be an LSU player. To be that is kind of cool."
Before you color him in purple and gold, however, you have to paint Ausberry's recruiting process with a broader brush.
He's one of the nation's top high school linebackers. The 6-foot, 209-pounder is a consensus four-star prospect and the No. 3 rated linebacker nationally. He's ranked as the No. 32 overall player by ESPN.com and is as high as the state's third-best player according to Rivals.com and ESPN.com.
"He's so athletic," U-High head football coach Andy Martin said.
"The part people don't see is how smart he is on a football field. His football IQ's very high and he gets in positions a lot of times that people don't see. It's not only the physical work he's doing but he's putting the time in watching film, in knowing his opponents and getting his football IQ as high as he can get it."
Trying to figure out where he's going to school isn't as simple as tracing his bloodlines back to his father's roots at LSU, where Verge Ausberry currently serves executive deputy athletic director. Jaiden's older brother, four-star cornerback Austin Ausberry, signed with Auburn in December and is currently a freshman on the Tigers football team.
"When I was younger, I looked at Signing Day and tried to see where players were going. And now I'm in that position. It's really cool to sign with a college," Jaiden Ausberry said. "It's one of the biggest decisions of your life. You can manifest your destiny for the rest of your life. It's going to be a business decision because it's not just about the football part, it's also about academics. That all goes into the decision."
Jaiden Ausberry took his first official visit to Auburn on June 3-5 and is headed to Notre Dame this weekend for a subsequent visit. He will follow that June 17th with an official visit to Texas A&M, Michigan on June 24th and decide between LSU, Oregon, Florida, and Miami for a final official visit in August.
He plans to take advantage of the NCAA's early signing period, which opens Dec. 15.
"Now I'm taking the officials and really letting it soak in, listening to what the coaches are saying when you get there," Ausberry said. "You've got narrow the schools down because you don't have all the time. It gets real business-like. I like to visit all of my schools. I'm going to go with what's the best thing for me and my future, whether that's here or out of the state. Location was never a problem for me.
"I want to be a business major. That's big and my mom (Cheri) is high on academics. The NFL's not for long. You have to do something after. The NFL is not going to be your job forever. I put a big emphasis on academics because the football part's not going to last forever."
Ausberry's fully embraced the recruiting process, canvassing the country last spring with unofficial visits to Texas, Ohio State, Florida, Georgia and Alabama.
This spring's proved to be just as eventful, yet an entirely different experience. Ausberry has enjoyed coaches from LSU, Texas A&M, Florida and Miami being among those visiting him to continue the relationship-building process and watch him work out.
"That was cool getting to speak to them," Ausberry said. "I've really never let recruiting overwhelm me. I try to balance it out between school and football and then that."
In the case of LSU, it has been time spent getting to know the brand-new staff of head coach Brian Kelly, who was hired Dec. 1. It's part of the business of college athletics Ausberry's been accustomed to during his time around the program, as Kelly represents the third head coach for the Tigers he's gotten to know.
With a new head coach comes different assistant coaches and Ausberry has given LSU defensive coordinator/linebackers coach Matt House passing marks in their short time together.
"It's been cool getting to know Coach House," Ausberry said. "He came from the (Kansas City) Chiefs, where they won the (2020) Super Bowl. That tells you he's a really good coach. Coach Kelly came from Notre Dame, and he won there. They have a good staff right now. I've built a good relationship with the whole staff."
LSU is one of the schools that believes versatility will be among Ausberry's greatest attributes once he gets to college.
At U-High, the reigning undefeated Division II state champions, that's been clearly defined by Ausberry's ability to play multiple positions on defense, including middle linebacker since the third game of his freshman year.
"You're a special player if you can get on the field as a freshman and he showed he could handle it from the inside (linebacker spot)," Martin said. "He was about 190 (pounds) at the time. He has a nose for the football. He knows how to get in place, he knows how to cover people. He was the right fit for it."
Ausberry has compiled 269 tackles – an average of 90 per year – with 18 tackles for loss, 14 quarterback sacks and four fumble recoveries, two of which he returned for touchdowns. He was a big part of last year's state-title team, earning first team Class 3A All-State honors with 94 tackles, 12 TFLs, four sacks, four passes broken up, three caused fumbles, two fumble recoveries and two interceptions.
With a frame that could easily handle additional weight, Ausberry could see himself playing strong or weakside linebacker, free or strong safety.
"I'm not done growing," Ausberry said. "Speed is big, and offenses are mostly spread. You have to be able to move in space."
Ausberry finds himself in the midst of a month in which his four official visits to different parts of the country will have a profound impact on his eventual decision. He knows the fifth and final trip, whether it's to LSU or not, may hold the key to unlocking an answer in a recruiting journey he's enjoyed throughout.
"I just try and focus on myself," Ausberry said. "Wherever I go, it's going to my legacy. The coaches at Auburn and LSU have said they're recruiting me for me, not for your brother or your dad. When you're about to enter the (NFL) Draft, they're not going to talk about my brother or my dad. I'm Jaiden Ausberry."