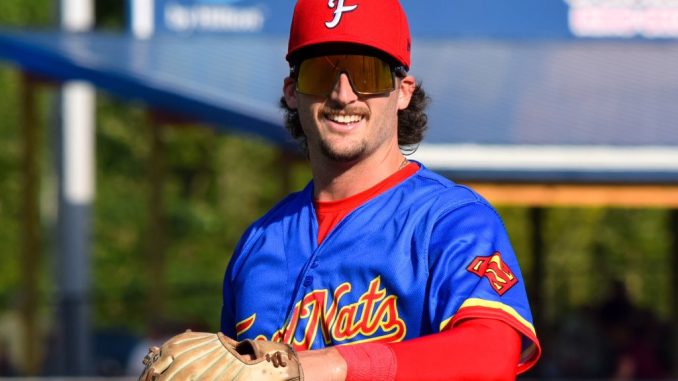 Former LSU All-American Dylan Crews, the No. 2 overall pick in the MLB Draft of the Washington Nationals, enjoyed a career outing for his first professional team Sunday in a losing effort.
Crews, who homered two games into his first assignment in Class-A Fredericksburg, Virginia, had his first 5-for-5 performance that included a pair of homers, six RBIs and a walk in the Nationals' 14-13 road loss to Lynchburg, Virginia on Sunday.
On Monday, Crews was named the Carolina League's Player of the Week with a .414 average and five extra base hits in six games.
Lynchburg opened an early 5-1 lead when Crews homered for the first time – a two-run shot – to trail 5-3 in the third inning.
Fredericksburg regained the lead at 6-5 on Crews' two-run single in the fourth when Lynchburg took the lead for good with three runs in the fifth and three more in the sixth for a 12-8 advantage.
The Nats rallied to tie the game at 12-12, including a two-run homer from former Alabama standout Andrew Pickney in the seventh, before Lynchburg scored the go-ahead run in the eighth.
Crews is batting .333 with four homers and 15 RBIs in eight games in Fredericksburg, while former LSU teammate Gavin Dugas is batting .222 with a home and three RBIs in six games.
Fredericksburg (19-22) is 7.5 games behind Charleston in the Carolina (Tampa Bay Rays) League South.
The stay for No. 1 overall pick Paul Skenes was a short one in Pittsburgh's Rookie League. The dominating right-hander retired the side in his one and only start with the Pirates last week, topping out at 101 miles per hour, to earn a promotion to the Class A Bradenton (Fla.) Marauders in the Western Division of the Florida State League.
The Marauders (26-16) open a six-game home stand Tuesday against Lakeland.