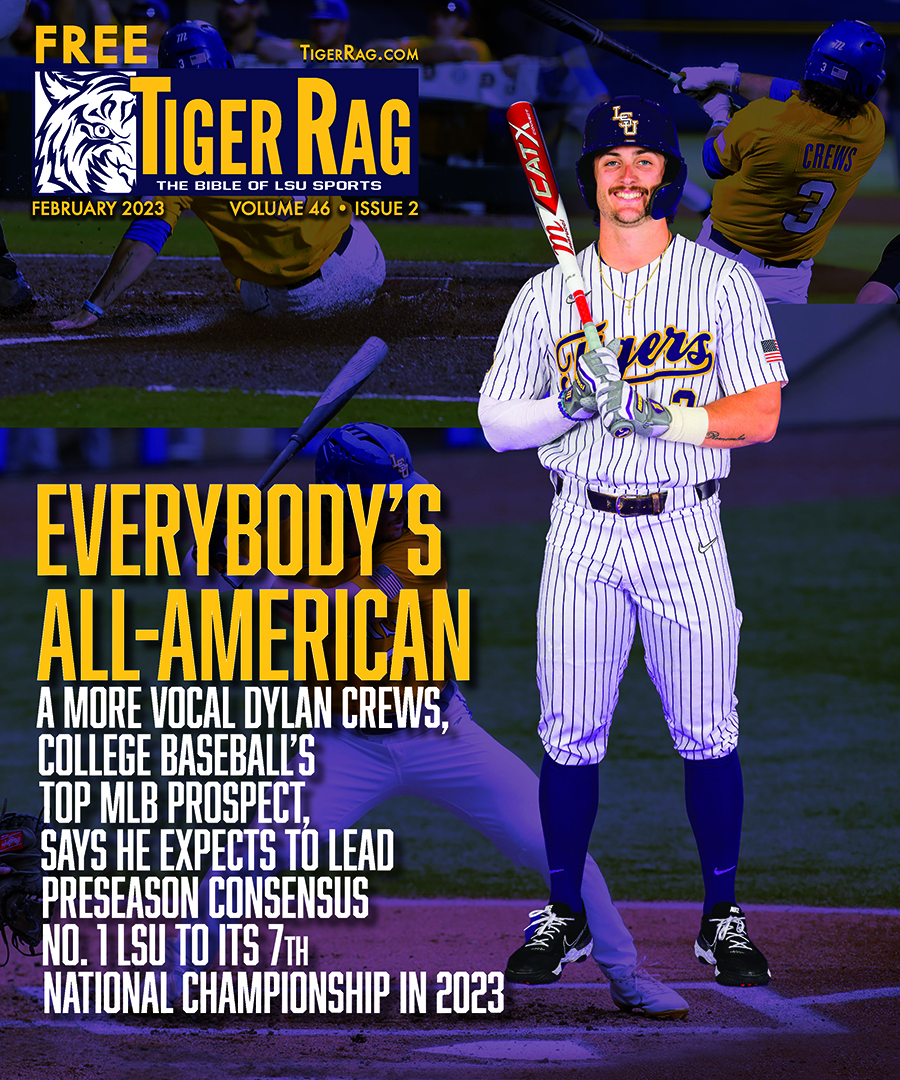 Major League Baseball started drafting players in 1965 or 57 years ago.
Former LSU great Ben McDonald was drafted No. 1 overall by the Baltimore Orioles in the MLB Draft in 1989 and is the only player in school history ever taken No. 1 overall.
And while LSU baseball has had 231 total players drafted since MLB instituted its draft in 1965, odds are looking strongly in favor of junior centerfielder Dylan Crews not only joining that number after LSU in 2023 realizes its goal of winning its seventh College World Series title this summer, but Crews also figures to be joining "Old McDonald" as a No. 1 overall pick.
Not that Crews spends much time thinking about the MLB draft, or the thrill of being the No. 1 overall pick. It's less than two weeks before the college baseball season starts and LSU is loaded. The Tigers are the consensus No. 1-ranked team in the nation and have, in the opinion of anyone who claims to be an expert on college baseball, the most talented and complete roster in the nation from top to bottom.
Crews is at the top of that talent-laden roster. He's not shying away from the expectations, the hype, and the hope surrounding LSU as it begins its title trek soon. Nor, he says, is he shying away from the personal expectations.
He relishes them.
Crews says he does not have time to think about anything other than getting better "one day at a time" right now, "winning the first game, then the next one after that," and also on becoming a "much" more vocal leader than he's been in the past two years for this talent-laden Tigers team.
He's laser-focused on team success and he's committed to maxing out his ability throughout the 2023 season, he says.
"I've always led by example before," Crews said. "But I came out of last season with a personal goal to be more a vocal team leader. When I speak, people listen more. So, I'm really trying to use my voice more and get the guys going. It's worked out a lot so far."
The Pittsburgh Pirates have the No. 1 pick in this year's draft. LSU coach Jay Johnson had a message for the Pirates organization, re: the draft.
"Don't think too hard." Johnson said.
Johnson sort of smiled and giggled when he passed along the advice to the Pirates' brass. But he was dead serious.
"Dylan, this dude is a different cat in terms of talent," Johnson said. "This doesn't show up in college baseball very often but how hard he works, how disciplined he is, the type of teammate he is."
Crews had a .349 average with 22 homers, 72 RBI, and 42 walks in 2022. He also had a .994 fielding percentage, making only one error in 62 games.
Dylan, you had a great season last season. What stands out most when you think about it in retrospect?
"We lost in the regional," Crews said. "We should have won it. It's over. I'm thinking about today."
That's Crews being himself, Johnson says, adding that not only is it genuine, it's authentic and he's focused.
Johnson says it's one of the unique things about Crews that sets him apart. It's a mental approach that intrinsically is his own, and it is one of the important factors in his composition, that makes him the special player he is.
"Best player in college baseball," Johnson said. "Yeah, he's special. I was having a conversation about it last night and I'm on a really good run of hitters and position players here the last five years between Arizona and LSU. I mean, it's not even a question.
"It's the talent and then there's not a tool that he doesn't possess to be an elite major league player, an all-star someday. Just much like Paul (Skenes), maybe a little different personality, but the mental game is elite and special as well. It allows him to get to that talent which makes him who he is," Johnson said.
Crews has the unique mentality. But it's also his physical talents that make him great.
"I think he has tremendous vision, the bat speed and the hand speed and acceleration, rotational acceleration of the lower half, everybody can see that," Johnson said, "but I think his eyes separate him a little bit because he can react to the top level of pitching and then what I call 'recover hit' better than any player I've ever seen. Looks like he's beat and then recovers and then the ball's a 400-foot home run to center field. There's maybe 10 guys on the planet at any level that can do that, that way. Seriously. Maybe 10 guys."
Last week during an LSU practice where it's leaked out that the early advantage on the field is resting with the Tigers' much-improved pitching staff. That group is led by Skenes, Thatcher Hurd, Ty Floyd, Bryce Collins, and several other future major league hurlers, who are under the guiding auspices of new pitching coach Wes Johnson. Johnson spent the past two seasons leading the Minnesota Twins pitching staff, but Crews cracked the code for everybody to see.
He turned on a near 100-miles-per-hour, unhittable pitch and sent it towering over the wall at Alex Box and nearly took out the light towers in the process.
The gawkers and the talkers were legion. Jay Johnson among them.
"Crews cracked a 429-footer in practice," went the gawking banter. It's the type of myth that perpetuates and creates legends.
"It's a good thing we have a net on the scoreboard because he would've broken it twice in the last two inner squads," Johnson said, dispelling the notion of a myth.
"I'm telling you, I've never seen a hitter puts the barrel of the bat on so many 'unhittable' pitches," Wes Johnson said.
Crews breathes rare air.
He started off as one of the most highly-touted recruits to end up on a college campus in recent years. Leading up to the 2020 MLB draft, Crews removed his name from consideration despite at one point being thought of as a potential first-round pick.
"I've been through all of this hype about being a top draft pick," Crews said. "I know how to deal with it. I just have to be myself, like Coach Johnson tells me."
Once he got to LSU, Crews wasted no time becoming one of the most dynamic players in college baseball. He hit .362 with a .453 on-base percentage and .663 slugging average with 18 home runs as a freshman and backed that up by hitting .349/.463/.691 with 22 homers this year.
In the summer 2022, Crews was one of the rare players spending a second campaign with USA Baseball's Collegiate National Team, something that only a few players each year can say.
Now, he'll go into the 2023 season as the best prospect in college baseball and the favorite to be selected first overall in next year's draft.
The move to go the college route has worked out for Crews.
"It was the best decision to go to college, because I felt like I wasn't the best player (I could be) coming out of high school into the draft," Crews said. "That was my goal to go to college and develop as a player mentally and physically. It was the best decision I've ever made."
Few players go into their draft season with as many tools at his disposal as Crews has. Even fewer arrive on a college campus that way, but that's the kind of player since he was 15-years-old, when Johnson first saw Crews play.
"Some guys have talent. Very few have talent and usable skill, and he clearly had both of those things (at 15)," Johnson said.
When you start to look at individual tools, it's hard not to start by talking about the kind of power Crews has.
And boy does he ever have power.
Enough power, in fact, to elicit reactions from scouting sections at stadiums not just gawkers at a preseason practice or scrimmage. Scouts are paid to watch the best players do incredible things, and as a result, they're largely desensitized from what goes on in front of them on the field.
No one is shocked by Crews' power displays at this point, and yet, it's still enough to impress even the MLB scouts.
Where Crews has alleviated some offensive concerns over the last couple of years, however, is in his bat-to-ball skills.
His defensive skills that play well in the outfield, including good speed and a strong arm, have always been apparent, but this past season was important for Crews in establishing himself as a premium defensive prospect.
After playing right field in 2021, Crews shifted over to center field for '22 and didn't miss a beat, showcasing some of the finer points of his defensive game along the way.
"He's really good at going back on balls. We (coaches) obviously position the defense, but he has a good feel for the game and the series goes along. He's always in the right spot," Johnson said.
"He did a good job leading the outfield and being more vocal the longer he was out there last year and he has a tremendous throwing arm. So he's really become complete and there were some plays in the regional, the SEC Tournament and the last series at Vanderbilt where you go like, 'Wow, this isn't even a question mark anymore.
"He's got everything in front of him individually. He's going to be a Major League player, going to be an all-star someday – potentially MVP – and I say that really, really believing that," Johnson said.
"Yet, he's so invested in our success here, and as a coach coming into a new program, when you get your best player on your page about those things, it really, really helps you build a program."
Crews' thoughts on the subject.
"I'm really just trying to improve everything, honestly," he said.
Dylan Crews Honors and 2023 Outlook
2022 Consensus First-Team All-American
2022 SEC Co-Player of the Year
2022 Golden Spikes Award Semifinalist
2022 First-Team All-SEC
2022 SEC All-Defensive Team
2022 SEC Community Service Team
SEC Co-Player of the Week (May 9, 2022)
2022 First-Team ABCA All-South Region
2022 NCAA Hattiesburg Regional All-Tournament Team
2022 LSWA Hitter of the Year
2022 U.S. Collegiate National Team Member
2021 Perfect Game National Freshman of the Year
2021 Second-Team All-American (Perfect Game, D1 Baseball)
2021 Third-Team All-American (NCBWA, ABCA)
2021 First-Team Freshman All-American (Collegiate Baseball, D1 Baseball, NCBWA)
2021 U.S. Collegiate National Team Member
2021 NCAA Eugene Regional All-Tournament Team
2021 Second-Team All-SEC
2021 Freshman All-SEC
2021 ABCA All-South Region First Team
2021 LSWA Louisiana Freshman of the Year
SEC Freshman of the Week (Feb. 23, 2021)
Dylan Crews is MLB.com's No. 1 overall 2023 prospect for a reason – check that, for many reasons. The SEC's Co-Player of the Year in 2022 – along with former Auburn slugger and future Los Angeles Angels draft pick Sonny DiChiara – Crews is in the rare position of defending his title as the league's best player (not to mention becoming the SEC's first two-time winner of the honor since former Florida first baseman Matt LaPorta did in 2005 and 2007).