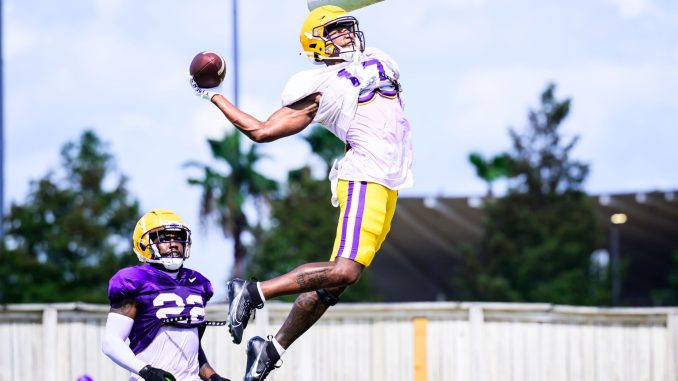 The injuries had a cumulative effect on LSU wide receiver Chris Hilton Jr.
First, he tore the meniscus in both of his knees and suffered a torn labrum in his shoulder last season.
The result? A total of eight games, including two starts, with nine receptions for 190 yards and a TD for four-star prospect and No. 54 overall player at Zachary High in 2020.
And plenty of excruciating days to sift through.
"It can put you in a dark place mentally and I was in that place for a long time," Hilton said after practice Monday. "I was able to bring myself out of it by basically having faith in God and know, I owe everything to him. That's why you see what you see now."
Junior Malik Nabers is a preseason All-SEC selection after leading LSU with 72 catches for 1,017 yards and three touchdowns. He's considered LSU's top receiving threat in 2023 and the Tigers also return junior Brian Thomas Jr. with 31 receptions for 361 yards and 5 touchdowns and senior Kyren Lacy with 24 grabs for 268 yards.
The 6-foot, 190-pound Hilton emerged after Saturday's August practice as someone to keep an eye on. He twice grabbed touchdowns of 40 yards in 7-on-7 drills from quarterbacks Jayden Daniels and Garrett Nussmeier.
"I love the direction Chris is going," LSU offensive coordinator Mike Denbrock said. "He's really as much as anybody beginning to stake his claim to some playing time."
That's all part of Hilton's plan for immense talent to catch up with the production that's been marred by injuries. After Monday's practice he beamed about being 100% and able to play with a clean bill of health for the first time in his career.
"I've made a bunch of huge jumps," he said. "My focus is different. I'm attacking each day the same way. I'm 100% healthy. In (the) spring, still had the shoulder injury still lingering. I feel like myself. My confidence is back."
Hilton had the majority of his true freshman season wiped out because of surgery to repair his two meniscus injuries. He returned to play in a nonconference game against UL-Monroe and helped a depleted team in the Texas Bowl with 39 scholarship players against Kansas State.
Hilton latched onto a school-record touchdown pass in a bowl game, an 81-yarder from Jontre' Kirklin on the game's final play.
There was an early flash during the 2022 season, catching a career-high five passes for 47 yards against Southern, and following that with two receptions for 62 yards against New Mexico.
He missed the final 10 games of the season following shoulder surgery.
"I prayed almost every day," said Hilton, a former three-time Class 5A state high jump champion with a best of 7 feet, ¼ inches at Zachary. "Attacked rehab every day and I was thankful for my trainers."
Hilton was back for the spring game in April, catching one pass for six yards, but it's been his work during the offseason that's put him in a position to be part of LSU's wide receiver rotation.
Denbrock said because of Hilton's cerebral nature and terrific athletic ability, he's a candidate to play any of three wide receiver positions.
"He's really a smart player, we could move him around if we need to," he said. "He's going to play for us. His consistency has to continue to get worked on, but he's done so much better than at any other point. I'm excited about where he's going."
Said Hilton:
"My goal this year is to basically make a name for myself," he said.