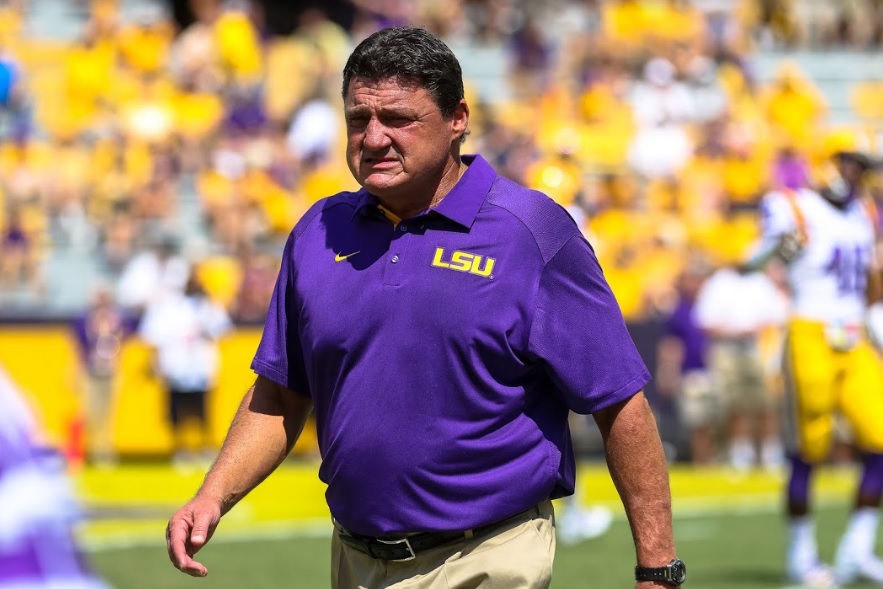 LSU fans have heard it seemingly countless times over the last few years.
"The Tigers are going to have a new-look, exciting offense next season, just wait and see."
And with the exception of 2013 when the Tigers had a capable Zach Mettenberger throwing to Odell Beckham Jr. and Jarvis Landry, these claims didn't really live up to much.
As a result, year after year LSU fans have become accustomed to meeting these claims with a hand wave and a "sure."
LSU head football coach Ed Orgeron raised eyebrows with the hire of offensive coordinator Matt Canada in 2017, but that was a short-lived interest as Canada couldn't seem to properly implement his system, leading to a lot of flash without much substance.
After an adjustment year under current offensive coordinator Steve Ensminger, Orgeron has once again garnered the interest of LSU fans, this time with the hire of a young, spry and innovative passing game coordinator Joe Brady.
Orgeron spent most of last season saying he wanted to see the offense evolve into more of a spread, five-wide receiver style, though a lack of personnel and, frankly, coaching experience in that area kept the Tigers reliant on the same ol' power game we've seen since the start of the Nick Saban era.
To remedy that, he went and snagged Brady, who has spent the last couple years studying under Sean Payton at the New Orleans Saints.
Brady brings a young swagger to the coaching staff, and he spent his first months in Baton Rouge drawin up plays and schemes and throwing them against the wall, seeing what stuck and what Ensminger felt comfortable running long-term.
All the signals indicate that the change is real. That LSU should have not only an effective product on the offensive side of the field, but an entertaining one as well.
The LSU coaching staff has put all the chips on the table, promising a completely revamped offense using spread tactics and the increasingly popular run-pass option behind a seminal leader in senior quarterback Joe Burrow.
Brady is nothing if not confident, and he speaks as if this offense is already a success.
"So from a system standpoint, we were just trying to get our speed in space and how we can get our offense to play how they have to with 11 players," Brady said. "We have to get our running backs and tight ends involved, our quarterbacks involved in the run game."
That hits all the notes LSU fans hear seemingly every offseason.
But here's a new one: if Brady is to be believed, the Tigers will spend most of next season with a five-man front. No more stacked lines of scrimmage signaling a cloud of dust.
"When a defense has to defend all 11 on the field, it limits what they can do," Brady said. "Statistically it shows that when you're in five-man protection, five-man protections give up less sacks. A lot of people think when you get a lot of pressure you need to bring the box in and bring in max protections, seven-man protections. But I think when you actually go five-man protection, you actually get the ball out faster. You limit what defenses can do."
That's more than just the yearly promise to get tight ends more involved in the pass game (which you may have noticed Brady mentioned himself, later adding that moving receiver Stephen Sullivan should get a lot of snaps at the position).
But this time, the change has to take.
Orgeron made a good-willed effort by hiring Canada, but it's no secret that the personal relationship between the two prevented Canada's offense from reaching its full potential.
LSU fans are happy to take Orgeron's side in that spat for now, but he's going to have to let Brady and Ensminger experiment without interference, sometimes during some pretty tough situations, if he wants to avoid a reputation for meddling in the offense, similar to Les Miles calling card before his exit.
There will be times when this offense sputters, especially early in the season when it first gets tested.
If LSU goes three-and-out a few times against Texas and falls behind early, Orgeron is going to have to trust his offensive minds in the box to get the Tigers out of trouble. He can't afford to let LSU revert back to the same offense that has put a ceiling on success at this program for almost a decade now.
On the same token, fans will also need to trust the process. This offense likely won't have the efficiency of a Big 12 spread right away. There will be plenty of kinks and wrinkles to iron out.
If the Tigers lose one, two or maybe even (gasp!) three games because the offense isn't firing on all cylinders, sure, you can be bummed.
But also realize that change comes with a cost, and usually that cost is a transition period.
So the cards are on the table and all the chips are in. Ed Orgeron has invested his chips in a new-look offense that his rejuvenated staff is promising will turn heads and bring LSU into a new era.
Will it lead to significant change? At this point, it better. Will that change put the Tigers back in the national championship conversation? That's yet to be seen.
But one thing's for sure. The LSU offense will be the hot topic of conversation for the early part of LSU's season, whether it's working or not.