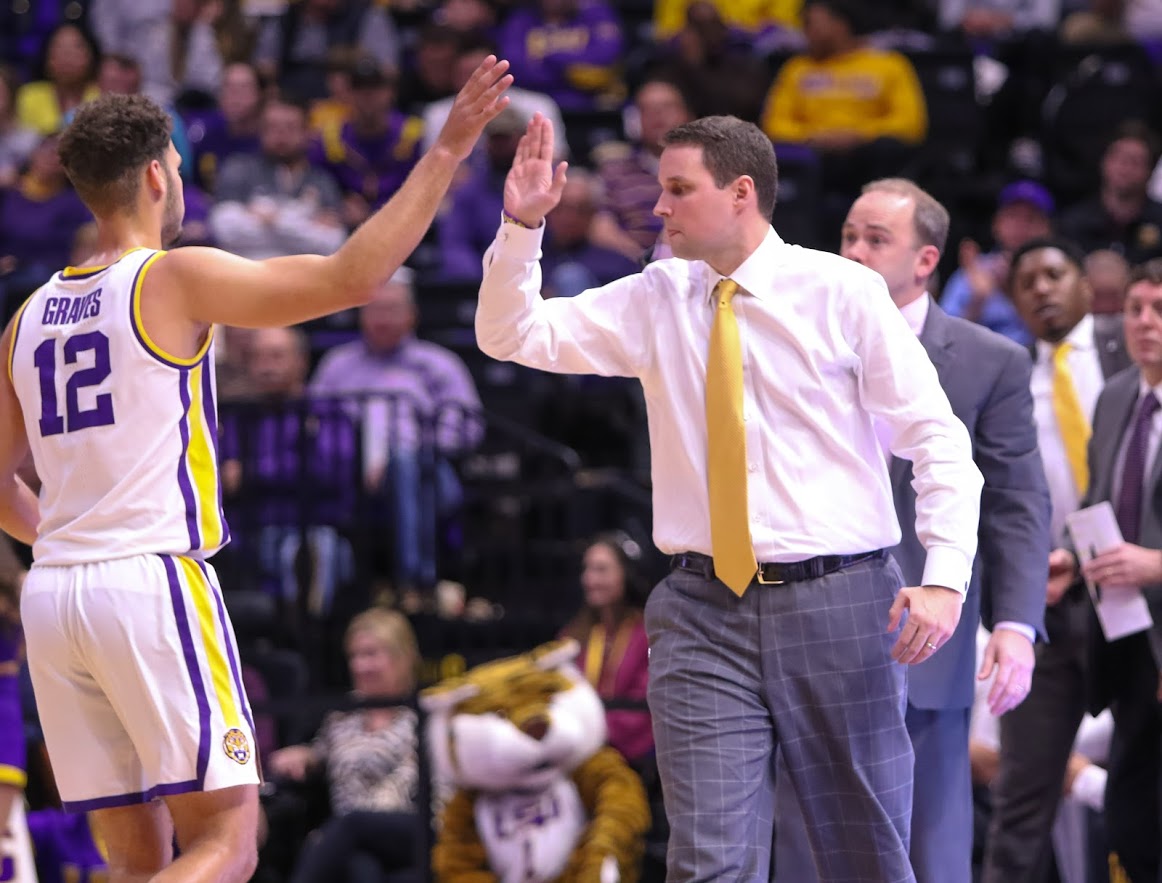 With summer quickly approaching, the NBA Draft Combine now complete and the late signing period in the rearview mirror, the 2019-20 basketball season will begin to take shape here in the near future.
LSU had the first of its players to renounce his declaration for the NBA Draft and return to LSU in Javonte Smart on Saturday, and the basketball staff has been piecing together a nonconference schedule — surely using the advice of head coach Will Wade's anonymous "numbers guy out west."
That's what we'll be talking about today, as the Tigers have some interesting matchups lined up next season, though LSU fans may be a bit disappointed with the current nonconference schedule as it currently stands.
All of the exciting matchups currently will happen far away from the comforts of the PMAC. The most interesting game slated for a Baton Rouge meeting will be the Tigers' season opener against Bowling Green, who came a win away from a spot in the NCAA Tournament, finishing second in the MAC Tournament to Buffalo.
Still, LSU will face some interesting opponents in some interesting locations in the early part of the season, and a lot of those games are worth taking a deeper look at.
VCU, NOV. 13, RICHMOND, Va.
One of the most interesting games LSU will play by far, if only because it marks a homecoming for Wade.
Just three seasons ago, Wade led the Rams to its second consecutive NCAA Tournament appearance with a second-place finish in the Atlantic 10.
The game is part of a home-and-home deal in which VCU will come to Baton Rouge in 2020 on a date yet to be announced.
The Tigers and Rams have only met once in a neutral-site game in the 2016 Battle 4 Atlantis tournament in the Bahamas.
The Wade-led VCU took that game 85-74 at the start of what would be a disastrous 10-21 season, which prompted LSU to hire the young and quickly-rising head coach after parting ways with Johnny Jones.
LSU will look to even that series in which Wade will try to remain unbeaten as he returns to the Stuart C. Siegel Center in what could be his last time for a while.
USC, DEC. 21, LOS ANGELES, Calif.
Toward the end of the nonconference slate, LSU will head out west to play in an NBA arena against a Power Five Conference opponent.
Playing USC in the Staples Center will be a highlight for a lot of kids on the court. It's not every day they get a chance to play on the same arena the Lakes and Clippers call home, at least not yet.
As for the opponent, the Trojans are coming off a down year in which they struggled to find any consistency, especially on the road where they won just two games.
They will experience a decent amount of turnover this season, but so will the Tigers, who must, at the very least, find ways to replace Kavell Bigby-Williams, Naz Reid and Tremont Waters next season.
This should provide the Tigers with an interesting test in and interesting venue, and it's surely a game the players have circled on their calendars.
THE JAMAICA CLASSIC, NOV. 22-24
One of my favorite parts of the sports calendar comes around Thanksgiving when early-season college basketball tournaments start to roll around.
Matchups that we would likely never see otherwise start to take shape and exciting non-conference games with real (albeit mild) stakes give you something to care about in a part of the basketball season that would otherwise be meaningless.
LSU will take its talents just south of South Beach this November, traveling to Montego Bay on the island of Jamaica for a tournament whose field is still being worked out.
The Jamaica Classic is no Maui Invitational — the other three teams officially slated to be there currently are North Carolina A&T, Rhode Island and Utah State; four more teams are expected to be added — but the tournament should, at the very least, provide adequate experience playing back-to-back games against Division I opponents, something the Tigers would like to go through before March.
Last year the Tigers struggled in their early-season tournament. After losing a tough overtime game with a much more experience Florida State team, LSU suffered its worst loss of the season in a rout by Oklahoma State.
The field at the tournament in its third year should be a bit more shallow than last year's Advocare Invitational, meaning the Tigers should have an easier time making it through. But it should still serve as an interesting learning tool for the team, regardless.
LOUISIANA TECH (HOOPS 4 DISASTER RELIEF EXHIBITION), NOV. 2, RUSTON, La.
This one won't count in the record books, but it's one that will mean a lot to the citizens of Ruston, who had their hometown ravaged by an EF-3 Tornado on April 25.
Proceeds from the game will go toward relief from the natural disaster that destroyed multiple homes and parts of Louisiana Tech's campus, including the program's softball, baseball, soccer and tennis facilities. As of right now, the baseball and softball teams don't know if they will even have home facilities to play in next season.
Anyone with an interest in attending the event or contributing to the cause is encouraged to contact Louisiana Tech's ticket office at (318)257-3631.
The rest of the slated non-conference schedule currently public will take place at home, with the aforementioned opener against Bowling Green (Nov. 8), four in-state games against Nicholls State (Nov. 16), Louisiana-Monroe (Nov. 29), New Orleans (Dec. 3) and Northwestern State (Dec. 8). There is still room for games to be added between now and the schedule's official release, but any editions will serve to round out a pretty busy non-conference slate.
Photo Credit: Terrill Weil