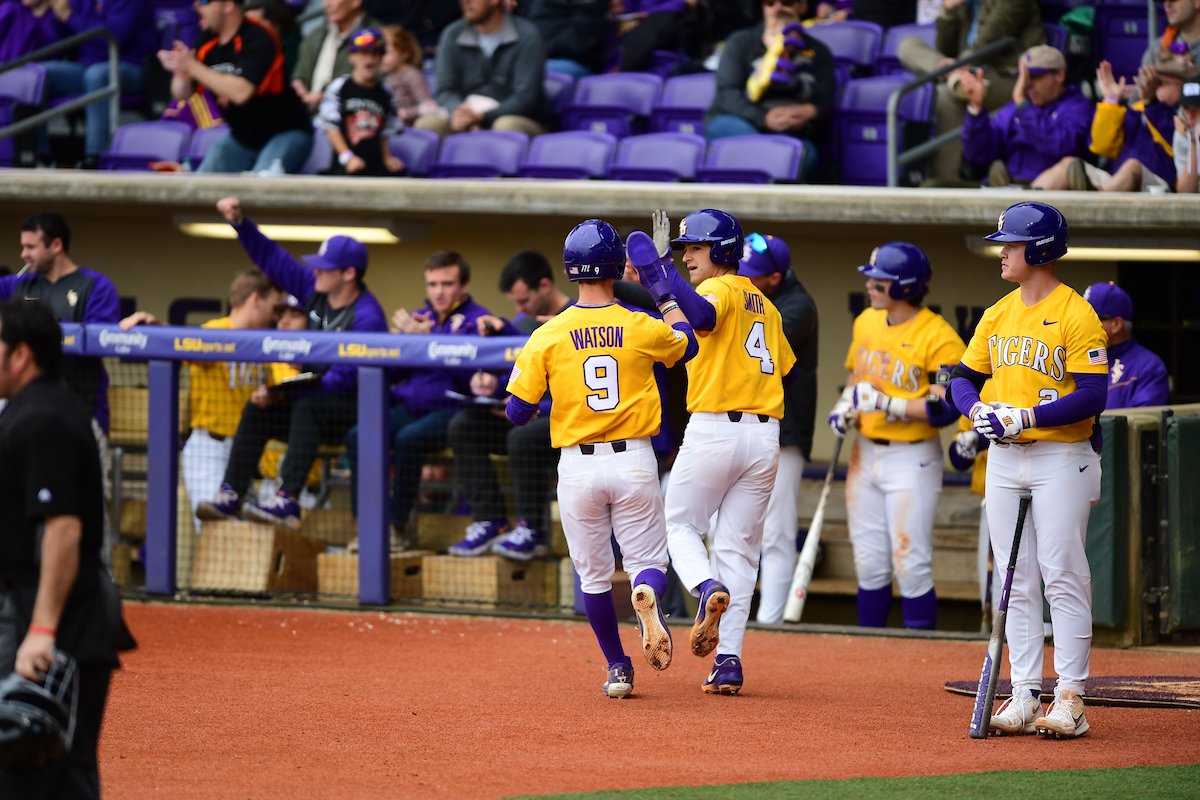 Tax Day has often been the line of demarcation for LSU Baseball under Paul Mainieri. It's often been the unofficial bat signal for the torrid finishes to the regular season that have become the norm during Mainieri's tenure.
April 15 is now one week in the rearview mirror and LSU is one game out of first place with four Southeastern Conference weekends left to play. Suffice to say the stretch run has arrived.
"This is the most important week of the year right here for me," Mainieri said. "This is it if we're going to be contenders for the SEC Championship, for the SEC West championship, to be a host, we've got to get the job done this week. Make no bones about that."
And after winning a series against Florida with a third of its starting lineup out, LSU may finally have reinforcements on the way.
Zach Watson (groin), Chris Reid (hamstring) and Gavin Dugas (thumb) won't play against Lamar on Tuesday night, Mainieri said, but all three are in line to return for this weekend's series at Alabama.
Watson and Reid have missed time sporadically over the past two weeks due to their respective leg injuries. Dugas has been out since late February after undergoing surgery to repair a torn ligament in his thumb.
LSU will slide Watson and Reid back into the starting lineup once healthy, but Dugas is a bit of a wild card after missing nearly two months. Mainieri has often lamented his absence when LSU has faced left-handed pitching as a right-handed option in the infield.
"I'm hoping against left-handed pitching is where he'll help us the most," Mainieri said. "Probably looking as a (designated hitter) or a pinch hitter against left-handed pitching."
Speaking of infielders, Hal Hughes will visit the doctor either Monday afternoon or Tuesday morning to have his ailing thumb reexamined. It's unlikely he'll be able to play against Lamar, Mainieri said, but LSU hasn't ruled him out for the Alabama series.
Zack Hess is now considered healthy after his relief appearance on Saturday. Mainieri said he "felt great" and showed no ill effects of the groin injury he suffered at Missouri, but the coach declined to discuss the rotation for the Alabama series until later on this week.
BACK ON THE HORSE
Freshman right-hander Landon Marceaux will start against Lamar and pitch two-or-three innings, Mainieri announced. He's been out for the past two weeks due to arm soreness.
Now that Marceaux is healthy, LSU needs to see he can pitch effectively before deciding if he could ascend to a more prominent role within the staff. Southern tagged him for five runs on five hits in 1.2 innings in his last appearance before going on the shelf.
"I'd really like to see him get hitters out," Mainieri said. "He had a tough time doing that last time out against Southern. It sounds simple, but that is the whole idea of the game. You've got to go out there and throw strikes and get hitters out."
If Marceaux pitches well and emerges from the game healthy, Mainieri said LSU would like to have him available by Sunday for the series finale at Alabama. Mainieri didn't specify what kind of role he'd play, but it would presumably be out of the bullpen.
ICE COLE
Cole Henry was a bad, bad man on Friday night when LSU needed him most, and he's got a share of the hardware to prove it.
Henry earned SEC Co-Freshman of the Week honors, the league office announced Monday. He shared the honor with Arkansas pitcher Connor Noland.
The rookie struck out 12 over 5.1 innings of one-run ball in a 13-1 victory over Florida. The 12 strikeouts were the most by an LSU freshman — or by any LSU pitcher in an SEC game — since Alex Lange struck out 13 against Kentucky in 2015.
LSU IN THE POLLS
LSU stayed relatively stationary in the major polls after a 2-2 week in which the Tigers won a home series against Florida. Here's where things stand in the polls, and as always, last week's rankings are in parenthesis.
D1Baseball 13 (14)
Baseball America 14 (15)
Perfect Game 9 (10)
Collegiate Baseball Newspaper 15 (15)
Photo courtesy of LSU Sports Information