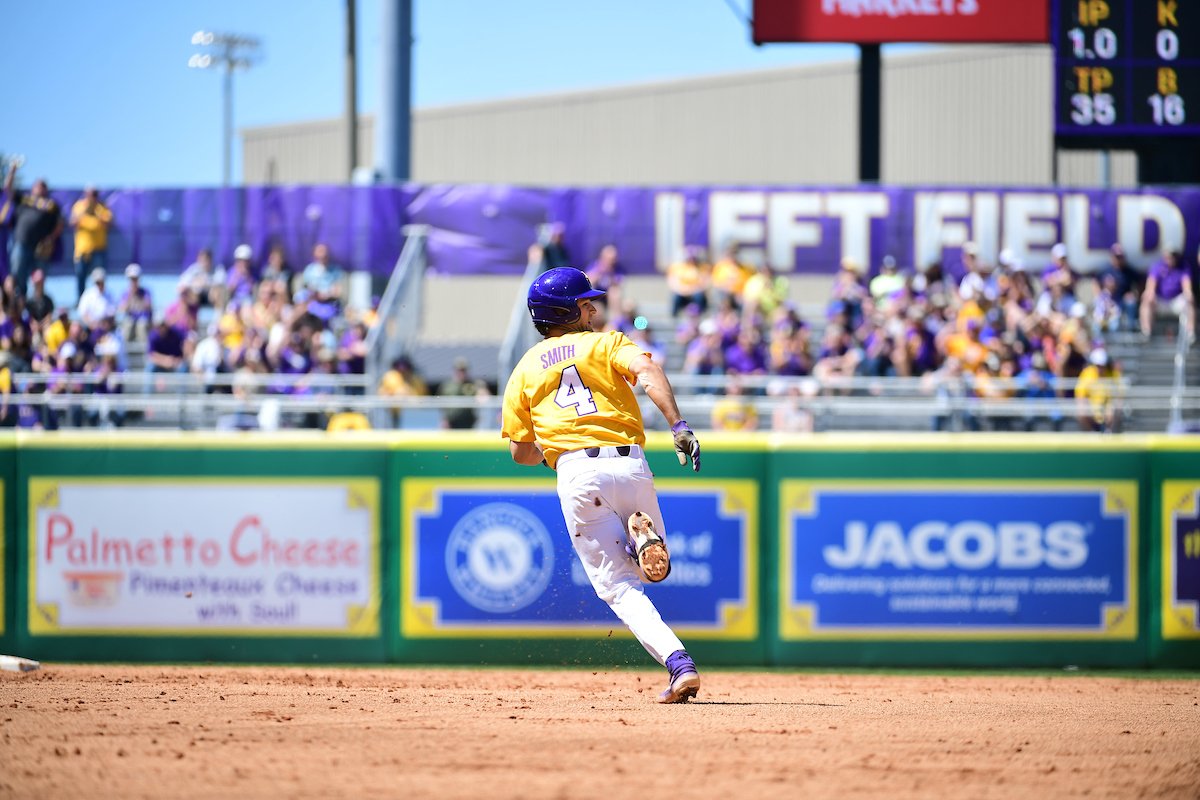 Paul Mainieri repeatedly urged his team to flush out the bad and not panic, but even the most measured observer would've agreed there was definite reason for concern.
Florida has just homered four times and hung 16 runs on the hosts in the series opener, LSU's fourth loss in a row, and the Tigers were coming to terms with the fact they'd have to play the rest of the series without one third of its starting lineup.
The way Mainieri's team responded over the next two days could go down as a turning point if LSU's season ultimately meets the lofty expectations that came with being preseason No. 1.
"I told the guys last night that tomorrow is a very pivotal game in our season," Mainieri shared. "If we really want to be a contender for the SEC Championship, we had to win this series.
"That's just cold facts, and look how the kids responded today."
LSU scored nine runs in the first three innings and crushed Florida for the second consecutive day, rolling to a 11-2 rubber match victory to take the series on a gorgeous Saturday afternoon at Alex Box Stadium.
Josh Smith doubled twice and launched a solo home run to lead the assault with two RBI and four runs.
That included scoring from second base on an infield single from Antoine Duplantis, one of three singles that drove home four runs in the first three frames. He finished the series 9-for-16 and raised his batting average by nearly 30 points.
"You've got to have your best players step up and do great things," Mainieri said. "Antoine is out guy. He got hot this weekend and swung the bat so well. Josh Smith swung the bat so well."
An LSU (26-15, 11-7 SEC) lineup featuring four freshmen and missing two of its better hitters hung 33 runs on the Gators (26-16, 7-11 SEC) in the three-game series, including 29 in a span of 14 innings at one point.
Florida led LSU 13-0 in the middle of the fifth inning on Thursday night. From that moment on, the Tigers outscored the Gators by a whopping margin of 33-6.
"That's just baseball honestly," Smith said. "We know it's a new day every day we come out here. Nobody ever got down on themselves. Just came out, swung the bats well and pitched it well."
Eric Walker happily accepted all that run support and sailed through his best outing in weeks.
The veteran was sharp with his fastball command and limited Florida to two runs on six hits with five strikeouts over 5.2 innings of work to earn the victory.
"I just got back to basics," Walker said. "When my stuff has clicked this year, I think I've been more confident. I just feel more comfortable in myself to let it rip. The stuff was a lot better today and the results just follow."

LSU brought Zack Hess out of the bullpen to get out of a two-on, two-out jam in the sixth inning. Florida third baseman Cory Acton homered in all three games of the series, including a two-run shot off Walker, but Hess retired him on a lazy fly ball to left field.
Hess didn't start the series opener due to a groin injury, but he was healthy enough for his first relief appearance since May 22, 2018. He struck out three over 2.1 scoreless innings.
With the victory, LSU keeps pace and remains just one game behind in the SEC West race. Arkansas is one game ahead in first place, and LSU will head to Fayetteville on May 9 for a three-game series.
"It could've been a bad weekend, but we flipped the script and got it done," Walker said.
LSU will take Easter off before returning to action on Tuesday night against Will Davis and Lamar. First pitch is set for 6:30 p.m.
Photo courtesy of LSU Sports Information