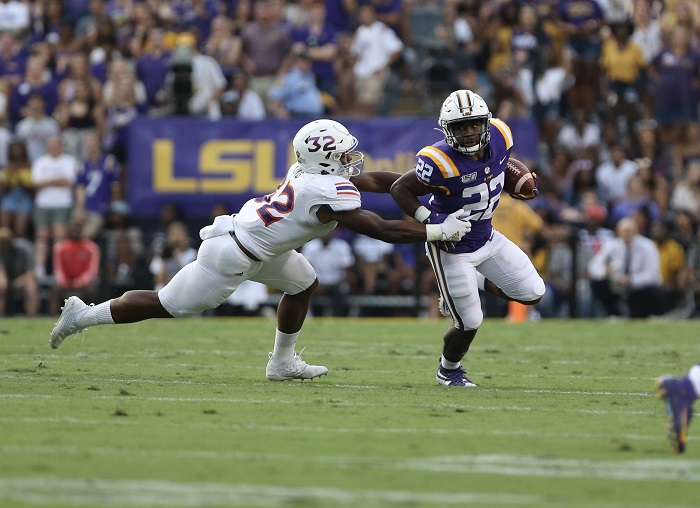 LSU broke out its purple jerseys for the first time since its now-infamous loss to Troy in 2017, and fittingly, the Tigers played a sloppy first half — especially on defense — before eventually pulling away from Northwestern State.
Some kind of emotional letdown had to be expected after last week's emotional win over Texas, but things could've deteriorated into a full-on upset scare on Saturday night were it not for the play of Joe Burrow and LSU's new offense, which kept on humming.
Burrow accounted for three total touchdowns and Clyde Edwards-Helaire added a couple of scores on the ground as No. 4 LSU asserted itself in the second half to belt Northwestern State 65-14 at Tiger Stadium on Saturday night. LSU ended the night with 48 unanswered points.
"People are going to come and try to derail what we have going," safety JaCoby Stevens said. "We need to take this as a learning experience and come out punching instead of coming out with our hands down like we did today."
LSU coach Ed Orgeron admits there's been points in his career where he would've been smashing things in the locker room after letting an in-state foe like his alma mater hang around for so long.
Instead the fiery Cajun felt confident and calm as LSU weathered some adversity in the early going, largely because of the firepower he now has at his disposal.
"Usually in that first quarter I'd be a little bit mad, I guess," Orgeron said. "I kept cool because I knew we were going to come back. I have confidence in our offense. I have a lot of confidence that our offense is going to move the ball."
Burrow finished up a surgical 21-of-24 through the air for 373 yards with two touchdowns against one interception. Burrow is the first LSU quarterback ever to pass for 300-or-more yards in four consecutive games, a streak that dates back to the Fiesta Bowl.
The senior quarterback added 30 yards and a score rushing. And that doesn't include all the running around he did to extend plays when the pass protections broke down.
"He's got great feet and great vision," Orgeron said. "He was under duress tonight. He made a lot of plays with his feet tonight that he didn't have to make last week. Joe can run the football and Joe is a dual-threat quarterback."
The curse of the purple jerseys and the visiting Demons have been exorcised, at least for one night. Northwestern State took the opening kickoff and picked up where Texas left off against an LSU defense missing more than half of its starting front seven.
Rashard Lawrence, Glen Logan and K'Lavon Chaisson are all nursing injuries while Michael Divinity was held out as a "coach's decision," per the TV broadcast. Chaisson did go through some warm-ups before the game.
Led by quarterback Shelton Eppler, the Demons were throwing the ball all over the field on that shorthanded defense.
Northwestern State's quick passing kept drives alive and LSU's previous defensive issues – lack of a consistent pass rush, shaky tackling and blown assignments on the back end — all popped up again in the first half.
The Demons finished the first half with 14 points, twice as much as they managed against Division II Midwestern State the week before. They racked up 200 yards and averaged a gaudy 5.7 yards per play against LSU, often having receivers running open through the secondary.
"Definitely not enough intensity, definitely not enough energy," linebacker Jacob Phillips said. "Second half we came out and looked ourselves in the mirror like 'Dang, bro, this can't be happening. We've got to have a shutout next half.' I think that kind of rose the energy a little bit."
LSU's high-powered offense was missing some pieces, too. Left tackle Saahdiq Charles sat out for undisclosed reasons while pass catchers Ja'Marr Chase and Thaddeus Moss didn't play as a "coach's decision."
Unlike the missing defenders, their absences didn't slow LSU down much, if at all.
Justin Jefferson and Terrace Marshall continued to eat, even without their third compadre in the mix. Jefferson had five grabs for 125 yards, his second straight 100-yard night, and Marshall snagged a pair of touchdowns.
Stephen Sullivan, shut out through two games, started in place of Moss and caught all four of his targets for 51 yards. He converted a critical third down as LSU drove for a field goal on its opening drive of the night.
Sullivan probably should've had a touchdown, too. The converted wideout slipped on a route down in the red zone, which caused a pass intended for him to land softly in Marshall's hands for his first score on the night.
"Actually it was for (Sullivan)," Marshall smiled. "I actually him fall in my peripheral vision and I just went for it. We were joking about it after. He said 'You took my touchdown.' I told him 'I do what I have to do."
Northwestern State had a golden opportunity to pull within a score at the half when Burrow threw an interception deep in LSU territory. The defense made a stop, however, and Northwestern State missed a field goal try to let LSU escape to the locker room with a 24-14 lead.
LSU looked like a more focused team coming out of the intermission. The defense tightened up and Burrow led the Tigers on three consecutive touchdown marches before turning things over to Myles Brennan and the second stringers.
Defensive coordinator Dave Aranda made the necessary adjustments at halftime. Instead of blitzing, which wasn't getting home anyway, LSU dropped eight men back in coverage and suffocated the Demon passing game. LSU allowed just 78 yards in the second half.
"We came in thinking that Northwestern State was going to lay down. They didn't," Stevens said. "They came out and scored 14 points on us. And once we kind of woke up from that, you saw what happened out there."
"Credit Coach Aranda," Orgeron added. "He worked really hard at halftime."
The oft-discussed freshmen running backs went to work in the second half as well. John Emery scored his first career touchdown on the final drive of Burrow's night, plunging in from one yard out. Tyrion Davis-Price did the same one drive later as LSU outscored its foe 27-0 in the third quarter.
Speaking of rookies, wideout Trey Palmer also got in the end zone for the first time as a Tiger. Palmer replaced Derek Stingley Jr. as LSU's punt returner in the fourth quarter and took a kick 54 yards to the house.
LSU will now turn its attention to getting healthy on defense heading into next week's Southeastern Conference opener at Vanderbilt. Kickoff is set for 11 a.m. in Nashville.