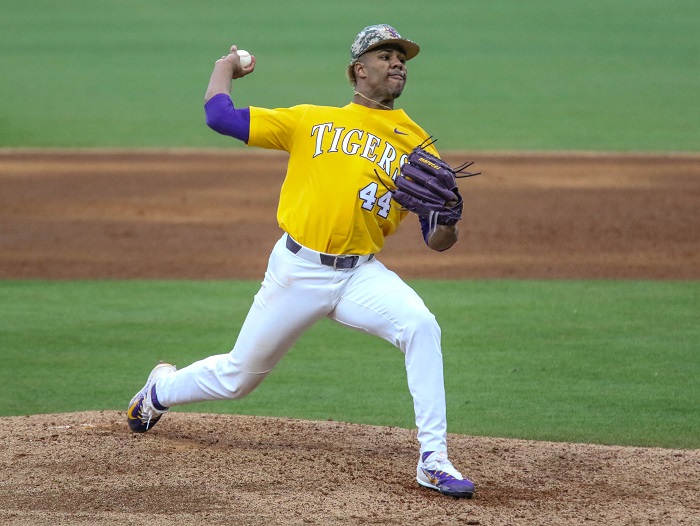 LSU got extraordinary performances on the mound from Zack Hess and Cole Henry in dropping an ultra-close road series at Georgia, but the pitching staff as a whole appears thin heading into a short week.
Jaden Hill underwent an MRI over the weekend that came back clean, but it didn't provide much in the way of answers as to the arm soreness that's kept him out since mid-February.
To compound matters, LSU coach Paul Mainieri revealed Monday that both Landon Marceaux and Chase Costello were unavailable throughout the Georgia series due to arm soreness. That's three of LSU's top four freshmen arms out of commission at the moment if you're keeping score at home.
"The MRI looked great, which is really good news because I feared for the worst," Mainieri said of Hill. "But I can't tell you where the progress is. It's been the most frustrating year I've had in coaching with regard to pitchers. We've got eight pitchers down right now … We're just thin right now."
LSU will play McNeese State on Tuesday night before embarking on a Thursday-Saturday series against a Mississippi State team that scored 35 runs in two wins over Auburn this past weekend.
Mainieri feels good about his weekend rotation of Hess, Henry and Eric Walker coming out of the Georgia series, but there aren't many healthy arms between those three and the bullpen tandem of Devin Fontenot and Todd Peterson.
Ma'Khail Hilliard will get the start against McNeese State, Mainieri said, but LSU is going to have to Johnny Wholestaff it once he departs the ballgame.
"We're going to have to piece it together with some guys who haven't pitched much," Mainieri said. "These are guys we're going to have to count on going into Mississippi State as well."
The coach isn't sure why there's been so many pitchers experiencing arm soreness at this early point in the season, but it is certainly a cause of much frustration.
Three of the eight inactive pitchers (Nick Storz, AJ Labas and Easton McMurray) had surgery and will miss the entire season. The rest are dealing with reoccurring soreness that's relatively unexplainable.
"When have we ever had pitchers get hurt like this?" Mainieri said. "And it doesn't seem like most of them are anything too serious, but they're just sore. A lot of them are young kids, so it might just be the workload from moving from high school to college, and some adapt better than others. I don't know."
The coach continued: "Believe me, it is totally being analyzed and looked at from whatever adjustments we need to make from a coaching standpoint. It's kind of a complicated thing … Sometimes it can be baffling, but we need to get to the bottom of what is causing this stuff."
RIGHTY PRODUCTION WANTED
LSU scored just two runs over the first 25 innings of the Georgia series before breaking through against the Bulldog bullpen.
In Mainieri's estimation, that inability to score was more the result of running up against a dominant Georgia rotation than some offensive ineptitude. He pointed to LSU's late comeback bid Sunday once the quality of pitching dropped a bit as evidence.
"I've been around this game long enough to know that sometimes it is bad hitting," Mainieri said. "Last week against Nicholls State it was bad hitting by us, and I know the difference between a pitcher's duel and bad hitting."
However, he did speak to the need for LSU to find more production from its right-handed hitters not named Zach Watson.
LSU will face a left-handed pitcher in Mississippi State ace Ethan Small on Thursday night and is preparing to possibly see six southpaws in a row against Texas A&M and Missouri.
"There's some cause for concern for our hitting, but I'm not going to overplay it in my mind because their pitching was so good," Mainieri said. "But I am a little bit concerned about our right-handed hitting because really the only guy in our lineup right now that's producing is Watson. That's a concern. We've got to get somebody else that does something for us from the right-handed side."
LSU has hoped that Saul Garza would be that right-handed bat in the middle of the order. He'll be behind the plate on Tuesday night, Mainieri said, and the coach shared that he met with Garza on Monday morning.
"Hopefully he's going to get it going," Mainieri said. "We need to get something going from some guys that we thought going into the year were going to be big producers for us."
LSU IN THE POLLS
LSU dropped in each of the four major polls following a 2-2 week in which the Tigers dropped two games at Georgia.
Here's where things stand in each of the polls. As always, the previous week's rankings are in parenthesis.
D1Baseball 17 (10)
Baseball American 17 (12)
Perfect Game 16 (14)
Collegiate Baseball Newspaper 12 (7)