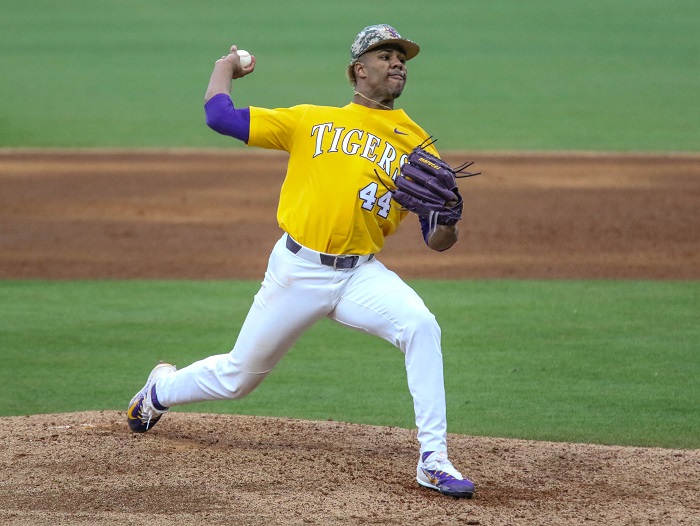 If Cole Henry, Landon Marceaux and Jaden Hill are all healthy, LSU figures to have one of the finest starting rotations in all of college baseball.
That's a big if, of course, after a season during which LSU never had its dream rotation of stud freshmen all healthy at one time.
LSU shut Henry and Marceaux down for the summer and they'll be beginning their throwing programs in the near future, LSU coach Paul Mainieri said Tuesday at his annual summer press conference.
The plan is for Hill to start his throwing program on August 11, Mainieri said, and LSU is thrilled with the progress he's made this summer after missing almost all of last season due to elbow soreness.
"Man does this guy look good," Mainieri said. "He has been here all summer in the weight room, and he has developed his body into a man. He's about 225 (pounds) right now and looks great. We're hoping all that additional strength is going to give his elbow good stability."
LSU is also excited about the progress of AJ Labas, who missed all of last season after undergoing shoulder surgery.
Labas, a Freshman All-American in 2018, is in the best shape he's been in since arriving on campus. He's spent the summer working out and rehabbing his arm, and he was recently clocked at 90 mph in a bullpen session.
"He looked really good from a distance," Mainieri said. "He threw about 40 pitches and was up to about 90 mph. We're really excited about getting Labas back."
Staying on the injury front, neither right-hander Nick Storz nor left-hander Easton McMurray has started throwing yet. The rest of the staff is expected to be ready for the start of fall ball on Sept. 29.
SCHEDULING NOTES
– LSU will open the season at home against Indiana. Mainieri also confirmed that LSU will play Texas on opening night of the Shriner's College Classic at Minutemaid Park in Houston. The rest of the non-conference schedule is still pending approval.
– Just like last year, LSU will play two fall scrimmages against other in-state foes. LSU will play UNO at Alex Box Stadium and play at Nicholls State this fall.
– LSU will open SEC play on the road at Ole Miss and close out the regular season at Auburn. That means LSU will play at home on back-to-back SEC weekends at some point this season.
– LSU now knows its cross-divisional opponents for next season. Defending champions Vanderbilt and South Carolina will come to Alex Box Stadium while LSU will travel to Tennessee and Kentucky. That means no Florida, Missouri or Georgia on the schedule.
MR. 36
Mainieri took a lot of flak for not having a left-handed pitcher in his bullpen last season. That shouldn't be the case in 2020.
McMurray, a highly-touted lefty, underwent season-ending shoulder surgery prior to opening day. He's expected back at some point, and LSU also signed a lefty out of Texas in Jacob Hasty.
"We hope McMurray comes back healthy because he's a good left-handed arm and has good stuff," Mainieri said. "I'm really excited about Jacob Hasty. You hear things from people … people from Texas say he has the second-best breaking ball from the state of Texas."
LSU may also add another left-handed pitcher to the roster before fall ball begins, Mainieri said, thought nothing is official on that front yet.
Adding an additional player would bump LSU up to 36 players, which is one above the NCAA limit. That would mean at least one player would have to leave the program before the spring semester begins.
LSU has already had one member of its signing class leave the program. Right-handed pitcher Connor Phillips opted to enroll in a junior college to keep his options open, Mainieri said.
IN THE LAB
LSU will give pitching coach Alan Dunn some additional technological support heading into fall ball and the 2020 season.
Part of the batting cage facility is being converted into a high-tech "pitching lab," Mainieri announced. LSU is essentially isolating an area and installing super slow-motion cameras to allow Dunn to better analyze pitcher's mechanics, release points and things like that.
"We can slow it down and maybe see what's causing pitchers discomfort," Mainieri said. "But I think we can also use it to help the development of the players … We're kind of entering into that technology era that so many schools and Major League teams are taking advantage of. We don't want to be left behind."
UNINTENDED CONSEQUENSES
For the first time in a decade, LSU will go into the season without an undergraduate assistant on staff. Jared Foster filled that role last season.
Essentially, LSU's options are becoming limited because of the program's high graduation rate. NCAA rules stipulate a former player must exhaust his eligibility without graduating to be eligible for the job.
"We've had 24 players over 12 years who have signed professionally and come back to school to finish their degree," Mainieri said. "The only problem is with guys finishing up is it takes away potential undergraduate coaches."
Mainieri did drop that former Tiger Matt Clarke will one day become LSU's undergraduate assistant. Clarke wants to go into coaching once he's done playing, but as of now he's still playing professionally in a league in Mexico.