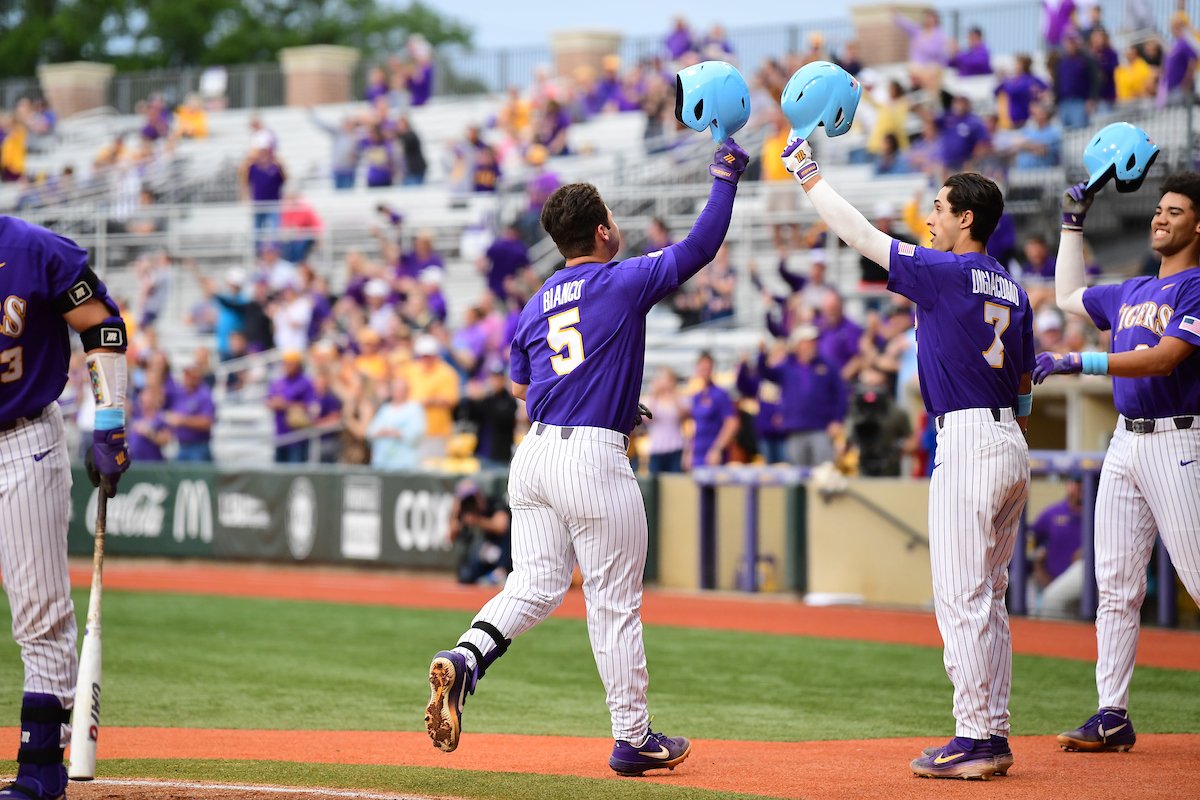 LSU began the fall needing to replace two massive holes left in the outfield by Antoine Duplantis and Zach Watson.
Duplantis was the program's all-time hits leader and Watson brought an elite combination of power and speed to center field. Suffice to say neither is particularly easy to find a replacement for.
LSU coach Paul Mainieri has been doing some experimenting some fall in search of answers for his outfield quandary, and the long-time skipper has been impressed with some physical sophomore infielders who're giving life a try in the outfield.
Drew Bianco is the leader in the clubhouse for the left field job as of publication thanks to a prolific power surge. Bianco hit five home runs with a .429 average and nine RBI through the first 10 live scrimmages of the fall. Keep in mind most of those are four-inning scrimmages.
Bianco showed flashed of power during his rookie season, hitting three home runs in 68 at-bats, but he hit just .176 with 23 strikeouts. He's looked like a much more mature hitter so far this fall.
"He's just matured a lot mentally, and the experience he's gotten has been good," Mainieri said. "I just think he's grown up a lot. I'm real happy for the kid. He's very physical. If he can do this for us in the spring, certainly that brings us a strong, physical hitter than can hit the ball out of the ballpark."
Defense was also a bit of an issue in terms of getting Bianco consistent at-bats. Mainieri is a stickler for infield defense, but he's been impressed with the way Bianco has handled himself in left field. His athleticism has played a bit better out there.
"He actually handles himself well in the outfield," Mainieri said. "He doesn't have to worry about his defense as much being in the outfield. He's worked hard out there. And he runs better than you think."
Fellow second-year player Gavin Dugas has been playing primarily right field this fall, and like Bianco, he's swung the bat awfully well. He hit .412 through the first 10 scrimmages and blasted a home run in scrimmage No. 11.
"Neither of those guys distinguished themselves defensively last year, but I always thought both of them could hit," Mainieri said. "So we're trying them out there, and so far the experiment has been pretty good."
LSU has moved Bianco and Dugas to the outfield because Mainieri feels comfortable defensively with the crop of mostly-new infielders that've been added to the fold.
Veteran Hal Hughes would probably play shortstop if the season started today. He's an excellent defender who can play all over the diamond, but his offense remains a big question mark. He hit .174 with no power last season.
LSU is high on Zack Mathis, a junior-college transfer. He's looked great at third base this fall and swung a live bat. Freshmen Cade Doughty, Zach Arnold and Collier Cranford are also options around the diamond.
Playing Bianco and Dugas in the outfield would help offensively, but it means Daniel Cabrera would have to play center field. Cabrera improved immensely in left field during his sophomore season and is pushing hard to play center going into a pivotal junior year.
Cabrera will be in the lineup one way or the other, so the competition that'll play out until opening night — and likely into the season — will involve Bianco, Dugas, Giovanni DiGiacomo and a trio of freshmen.
DiGiacomo has elite speed and played a role last season, but his spot in the lineup isn't guaranteed. Freshmen Wes Toups and Mitchell Sanford have looked good this fall. Toups in particular has impressed Mainieri, but he's had some trouble staying healthy.
The ultimate wild card is highly-touted freshman Maurice Hampton, who turned down a $1.85 million professional signing to come to school. He hasn't participated at all this fall due to his football obligations, so there's no telling how he'll look until the spring.
NOTES AND OBSERVATIONS
– Closer Devin Fontenot will miss the rest of the fall after breaking his right hand in in mid-October in what Mainieri called an "unfortunate accident." Fontenot did get some work in this fall before the injury, Mainieri said, and there's no concern at all about his availability come the spring.
– Freshman Jacob Hasty is an impressive left-hander who should be able to assume some kind of meaningful role for LSU this season. His fastball sits around 89-91 mph and his best pitch is a curveball. Possibly the southpaw LSU was missing a season ago.
– Freshman catcher Alex Milazzo has impressed the coaches with his defensive prowess. He's done the bulk of the catching with Saul Garza hurt, and Mainieri said he's one of the best throwing catchers he's had during his time at LSU. His offense is a work in progress, but he's got a strong arm and quick release behind the plate.