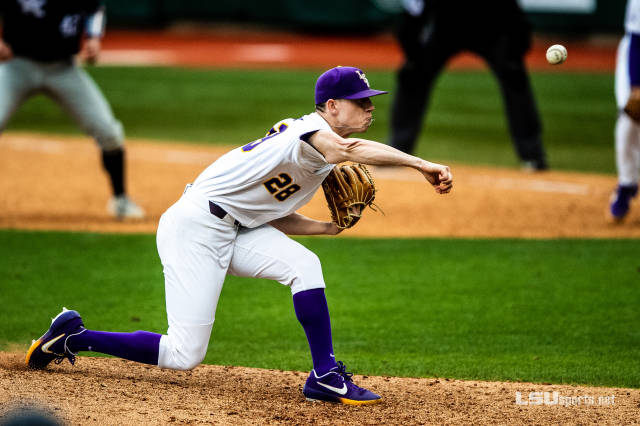 Devin Fontenot hasn't appeared in a game since his 10th-inning unraveling against Ole Miss on May 5, but LSU needs him to get back on the horse.
LSU's occasional closer will get the start on Tuesday night as the Tigers hosts UNO in its final midweek game of the regular season, LSU coach Paul Mainieri announced Monday.
The coach downplayed any added significance to Fontenot starting aside from him needing the work, and the rough plan is for Fontenot to pitch two innings.
"It's not trying something," Mainieri said. "He didn't pitch this weekend. It just worked out that way. I couldn't take the ball from (Todd) Peterson (on Sunday). It wasn't the result of a lack of confidence in the kid or anything like that. I love the kid and I believe in him. He just needs to get out there."
Fontenot had flirted with disaster and repeatedly escaped before the nightmarish appearance against Ole Miss. He's seemingly been struggling with his control for several weeks, an issue that came to a head when he issued a leadoff walk against Ole Miss that sparked the four-run frame.
Looking at his past five outings, Fontenot has issued 11 free passes (8 BB, 3 HBP) in 5.1 innings of work. He was able to pitch himself out of self-inflicted jams against Lamar, Alabama and Ole Miss — the first time — but couldn't pull another Houdini act against the Rebels in a wild rubber match.
"He's just got to be able to flush that and think positive going forward," Mainieri said. "I think he's fine. I think tomorrow, starting the game, each pitch doesn't have a direct result like the end of the game, so that should be good for him. He can just cut it loose and not worry so much about every pitch."
Fontenot was blunt in assessing his performance to reporters back on May 5, the sting of the loss still fresh. He appeared much more at peace as he prepared to start against the Privateers.
"You've just got to believe in yourself," Fontenot said. "You've got to tell yourself that you have the stuff to do it, and you've got to take it one pitch at a time. Don't try to be too fine. Let the guys hit it and let your defense work. The results will come."
First pitch is set for 6:30 p.m. on Tuesday.
INJURY UPDATES
– Cade Beloso has been dealing with an ankle injury since last week, which is why Chris Reid started at first base this past weekend at Arkansas. Both Beloso and Reid worked at first base during practice on Monday, for what it's worth.
– Jaden Hill threw off the front of the mound on Sunday — what's referred to as a "short box" session — and "looked like a Major Leaguer," Mainieri said. He's scheduled to throw a full bullpen session on Tuesday.
– Cole Henry went home over the weekend and threw under the supervision of his father, who was his pitching coach in high school. Mainieri didn't have a concrete update on his status as neither he nor Alan Dunn had talked to Henry yet.
– Trent Vietmeier will go for an MRI in the near future after leaving a game this weekend due to shoulder soreness. He remained sore as of Monday, Mainieri said, but LSU is awaiting the test results at this point.
LSU IN THE POLLS
LSU dropped in all four of the major polls following a 1-3 week that included a road series loss at Arkansas. Here's where things stand with last week's rankings in parenthesis:
D1Baseball 19 (15)
Baseball America 22 (16)
Perfect Game 20 (15)
Collegiate Baseball Newspaper 20 (18)