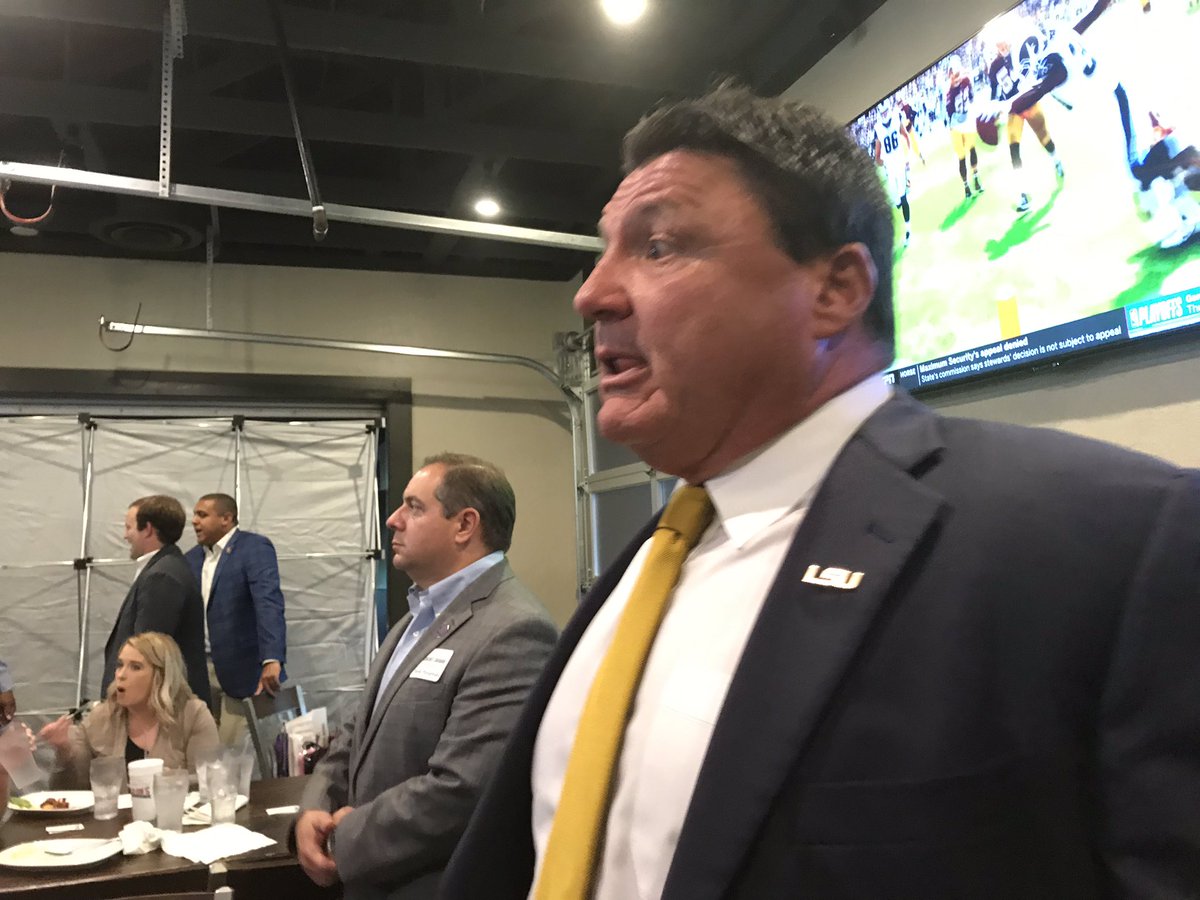 HOUMA, La. — The LSU football coaching staff made its third stop on its Coaches Caravan tour right outside of head coach Ed Orgeron's stomping grounds at Walk-On's in Houma on Monday evening.
LSU's head coach could be seen working the room throughout the evening, learning names and alma maters of fans from across the area.
"There's a lot of pride," Orgeron said. "Obviously, I was born here. I go around the table asking what high school they're from and I've gotten South Terrebone, Terrebone, Central Lafourche, Thibodaux, South Lafourche; all the people we played against.
"To have a bayou boy representing the LSU Tigers means a lot to them."
This time special teams coordinator Greg McMahon made the trip, and he spoke at length about the Tigers' unit and how it might look next season.
Cornerback Derek Stingley has made a big impression on McMahon and the rest of the coaching staff as a punt returner.
It's been a few years since the Tigers had an electric returner the likes of Patrick Peterson or Tyrann Mathieu, and while McMahon strayed away from making any comparisons, he said LSU has a chance to set the incoming freshman phenom up for success.
"He's got a skill level, he's got a work ethic, he's got a focus about him," McMahon said of Stingley. "He's just one of those young guys who puts work in. It was big getting him in spring because you get a chance to see the player. We're excited about him and he's going to put in the time."
Stingley won't be able to do it alone however.
McMahon said managing the other 10 guys on the field with Stingley will be just as important as the skill he brings to the position.
"Any time you get a guy with a skill level like this kid, you gotta do a good job and take advantage of his skills," McMahon said. "Anybody we put back there we want to get big plays out of them, and that's a phase we need to improve on and will improve on."
McMahon also didn't mince words when speaking about freshman kicker, who has the unenviable task of following up former LSU kicker Cole Tracy.
Tracy took the LSU universe by storm last season with accuracy and reliable distance never seen before at the program, successfully putting 29 of 33 field goal attempts through the uprights.
But McMahon sounded as confident as ever when speaking about Tracy's replacement in York, nearly scoffing when asked if he would receive playing time.
"Look, we're in the performance business," McMahon said. "So welcome to the jungle. That's the way it is. He'll play well. It's a good problem to have to follow someone like (Tracy)."
One area on special teams where LSU really thrived last season was blocking kicks, where Austin Deculus blocked two last season, putting him in an extensive tie for fifth most in the country.
McMahon said Orgeron actually teaches the position more than anybody, which ultimately led to Orgeron some of the technique involved in blocking kicks.
He said he puts offensive linemen there because drive forward all the time and they have a lot of reach.
"We're going to find the weakest guy and get on the flight line — that's where the ball's going," Orgeron said. "You want to put your hand where the ball is going.
"We teach 'Drive, Drive, Drive, Up.' Why do you think we do that? We want to match the steps of the kicker. You can't jump to fast… you gotta knock them three yards back, then elevate them."
Orgeron and his coaching staff have two more stops on their Coaches Caravan tour, the first being in Houston on June 3 before going to New Orleans to round out the events.
Photo Credit: James Moran