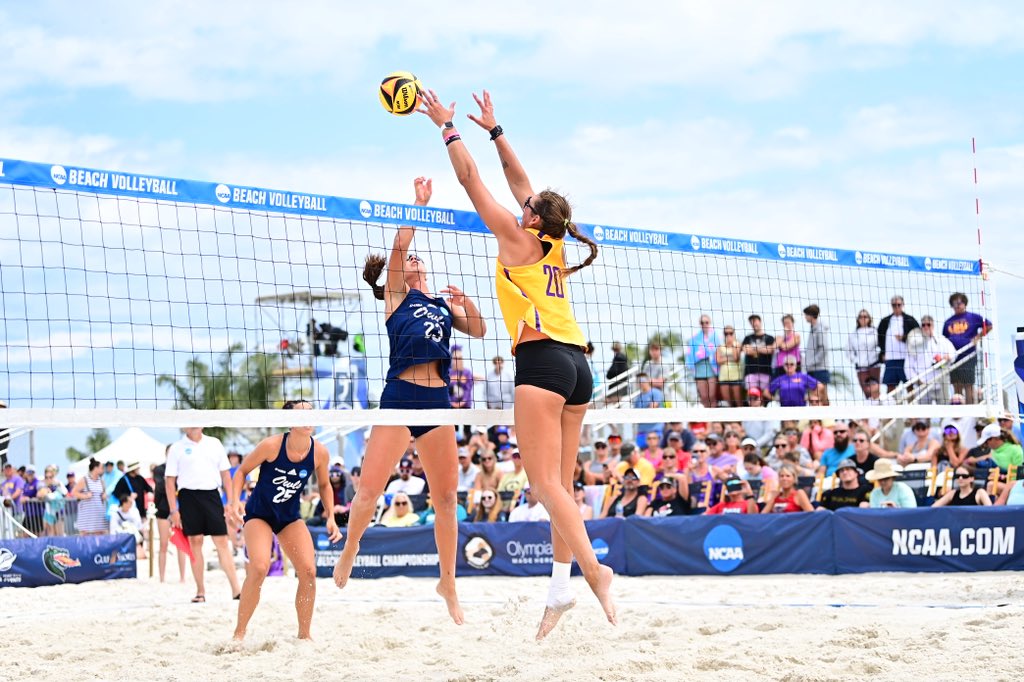 GULF SHORES, Ala. – The LSU beach Volleyball team won a tough 3-2 battle against No. 12 Florida Atlantic at the NCAA Beach Volleyball Championship Friday afternoon.
The No. 7 Tigers (27-12) advanced to face No. 4 Florida State at 10 a.m. Saturday
"Proud of our fight today," LSU beach volleyball coach Russell Brock said. "It was certain that it would be a battle today. Noting would be easy. When you have matches like that, the only job is to come out on top. The job was accomplished."
LSU's No. 1 team of Kylie DeBerg and Ellie Shank took a 21-17 and 21-12 followed by the No. 2 team of Grace Seits and Parker Bracken in a 21-14, 21-15 victory.
With the match tied up at 2-all following a three-set defeat on Court 3, the Tigers relied on a 21-16, 19-21, 15-10 win from their No. 4 team of Lara Boos and Ella Larkin. The tandem of Hannah Brister and Reilly Allred dropped a tough three-set battle, 21-14, 17-21 and 12-15.
"Tomorrow, we need to play better," Brock said. "We know that they are going to be looking forward to playing us again after our matchup last weekend and I'm sure they know we are looking forward to playing them again as well. Recovery and preparation is our only plan for the evening. Tomorrow is the biggest day of the season so far and we need to be ready."