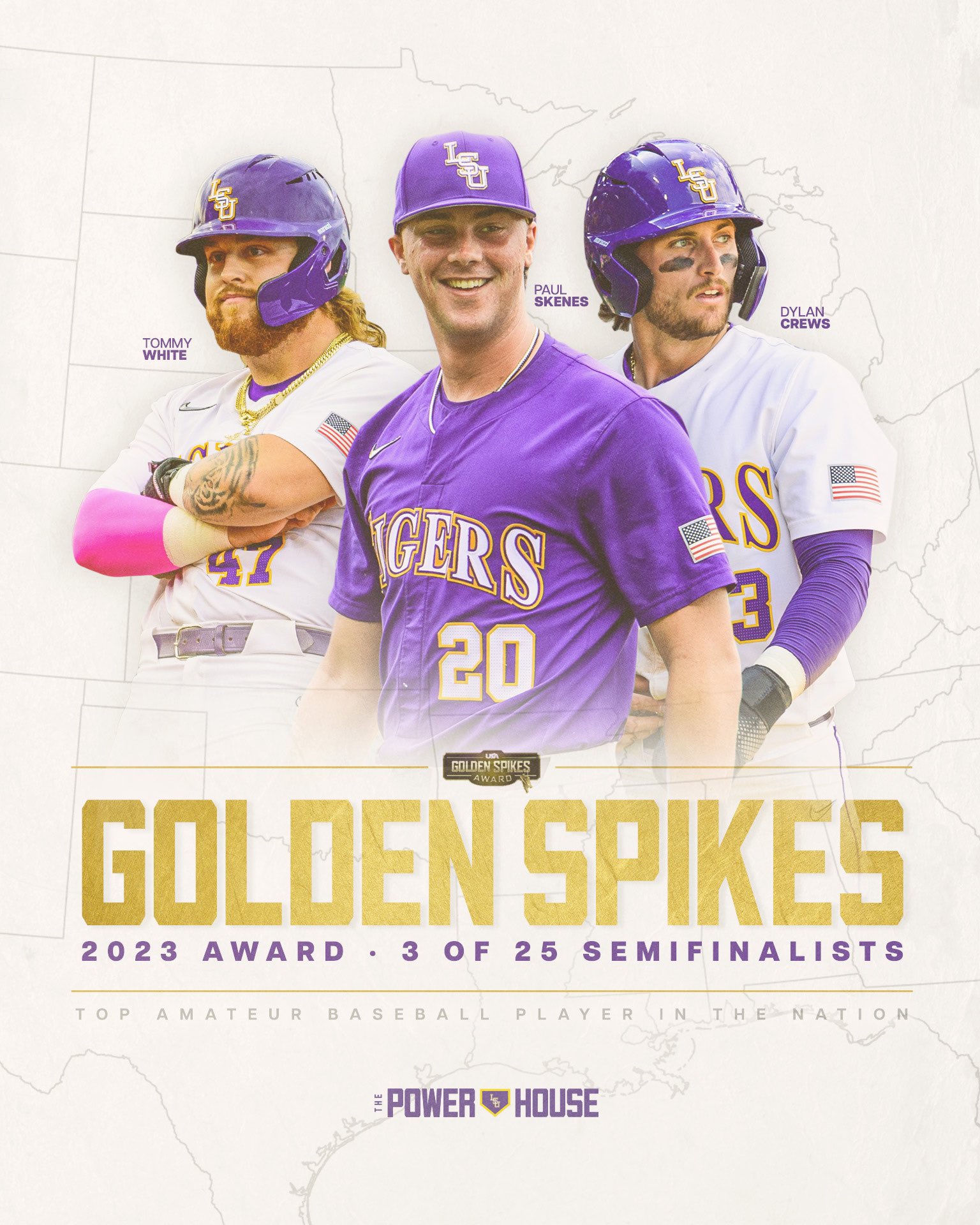 Three of LSU's top players were named by USA Baseball this week to the 25-man Golden Spikes Award semifinalist list.
Junior center fielder Dylan Crews, junior right-handed pitcher Paul Skenes and sophomore third baseman Tommy White were selected to the list with the 45th Annual Golden Spikes winner being named on June 25 at 1:30 p.m. on ESPN. The announcement is a prelude to Game 2 of the College World Series finals.
LSU and Wake Forest are the only schools with three players on the semifinalist list.
Crews led the SEC and is ranked seventh nationally with a .423 batting average. He has 14 home runs, 13 doubles and 57 RBI, and he is also the league-leader in on-base percentage (.573), runs scored (79) and walks (56).
Crews is No. 2 in the nation in on-base percentage, No. 2 in runs scored and No. 3 in walks. He has a reached base streak of 59 games, which includes all 55 games of this season and the last four games of the 2022 season.
Skenes led the SEC in wins (10), strikeouts (164), earned run average (1.77), innings pitched (86.2) and opponent batting average (.161).  He is ranked No. 2 on LSU's all-time single-season strikeouts list, trailing only Ben McDonald, who recorded 202 strikeouts in 1989.
Skenes is No. 1 in the nation in strikeouts, strikeouts per nine innings (17.03), WHIP (0.75) and strikeout-to-walk ratio (10.93). Skenes is No. 3 nationally in hits allowed per nine innings (5.19), and he is No. 4 in ERA.
White has 89 RBI this season, already the sixth-highest single-season total in LSU history. He is No. 2 in the nation in RBI per game (1.75), No. 2 in total RBI and No. 11 in slugging percentage (.793).
White is hitting .389 on the year, and he leads LSU in doubles (22) and home runs (20). He is No. 1 in the SEC in RBI, No. 2 in doubles, No. 3 in total bases (161), No. 4 in batting average, No. 4 in slugging percentage, No. 5 in hits (79) and No. 7 in homers.
Fan voting will again play a part in the Golden Spikes Award in 2023. Amateur baseball fans can vote for their favorite players on GoldenSpikesAward.com, which began on Monday with the naming of the semifinalists.
USA Baseball will announce the finalists for the award on June 7, and fan voting will once again open at GoldenSpikesAward.com before closing on June 21.
The 2023 Golden Spikes Award timeline is as follows:
• June 5: Golden Spikes Award semifinalists fan voting ends
• June 7: Golden Spikes Award finalists announced and fan voting begins
• June 21: Golden Spikes Award finalists fan voting ends
• June 25: Golden Spikes Award winner announced
To stay up to date on the 2023 Golden Spikes Award, visit GoldenSpikesAward.com and follow @USAGoldenSpikes on Instagram and Twitter.
A complete list of the 25-player 2023 USA Baseball Golden Spikes Award Semifinalists is as follows:
Name; Position; School; Conference
• Max Anderson; INF; Nebraska; Big Ten
• Jac Caglianone; LHP/1B; Florida; SEC
• Charlie Condon; 1B/OF; Georgia; SEC
• Dylan Crews; OF; LSU; SEC
• Chase Davis; OF; Arizona; PAC-12
• Jake Gelof; INF; Virginia; ACC
• Caden Grice; LHP/1B; Clemson; ACC
• Tanner Hall; RHP; Southern Miss; Sun Belt
• Josh Hartle; LHP; Wake Forest; ACC
• Nick Kurtz; INF/OF; Wake Forest; ACC
• Wyatt Langford; OF; Florida; SEC
• Rhett Lowder; RHP; Wake Forest; ACC
• Quinn Mathews; LHP; Stanford; PAC-12
• Yohandy Morales; INF; Miami; ACC
• Ethan Petry; OF; South Carolina; SEC
• Alberto Rios; OF; Stanford; PAC-12
• Nolan Schanuel; INF/OF; FAU; C-USA
• Matt Shaw; INF; Maryland; Big Ten
• Paul Skenes; RHP; LSU SEC
• Hagen Smith; LHP; Arkansas SEC
• Kyle Teel; C/INF; Virginia; ACC
• Brock Vradenburg; INF; Michigan State; Big Ten
• JJ Wetherholt; INF; West Virginia; Big 12
• Tommy White; 3B; LSU; SEC
• Jacob Wilson; INF; Grand Canyon; WAC