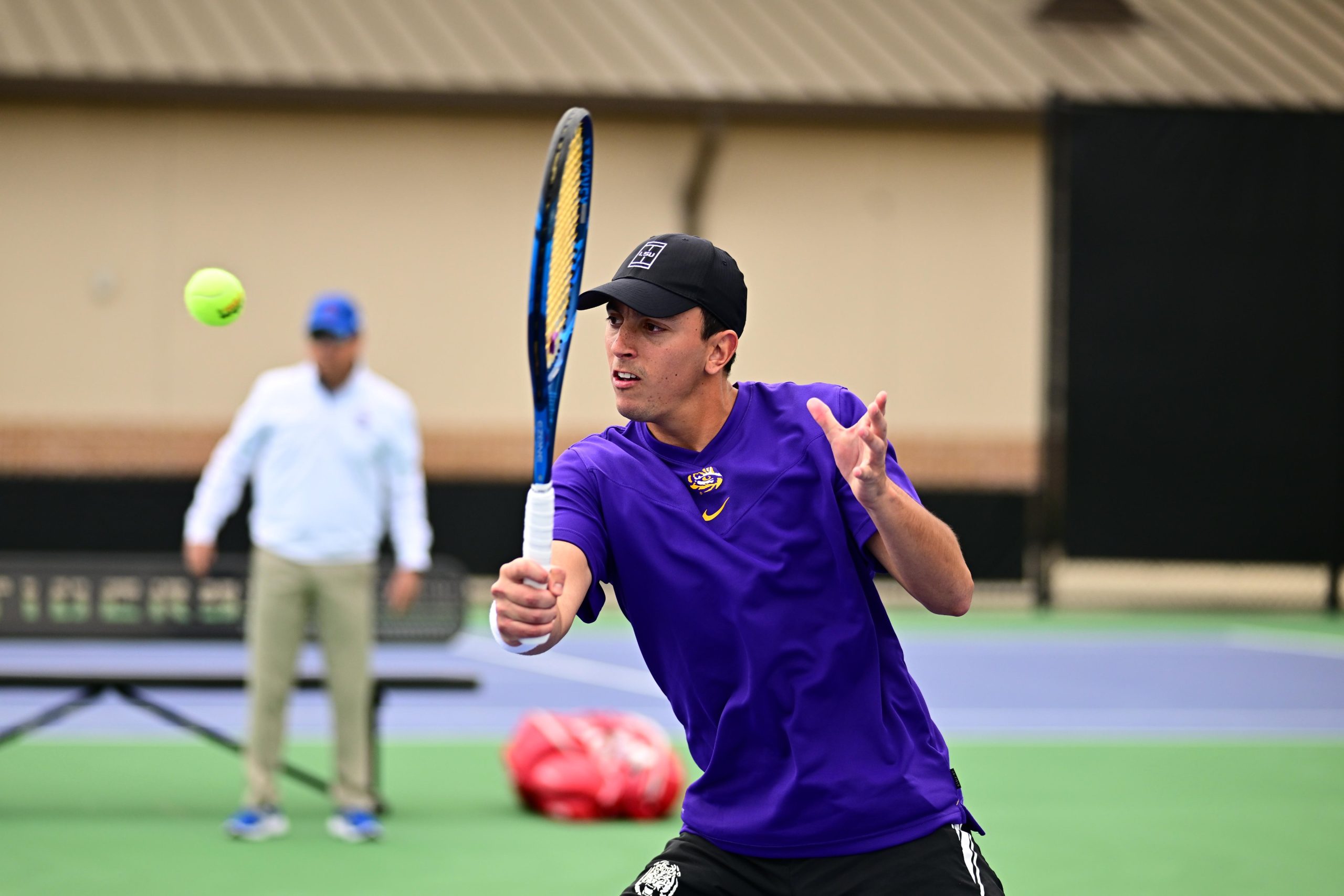 The No. 40 LSU men's tennis team needed nearly four hours but was able to come away with a 4-2 home victory over No. 32 Tulsa at the LSU Tennis Complex.
The Tigers (12-5, 3-3 in SEC) extended their win streak to five matches with four wins in singles, including a pair of three-set triumphs from No. 1 Ronnie Hohmann and No. 2 Val Lobak. The Tigers also got straight-sets wins from No. 3 Kent Hunter and No. 4 Gabriele Diaz Freier.
LSU also picked up a key point in doubles with a win at No. 2 from Hunter and Diaz Freier.
Hunter improved to 14-1 with a 6-1, 7-5 victory and Diaz Freire followed with a 6-4, 6-4 victory on court four. Hohmann, ranked No. 23, put LSU up 3-1 after defeating No. 106 Kody Pearson, 3-6, 6-3, 6-4 for his fourth win over a ranked opponent.
Lobak helped put the match away with a win over No. 83 Ezequiel Santalla, 6-2, 6-7(2), 6-1.
Tulsa, 4-2,
Hunter and Diaz Freire started the contest with a 6-4 win.
LSU will take a five-match win streak into Sunday at home where they'll take on No. 4 Tennessee (Noon) and Alcorn State (5 p.m.).
#40 LSU 4, #32 Tulsa 2
Singles
#23 Ronald Hohmann (LSU) def. #106 Kody Pearson (TLS) 3-6, 6-3, 6-4
Vlad Lobak (LSU) def. #83 Ezequiel Santalla (TLS) 6-2, 6-7 (2-7), 6-1
Kent Hunter (LSU) def. Stefan Hampe (TLS) 6-1, 7-5
Gabriel Diaz Freire (LSU) def. Adham Gaber (TLS) 6-4, 6-4
Connor Di Marco (TLS) def. Joao Graca (LSU) 6-1, 1-6, 7-6 (7-5)
Boris Kozlov (LSU) vs. Callum Gale (TLS) 4-6, 6-2, 5-5, unfinished
Doubles
Connor Di Marco/Kody Pearson (TLS) def. Ronald Hohmann/Vlad Lobak (LSU) 7-5
Kent Hunter/Gabriel Diaz Freire (LSU) def. Daniel Siddall/Tom Thelwall-Jones (TLS) 6-4
Adham Gaber/Callum Gale (TLS) def. Nick Watson/Boris Kozlov (LSU) 7-6 (9-7)