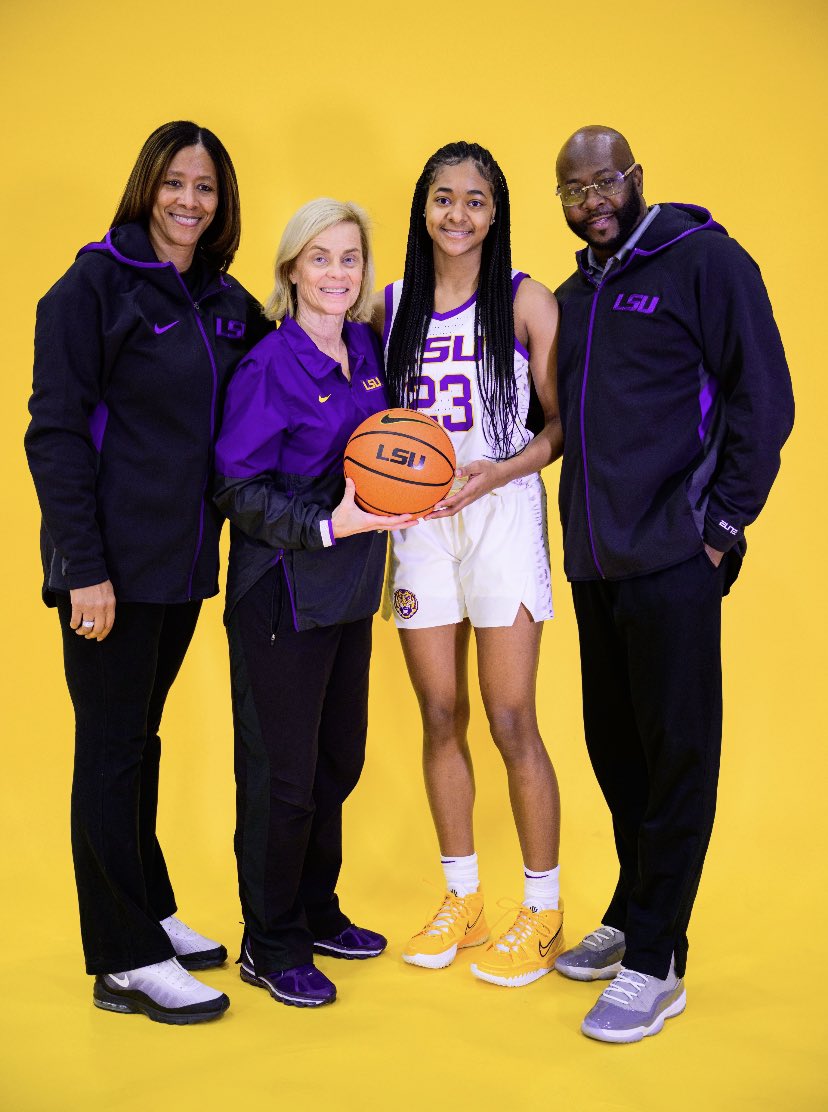 With her first season at 26-6 and run to the second round of the NCAA tournament in the books LSU's first-year women's basketball coach Kim Mulkey has turned her attention to the future of her program.
During the NCAA's early signing period last November, Mulkey secured the nation's No. 17 recruiting class and has gone about working on the pieces in the Class of 2023 puzzle that features No. 1 prospect Mikayla Williams. She was able to pick up a key building block in that group Friday with a commitment from 6-foot-1 four-star forward Janae Kent of Oak Forest (Ill.) who revealed a gold LSU shirt beneath her jacket during a news conference.
"She's a kid that only comes around once in a career for a coach and a program," Oak Forest coach Jeff Kelly said prior to the announcement that included Kelly's teammates. "She can play all of the positions at the high school level if we asked her to. She has the ability to score from anywhere on the court, she's a natural leader. She was forced into a leadership role as a freshmen."
Kent, a two-time winner of the South Suburban (Chicago) Conference Player of the Year, selected LSU over Maryland, Ohio State, Kentucky, Auburn, Mississippi State and Alabama. She's the first player to join the Tigers' Class of '23.
She's the nation's No. 56 rated player by ESPN's Hoopgurlz.com and averaged 25 points and 9 rebounds last season for Oak Forest which went 19-11. She's already scored more than 1,000 career points in her career and helped Oak Forest to a 19-11 record last season.
Kent was previously offered a scholarship by LSU's previous coaching staff and that offer was reaffirmed during an unofficial visit in February when the Tigers hosted Florida during the Southeastern Conference season.
She also comes from a rich basketball lineage. Her father Jason played at Ohio U. and is the founder and president of Next Level 24 Basketball which is a grass-roots programs that helps with player development. Her mother Anna played at West Virginia, was a head women's basketball coach and is 20-year veteran in college athletics administration, compliance and operations, while her older brother Jayson is starter on the basketball team at Bradley.
"Janae scored 30 points in her first ever varsity game as a freshman," Kelly said. "She's a great teammate and brings out the best in those around her. She's an excellent student with a high-grade point average. She has a high basketball I,Q. is strong and deceptively fast."