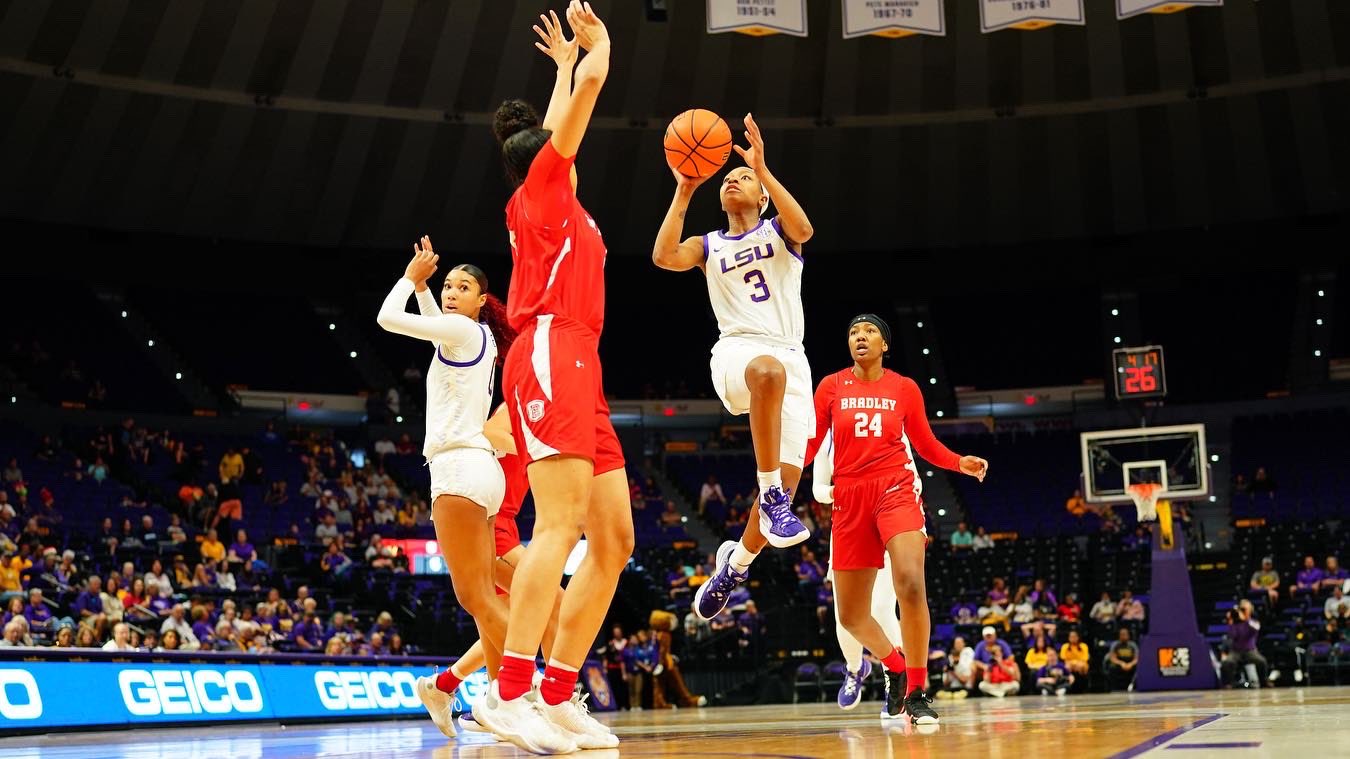 WEST PALM BEACH, Fla. – The LSU women's Basketball team will take the court twice at the West Palm Beach Invitational with the opportunity to surpass their victory total of last season.
After going 9-13 a season ago, LSU's already 9-1 under first-year head Coach Kim Mulkey which carries an eight-game winning streak into the event which features a game with Clemson at 4:45 Monday and Texas Tech at 2:30 on Tuesday
Both games will be able to be streamed on FloHoops and fans can listen to the games on the LSU Sports Radio Network, 107.3 FM in Baton Rouge.
"The biggest thing right now is keeping them focused," Mulkey said with two games right before the Christmas holiday.
"I'm feeling pretty good," LSU graduate student center Faustine Aifuwa, who had her first double-double of the season Saturday against Bradley. "We're still locked in. We're still focused going to Florida and staying prepared. We have two great teams ahead of us. We've got to stay locked in and do what we need to do."
After Christmas LSU will host Samford on December 27 for its final non-conference game before opening SEC play up on December 30 at Georgia.
Leading the team's offense offense has been the backcourt duo of Alexis Morris and Khayla Pointer. Morris transferred to LSU from Texas A&M and has scored in double-digits in all nine games she's played. Pointer has lived up to her billing as a preseason first-team All-SEC player averaging 16.8 points, 6.7 rebounds and 4.5 assists per game.
"We love to get after it," LSU senior guard Ryann Payne said. "We love to play defense. Defense leads to better offense. Especially with our transition game, we're doing numbers and we're going hard in transition. We're efficient"
Clemson (6-4) averages 66.0 points per game, led by Delicia Washington at 12.6 points, 6.9 rebounds and 3.1 assists per game. Clemson is coached by Amanda Butler, a former head coach at Florida, who is in her fourth season there.
"(Against Clemson) You better get back in transition defense and you better be able to defend the dribble penetration," Mulkey said.
Texas Tech (7-2) faces Ole Miss on Monday before its matchup with LSU. The Red Raiders are paced by Vivian Gray who averages 17.0 points per game. Taylah Thomas is another player to watch who averaged close to a double-double with 10.2 points and 9.9 rebounds per game.
"They have one of the good players in the country in Vivian Gray and she used her Covid year to come back," Mulkey said. "She transferred there from Oklahoma State. She's an All-Conference, undersized post player – tough as nails."