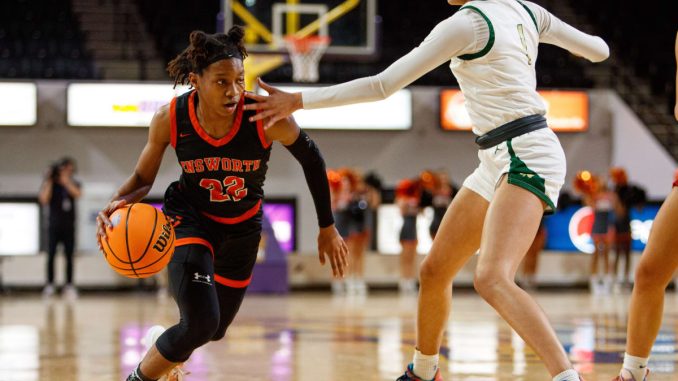 Reigning women's national champion LSU made another cut for the nation's No. 3 prospect.
Point guard Jaloni Cambridge of Montverde Academy in Florida has narrowed her list of seven schools to five finalists with LSU among that group still vying for the five-star prospect's signature. She plans to make an official visit to see coach Kim Mulkey's program this weekend, but is not expected to sign during the NCAA's early signing period.
The 5-foot-6 Cambridge, who transferred to Montverde from Nashville, Tennessee, is also considering Baylor, Florida, Louisville, Ohio State along with coach Kim Mulkey's Tigers. Her older sister Kennedy, a 5-8 guard, transferred to Ohio State from Kentucky after last season, while her older sister, Jordyn, was on last year's All-SEC Defensive team at Vanderbilt.
Cambridge, the nation's No. 3 prospect by ESPNHoopGurlz.com, has already made an official visit to LSU. The Tigers have a commitment in the Class of 2024 in point guard Jada Richard of Lafayette Christian, the nation's No. 95 player.
"You just have to know what you want and when you get to college, you're trying to make it to the next step after college," Cambridge told CBS Sports this summer. "You want to be where you feel (at) home and where they can take you further than college. You just have to go where you're comfortable.
Cambridge initially had a group of seven schools that also included Georgia and South Carolina and the aforementioned list of schools.
She was a first team selection on the MaxPreps Junior All-American team last season, a year after the same outlet chose her the nation's top sophomore. Last year, she averaged 26.9 points, 7.6 rebounds, 4.3 steals and 3.8 assists for The Ellsworth School in Nashville, Tennessee which finished 27-3. Her team lost in the Division II-AA state championship game with Cambridge scoring 41 points.
Cambridge began her career as an eighth grader and helped Ellsworth to a state title. She's twice been named the state's Gatorade Player of the Year and has been named the Division III-AA Miss Basketball winner three times.
She was a semifinalist for the Naismith national Player of the Year award.
Cambridge was the state runner-up in the 100 and 400 in the state track and field championships and also ran a leg on the victorious 4×400 relay last spring.
Cambridge is two-time gold medal winner for U.S. Basketball, first in 2022 in the FIBA U17 World Cup when she averaged 9.4 points and 5.1 assists. She claimed gold the year before in the FIBA Americas U16 Championship.