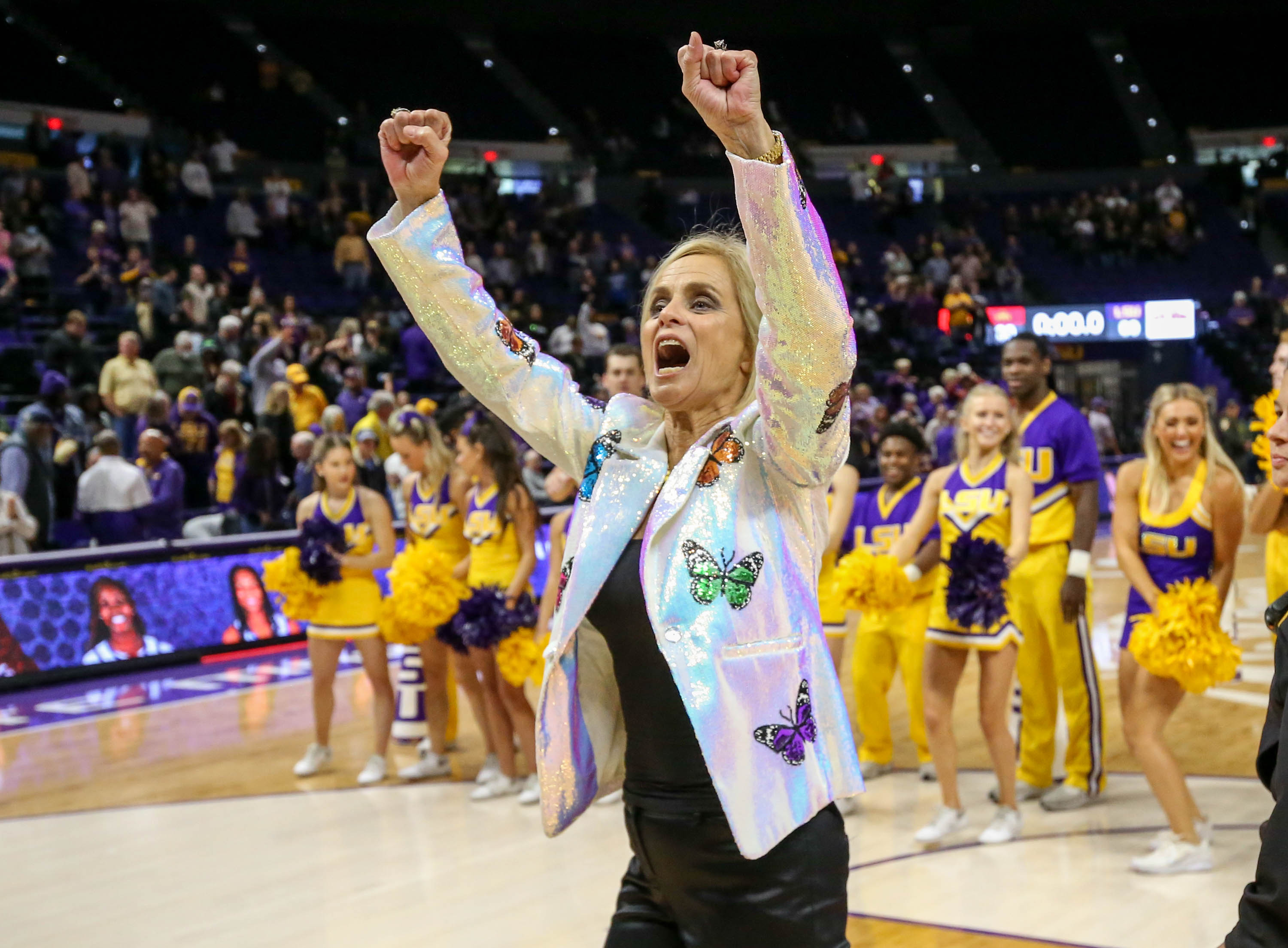 LSU women's basketball coach Kim Mulkey said the objective of Sunday's two-hour practice, the day before the team's final non-conference game, wasn't necessarily geared toward being scouting report specific.
It was more about the nation's No. 21 team, which is riding a 10-game win streak, getting back on the basketball floor and moving around following an extended break for the Christmas holiday.
"I feel good, but I don't feel good today because they just came off of three days of eating turkey and dressing and ham and everything on the Christmas dinner and lunch list," Mulkey said. "But we got to get two hours of work in and working on some things not just for the next game but start in conference play.
"I've learned the older I get, the wiser I get just don't get mad," Mulkey said. "Just keep making them work and keep making them get back into shape. You just know when you have breaks that you expect that. I've never had a team come back from the Christmas break that worked out the entire time and look great. It's just human nature. You go home and you relax, and you eat."
Since a pair of wins Dec. 20-21 in the West Palm Beach Invitational, LSU took an 11-1 record into the Christmas holiday. The Tigers returned Sunday with a workout in preparation for Monday's 6 p.m. home game with Samford (4-8) at the Pete Maravich before the start of Southeastern Conference play.
The Tigers travel to Georgia for their league opener at 6 p.m. Thursday and return home next Sunday and host Texas A&M at 2 p.m.
"You can never be content," Mulkey said. "You know they're excited the community's excited, but you can never be content and think that you've arrived because we haven't. We're climbing little by little, we're making those little milestones seem really, really big and they are big in the eyes of people that watch this program, but we've got a long way to go."
Mulkey announced that sophomore center Hannah Gusters, who missed the last four games because of indefinite suspension, had been reinstated and practiced Sunday with the team.
Gusters, who started in three of eight games, averaged 8.1 points and 3.1 rebounds. She's also tied for the team lead in blocks (10) with Faustine Aifuwa.
Guards Khayla Pointer and Alexis Morris lead LSU in scoring at 17.3 and 13.7 points, respectively, while Pointer also averages a team-high 6.7 assists and 5.0 rebounds. Aifuwa has improved her production to 9.2 points and 6.1 rebounds during Gusters' absence.
Samford, last year's regular season champion of the Southern Conference, is coming off a 73-48 loss at Ole Miss. The Bulldogs are led by UL-Lafayette transfer Andrea Cournoyer at 17.8 points a game.
"We're more concerned about finishing up the nonconference the right way and about our team," Mulkey said. "And if we do what we've been doing, we're going to be okay and if we don't then Samford will leave here with a victory."