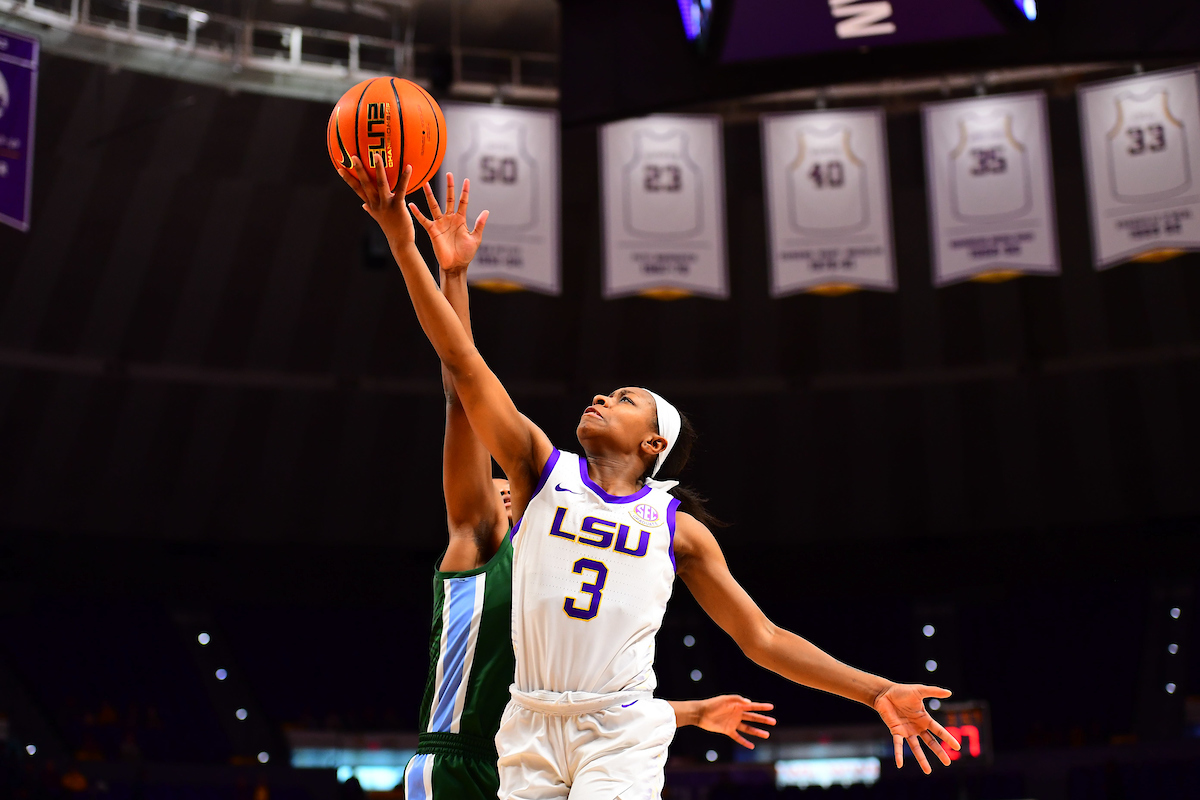 Ten wins, party on.
The No. 21 LSU women's basketball team overcame a slow start shooting the ball in the first half to cruise past Clemson 70-56 on Monday at Kaiser University in the West Palm Beach Invitational, exceeding their win total of last season.
"That's a milestone," LSU first-year coach Kim Mulkey said. "I also will tell them next game that they have an opportunity to win more games than they did last year."
The Tigers (10-1) won their ninth consecutive game and finish their two-day stay in West Palm Beach at 2:30 game Tuesday against Texas Tech.
Guard Khayla Pointer scored 14 of her game-high 20 points during the second half, while center Faustine Aifuwa contributed her second straight double-double with 13 points and 11 rebounds. Guard Alexis Morris added 12 points.
"(Our guards) can push the ball up the floor as good as anybody," Mulkey said. "They can defend on-ball as good as anybody. You just tell them, get the rebound and let's go."
LSU lost the services of Aifuwa who fouled out with 5:17 remaining but the Tigers converted on back-to-back three-point plays from Pointer and Autumn Newby to expand their lead to 66-51 with 2:44 remaining.
That was part of a stretch where LSU rattled off a 9-0 run which Awa Trasi capped off a pass from Pointer for the team's biggest margin (69-51) of the game with 2:09 showing.
LSU shot 41.4 percent (24 of 58) overall and augmented its offensive showing with 19 points from the free throw line. They also held a 39-34 rebound advantage and outscored Clemson (6-5) 24 to 14 in points off turnovers.
LSU endured its lowest scoring first half of the season that was tied 28-28 at halftime. They shot just 31.3 percent (10 of 32) from the field, 1 of 12 from 3-point range and struggled with 7 of 16 shooting from the free throw line.
"We didn't shoot it particularly well, but that happens," Mulkey said. "That's why you've got to commit to defense. That's why you've got to commit to rebounding. We knew they would rebound and leap and jump out of the gym. I thought we got some key rebounds, particularly on the offensive end at certain times in the game. We competed on the boards with them. I'm proud of them."
Clemson got within 52-46 at the 8:37 mark of the third quarter – the closest they got the rest of the way – with Aifuwa scoring on an assist from Pointer and Morris completing a three-point play at the 6:46 mark to make it 58-47.
Pointer, who had eight assists and six turnovers, scored seven points in the fourth quarter.
Morris scored five points in LSU's opening 10-0 surge to start the game, finishing with a straight-away 3-pointer, to make it 10-0 six minutes into the game.
Clemson, which missed its first seven shots, outscored LSU 12-5 over the remaining five minutes with Elliott's basket drawing the visiting Tigers within 15-12 going into the second quarter.
There were three lead changes in the first four minutes of the second quarter and the game was tied three times over the last 2:27 with Pointer's free throw with seven seconds to go making it 28-all at halftime.