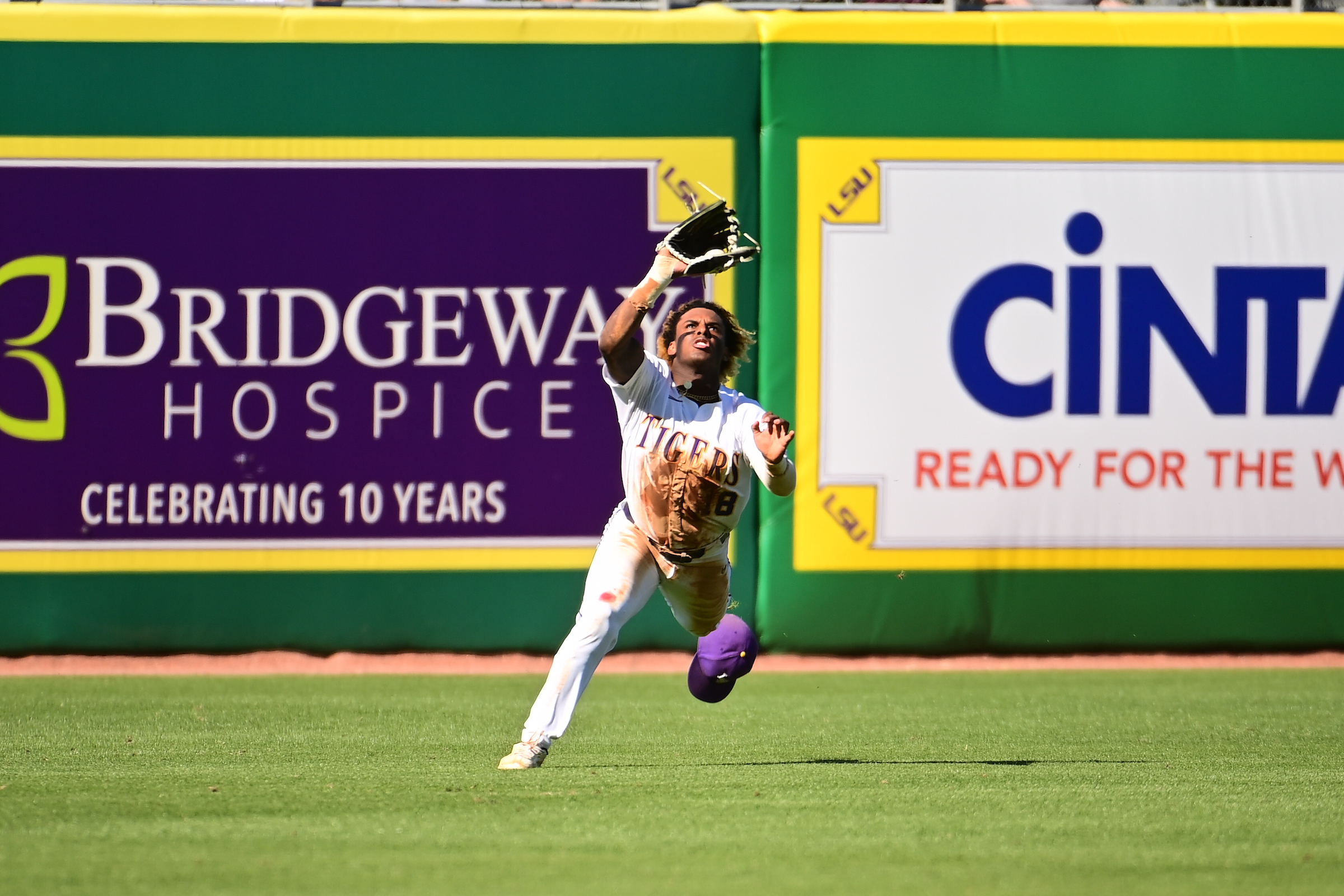 The only suspense at Alex Box Stadium, Skip Bertman Field on Saturday between No. 1 LSU and Central Connecticut State was if the Tigers would put up crooked numbers in every inning.
They did.
Josh Pearson's RBI-single drove in pinch-runner Hayden Travinski in the top of the sixth inning with no outs to put an early end to that mystery.
LSU (9-1) scored in every inning, beating Central Connecticut (1-1), 26-4, in seven complete innings.
It was the most runs LSU's scored since May 13, 2014 when the Tigers scored 27 runs against Northwestern State.
LSU had six doubles, a triple and four home runs among its 20 hits, while also having five batters hit by a pitch and nine others walked.
Starting pitcher Ty Floyd (1-0) picked up the win, pitching 5.2 innings with six strikeouts. He allowed three hits and one run – a first-inning home run to Joe Rios to give CCSU an early 1-0 lead.
Tommy White led LSU's hit barrage, going 3-for-3 with two home runs, a double and 5 RBI. Six Tigers had multiple hits.
The Tigers return to action Sunday 1:00 p.m. to take on CCSU for the third contest of the four-game weekend. The game can be viewed on SEC Network+. The matchup can be heard on the LSU Sports Radio Network affiliates.
The four-home run game marks the first time LSU has hit that many in a single contest since May 21, 2022, when the Tigers hit four at Vanderbilt.
"Statistically, it was our best offensive day of the season," LSU baseball coach Jay Johnson said. "I went home last night after we had won 12-2 (over Butler) thinking we had left a lot on the table offensively and that we could do better. I wanted to make sure the approach is right, and that our players know they're talented enough and competitive enough and confident enough to do it, and they did it today.
"I think it's a sign of things to come, our guys just need to stay focused and not allow complacency to be a factor," Johnson added. "They need to stay committed to our solid plan, to our solid approach, and stick to it. If they do that, they can continue to have great performances."
Floyd pitched a gem after giving up a solo home run in the first.
CCSU's starter Randy Reyes was charged with his first loss of the season after firing 2.2 innings and giving up eight runs on six hits.
White had his strongest offensive output of the season after making his way back from a shoulder injury. He also doubled off the right-field wall in addition to his pair of homers.
CCSU opened the scoring in the top of the first with a solo shot to right field from right fielder Joe Rios.
LSU responded in the bottom of the first with two straight doubles from left fielder Tre' Morgan and centerfielder Dylan Crews. Tied at 1-1, White headed to the plate and hit his first home run of the season to the right field bleachers. LSU led 3-1 after one inning.
Floyd settled in after allowing the single run at the beginning of the game. Through three innings, his impressive pitching helped him pick up five strikeouts.
Across the first three innings, LSU scored 12 runs to take and break the lead wide open. In the bottom of the second with catcher Brady Neal and right fielder Paxton Kling on base, second baseman Gavin Dugas crushed his fourth dinger of the year over the left field wall. The lead increased to 6-1.
White smoked his second home run of the day into the right field bleachers with centerfielder Dylan Crews and left fielder Tre' Morgan on first and third, respectively. The lead sat at 12-1 after three innings.
"You don't see the kind of opposite-field power that Tommy has very often," Johnson said. "We've been working on his mindset and approach, and this is only his sixth game back since he was injured in the season opener. It's been a gradual progression, but Tommy is working his way back to full strength."
Down the stretch of the run-rule victory, LSU added 14 runs which included the fourth home run of the game for the Tigers. Senior Cade Beloso, with White on base, crushed his first dinger of the season over the right field wall.