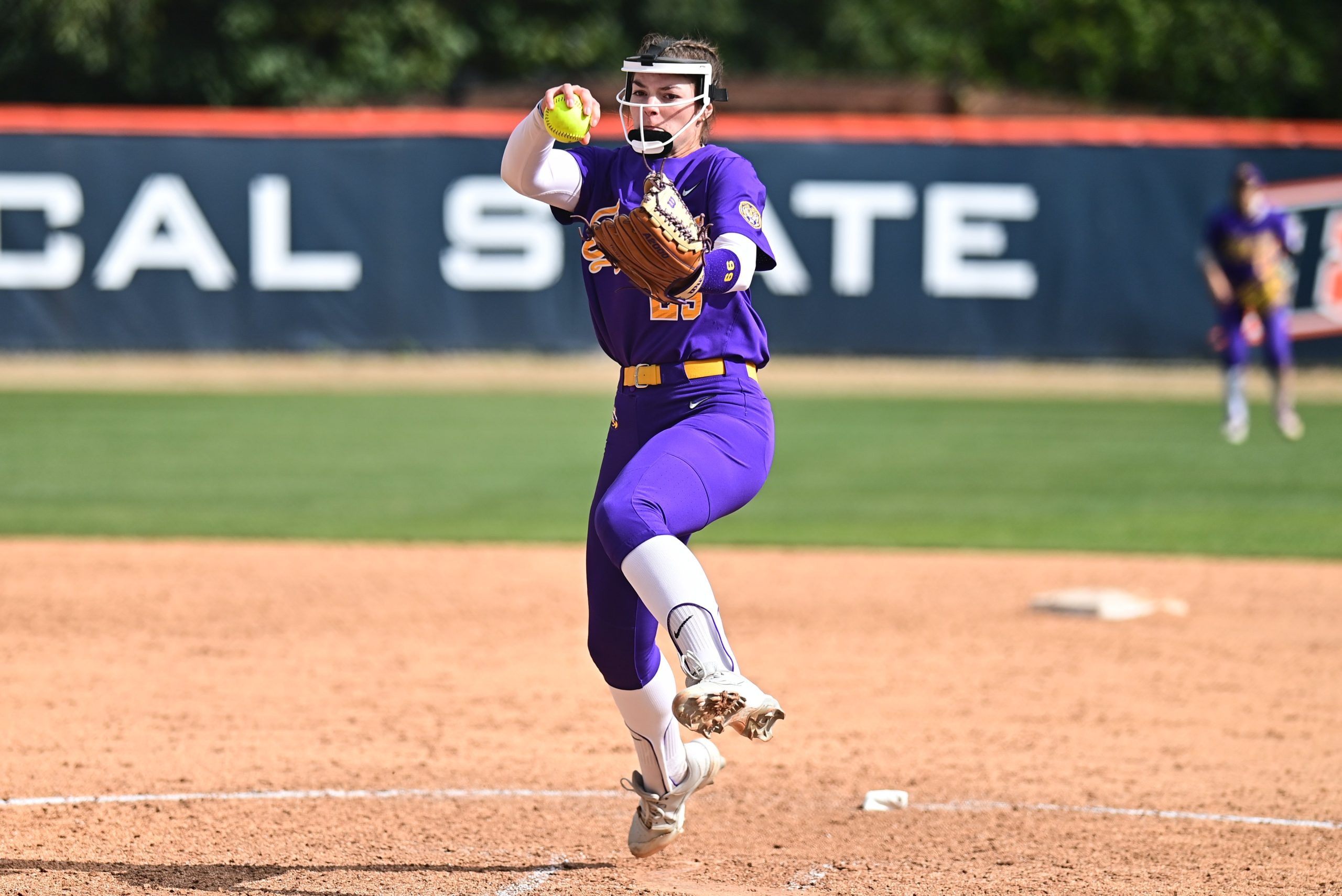 LSU freshman pitcher Sydney Berzon continued to turn heads in her latest start in the first game of Saturday's doubleheader at the Judi Garman Classic at Anderson Family Field in Fullerton, California.
Berzon scattered three hits and pitched her third shutout of the season in a 3-0 victory over Minnesota. She matched a career-high with eight strikeouts in improving to 7-0 this season.
No. 15 LSU (18-1) defeated San Jose State 12-6 in the second game and closes out play at 11 a.m. against Cal Poly.
Berzon retired nine of the first 10 batters she faced with only an infield error accounting for Minnesota's lone base runner during that span. The Gophers had two runners on in the bottom of the fourth on the error and base hit, but Berzon got a strikeout and fly out to Ciara Briggs in center.
She struck out six batters through five innings, including fanning the side in that inning.
LSU, which had seven hits, scored singles runs in the second, fifth and sixth innings to back Berzon's effort. Third baseman Danieca Coffey topped her team's efforts with a 3-for-4 performance with a RBI that accounted for her team's first run which was unearned.
Briggs led off the fifth with a double and scored on Minnesota's second error of the game off the bat of Georgia Clark. McKenzie Redoutey made it 3-0 with a lead-off homer in the sixth – her third of the season.
LSU 12, San Jose State 6: LSU scored double-digit runs for the sixth time this season in opening a 12-2 lead over San Jose State in the nightcap.
The Tigers piled up 14 hits with five players registering multiple hits and three driving in a run or more in support of winning pitcher Alea Johnson (4-0).
Coffey went 2-for-4 with a double and career-high four RBIs, while Newland had three hits and drove in three runs. Briggs, Gutierrez and Redoutey all were 2-4 with an RBI and Taylor Pleasants drove in two runs.
Johnson worked the first six innings, allowing three hits, two runs (one earned) with two walks and a strikeout. The Tigers allowed three unearned runs with reliever Emma Strood in the circle in the seventh inning.
LSU took a 1-0 lead in the first when Coffey scored on a wild pitch and made it 9-1 with four runs in the fourth, two in the fifth and two more in the sixth. The Tigers reached double-digit runs with three in the seventh with Gutierrez picking up a sacrifice fly and Newland driving in two runs with a single up the middle.
Briggs doubled in a run during the fourth and Pleasants singled home another. Newland added a RBI-single with two outs in the sixth and Coffey scored on a bases-loaded walk in the sixth.