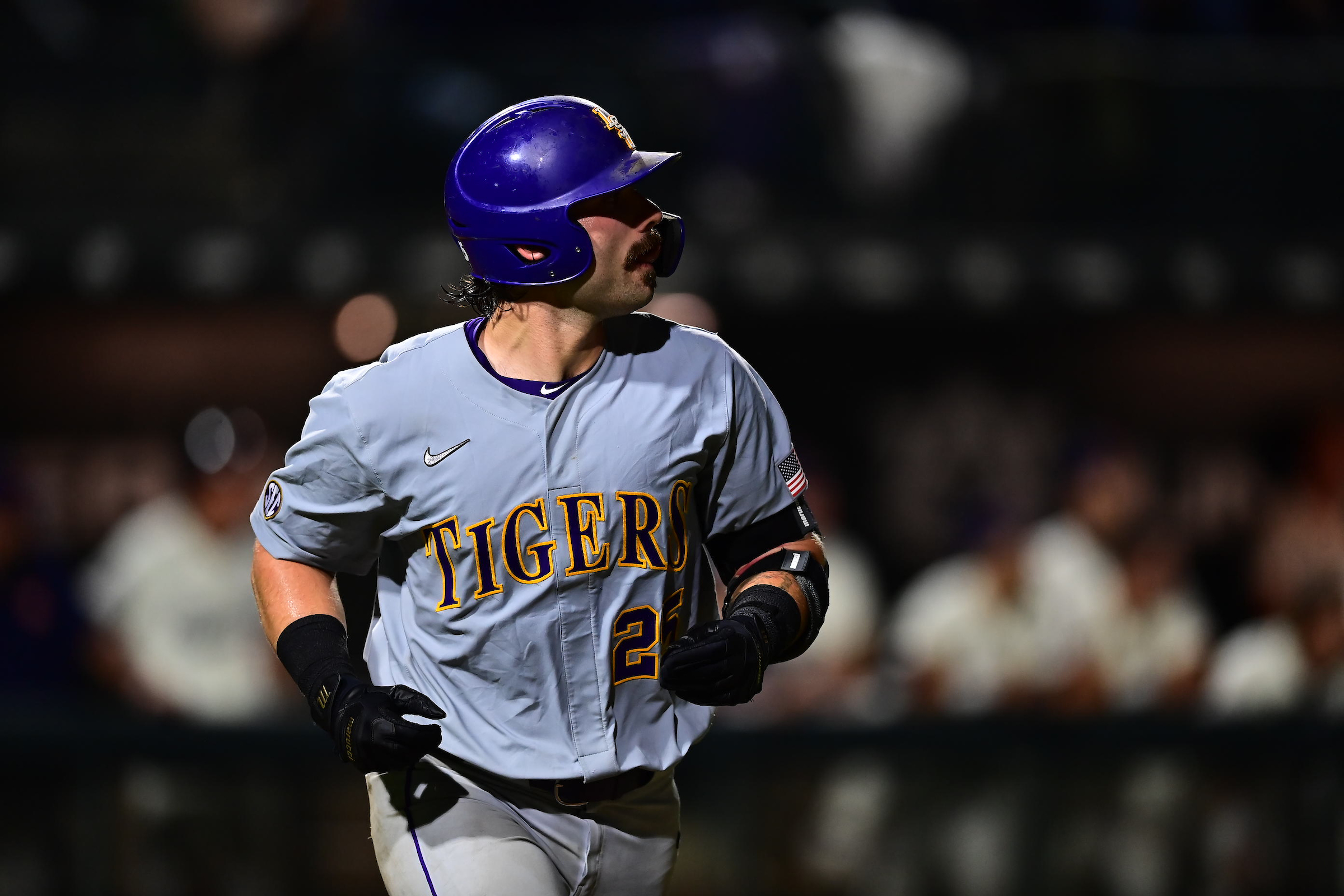 No. 1 LSU had its chances on Saturday night against Auburn at Plainsman Park in game two, but after three hours and 49 minutes of at times bizarre play, it all came down to one pitch, and Auburn prevailed.
Trailing 8-6 with two outs in the top ninth and two runners on base, LSU's Tre' Morgan faced Auburn reliever Will Cannon.
One swing of the bat left.
Connect, and Morgan and LSU could atone for all their collective misgivings on this marathon night on plains.
Fail to connect, and then the SEC-leading Tigers would have to face down Auburn in a rubber match on Sunday at 1 pm in order to avoid losing their first conference series of the year.
Cannon fired.
Morgan whiffed.
LSU lost this one. Emphasis on lost.
Auburn and its 4,000 or so fans who waited and watched until just before midnight struck will, of course, say it won.
But don't buy that. Auburn got the victory but did not win this one.
LSU beat itself.
LSU led first, and led twice, and was never out of it all night, despite stranding 14 base runners, giving up eight free passes, and, in a word, self-destructing and stealing the momentum from its own starting pitcher, Ty Floyd, who had struck out nine batters and was hurling a dominating shutout heading into the fourth inning when someone in the visiting Tigers' dugout protested an early inning balk call and got booted from the game.
The problem is, no one knew for sure who said what when, apparently. Nor, apparently, was anyone, officials included, sure if the person charged with the offense had actually vacated the dugout as he should have when he was booted.
LSU assistant coach Josh Jordan apparently was the person marked kicked out. But Auburn baseball coach Butch Thompson is allegedly still trying to figure out if that's correct.
At any rate, the confusion at the time led to several disruptions and multiple stoppages of play and delays, and arguments, in the bottom of the fourth inning.
By the time dust had cleared, Floyd had clearly lost his focus. His dominating command was gone. He couldn't find it. And by the time freshman reliever Gavin Guidry struck out Auburn left fielder Chris Stanfield to end the bizarre half inning, LSU had given up five walks, one base hit, three runs, lost its lead and by that point trailed, 3-2.
Making matters worse, LSU had left the bases loaded in the third and fourth innings with only one run to show for it, too, even though in both instances the best hitter in the country, Dylan Crews, who had been batting a thousand in that situation this season prior, was put out at the plate in both of those cases.
As stated, bizarre night.
LSU beat itself on this night; Auburn got the win but did not beat LSU.
"We've got to ready for tomorrow," LSU coach Jay Johnson said. "Looking at tonight's game, we could have commanded the baseball better from the mound, and we could have slowed down a little bit better at the plate with runners in scoring position. We needed better strike zone pressure, and we could have slowed down at the plate with runners on base, but those are all controllable.
"The game tomorrow is going to get on us pretty quick, so we don't want to have any carry-over from this game, and I just want us to play in character. I thought we competed hard tonight. We didn't play well enough to win, but our players competed really hard in the game tonight."

LSU trailed 8-5 going into the top of the eighth when Morgan led off with a walk, but Crews flew out to shallow left for the first out. Tommy White then yanked a full-count fastball down the left field line for a stand-up double moving Morgan to the third.
Shortstop Jordan Thompson then hit a grounder to Auburn shortstop Cole Foster that scored Morgan from third, to make it 8-6.
White, though, was caught in a run down between second and third on the play, allowing Thompson to take second. But Paxton Kling, a late-game substitution in right field, then flew out to deep left center field to end the threat.
Third baseman Bryson Ware's bottom of the seventh inning solo home run off Dutton put Auburn up, 8-5.
LSU catcher Hayden Travinski hit a solo home run to the deepest part of the ballpark in center field to open the seventh inning and cut Auburn's lead to two runs at 7-5.
That's a goner@haydenrt_ | SECN pic.twitter.com/gr5b2oQvPE

— LSU Baseball (@LSUbaseball) May 7, 2023
Auburn trailed LSU, 4-3, before scoring four runs on three hits to take a 7-4 lead into the seventh.
LSU reliever Bryce Collins relieved Javen Coleman with runners on first and second and no outs after Coleman had walked Ware and shortstop Cole Foster to begin the bottom of the sixth.
With one out, Auburn center fielder Brady Worthen hit an RBI single to center field to tie the game, 4-4, and move Foster to third.
Catcher Nate LaRue then lined a hard shot right at White who was playing a shallow third base along the base line expecting a bunt. LaRue's full-swing hit ricocheted off White's glove and Foster scored to put Auburn ahead, 5-4.
Collins then hit Stanfield with a pitch, loading the bases.
Riley Cooper then relieved Collins and designated hitter Ike Irish hit a sac-fly to left field that scored Wortham and Auburn's lead grew to, 6-4.
Pierce then hit an RBI single with the count full off Cooper that drove in LaRue and Auburn led, 7-4.
In the top of the sixth, LSU had left the bases loaded and came up empty with no runs for the third time in the game.
Coleman replaced Guidry on the mound to start the bottom of the fifth and the inning began with a defensive gem by Thompson – a backhanded gloving of Irish's laced grounder into the 56 hole to start the inning and Thompson's strike from shallow left field to throw out Irish at first and rob him of a hit.
Thompson's play was a monster out that served to keep momentum on LSU's side after the Tigers had just battled back into the lead after nearly succumbing to its own self-created adversity an inning earlier before designated hitter Beloso's clutch two-out, two RBI single put the Tigers back into the lead in the top of the inning, 4-3.
White singled to open the fifth off Auburn reliever Konnor Copeland, who replaced Auburn starter Tommy Vail to begin the inning.
Vail was supposed to start Friday night's game one, but in a strategic change of heart about an hour before that game, Auburn's Thompson thought better of that. Better not to go head-to-head with LSU ace Paul Skenes when you can put your best against pretty much anybody else.
In this case that was Floyd. But again, Floyd and Vail were pitching dead even baseball, each with a ton of strikeouts, when Thompson appeared to exercise some more strategery by seeding delays with chaos to derail Floyd the only way he apparently could.
But in the top of the fifth, Thompson followed White with a bomb off the top of the monster wall in left field for a double but White only made it to third base on the hit.
Copeland struck out Jobert and Travinski, and it looked like LSU was going to leave runners stranded in scoring position for the third straight inning, but Beloso salvaged things with his first-pitch single that scored both White and Thompson.
Jones then drew a walk and Copeland's night was done. Right-handed sophomore pitcher John Armstrong replaced him to face Dugas.
But a base running error doomed LSU.
Jones was caught too far off first base and was picked off by LaRue from behind the plate at first to end the inning.
The bottom of the fourth inning will live in infamy. It seemed to last forever and was one of the zaniest you'll ever see.
It was halted by delays twice as coaches and umpires argued first over a balk and then who from LSU's dugout should be tossed and then who was actually tossed from the game.
If you're having trouble keeping up, don't worry. So was everyone, including the umpires, the coaches, the fans and even the commentators.
In the meantime, Floyd seemed to cool off and lose focus and his command, which had been masterful to that point.
Floyd did not respond to the delays well. He ended up walking four of the five LSU walked in the half inning, surrendered a hit and when it was over, Auburn had scored three runs and taken a 3-2 lead.
The strangeness began when Floyd walked Irish to start the bottom of the fourth, Floyd's first walk of the game, but there would be more.
Floyd was then called for a balk attempting to pick Irish off and someone in the LSU (Josh Jordan?) dugout was tossed from the game.
Auburn right fielder Bobby Pierce then singled to right, advancing Irish who was given the stop sign rounding third. But LSU right fielder Brayden Jobert fired the throw home any way, allowing Pierce to easily take second base.
With runners on second and third and no outs, Floyd picked up his eighth strike out of the game by taking down McMurray swinging. Then, "Who-Got-Tossed Gate" started again and this time lasted for about five minutes.
When action returned, Floyd threw ball four to Ware in the dirt and it got past Travinski and scored Irish from third base, leaving Auburn with runners on the corners and one out. Four pitches later Floyd had walked Foster and loaded the bases.
Floyd struck out Howell for the second out on a masterful inside pitch that was all over but didn't touch Howell's knuckles.
Wortham then pinch hit for Auburn shortstop Caden Green and Floyd walked him in five pitches to score Pierce and tie the game, 2-2.
Guidry came in for Floyd with the bases still loaded to face catcher Nate LaRue, a .155 hitter, and Guidry walked him, scoring Ware and putting Auburn up, 3-2, before Guidry struck out Stanfield to end the debacle/inning.
LSU loaded the bases in both the third and fourth innings but managed to score only one run total in both innings combined.
First baseman Jared Jones, batting in No. 9 hole, collected his second hit of the game in the top of the fourth with two outs. Vail then walked Dugas and LSU loaded the bases when Morgan fought off an inside fast ball and hit a knobber to the left side of the infield and beat out the throw to load the bases for the Tigers.
LSU led 2-0 after three innings, plating one run each in the second and third innings, between Vail's seven strikeouts over that stretch.
But Floyd was equally impressive and in complete command early as he struck out seven consecutive Auburn batters over his half of the same stretch before Stanfield flew out to center field to end the third inning.
LSU added its lead in the top of the third when White scooped up a curveball almost in the dirt and wrapped it into left field with the bases loaded, scoring Jones from third base to give LSU a 2-0 lead.
Jones led off LSU's half of the third with a double to left field, barely beat the throw into second. Vail then hit Dugas with the pitch and the Tigers had runners on first and second with no outs. Morgan singled to right to load the bases.
Vail fooled Crews, striking him out on a looping curveball for the first out of the inning. After White's run-scoring single, Vail struck out both Thompson and Jobert, recording his seventh strikeout of the game and escaping potential disaster with only a nick.
Floyd began looking like he was in total command in the bottom of the second, striking out the side, his fifth consecutive strike out in a row.
It was Jobert's two-out RBI single in the top of the second that put LSU up 1-0, driving in Thompson who had reached on an Auburn throwing error and then took second base on a passed ball.
Vail struck out White swinging to open the second inning on a high heater, then Jordan Thompson hit a hard ground ball to third baseman Bryson Ware who airmailed the throw to first. Thompson took second when Jobert grounded out to first. Down 0-2 in the count with two outs, Travinski singled to right center to score Thompson and put LSU up, 1-0.
Vail struck out Beloso, his fourth of the game, for the third out with Travinski left on first.
Neither team scored in the first inning, but Irish drag bunted down the first base side with one out and LSU left first base uncovered on the play, leaving the home-standing Tigers with one on and one out.
Irish took second on a passed ball. Floyd struck out rPierce for the second out but then fell behind catcher Cooper McMurray 3-0 before striking him out swinging.
LSU went three up-three down in the top half of the inning on only 10 pitches from Vail. Vail struck out both Dugas and Morgan looking then popped Crews out on the first pitch to first base.