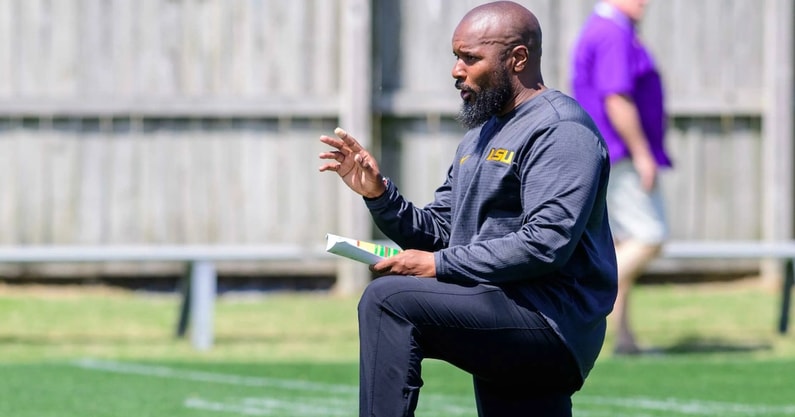 LSU defensive line coach Jamar Cain, who was entering his second season under head coach Brian Kelly, is leaving the Tigers for a job with the NFL's Denver Broncos.
After several media reports surfaced Saturday morning LSU defensive lineman Jacobian Guillory confirmed after Saturday's practice that Cain had informed the team of his intentions to join the staff of head coach Sean Payton as a pass rush specialist.
"He told us today," Guillory said. "He didn't want to tell us. He was choking up telling us. This is a goal he's always wanted. Why can't you be happy for that. I'm just excited for him to take that next step and be in the league and do what he's always been doing. Bless his heart. I can't wait for the next defensive line coach to get in so we can get rolling."
The 42-year-old Cain, a native of Sacramento, California, was an integral part of Kelly's first coaching and recruiting staff at LSU. He's a 17-year coaching veteran at the collegiate level with recent stops at Fresno State, Arizona State, Oklahoma and LSU where he served last season as the Tigers defensive line coach and run game coordinator.
The move to Denver, where Payton will be in his first season after a successful run with the New Orleans Saints which included a Super Bowl, represents Cain's first full-time job at the NFL level. He previously served summers with the Arizona Cardinals, Kansas City Chiefs and Oakland Raiders as part of the NFL's Minority Internship.
Denver also added LSU athletic trainer Beau Lowery to its staff under Payton.