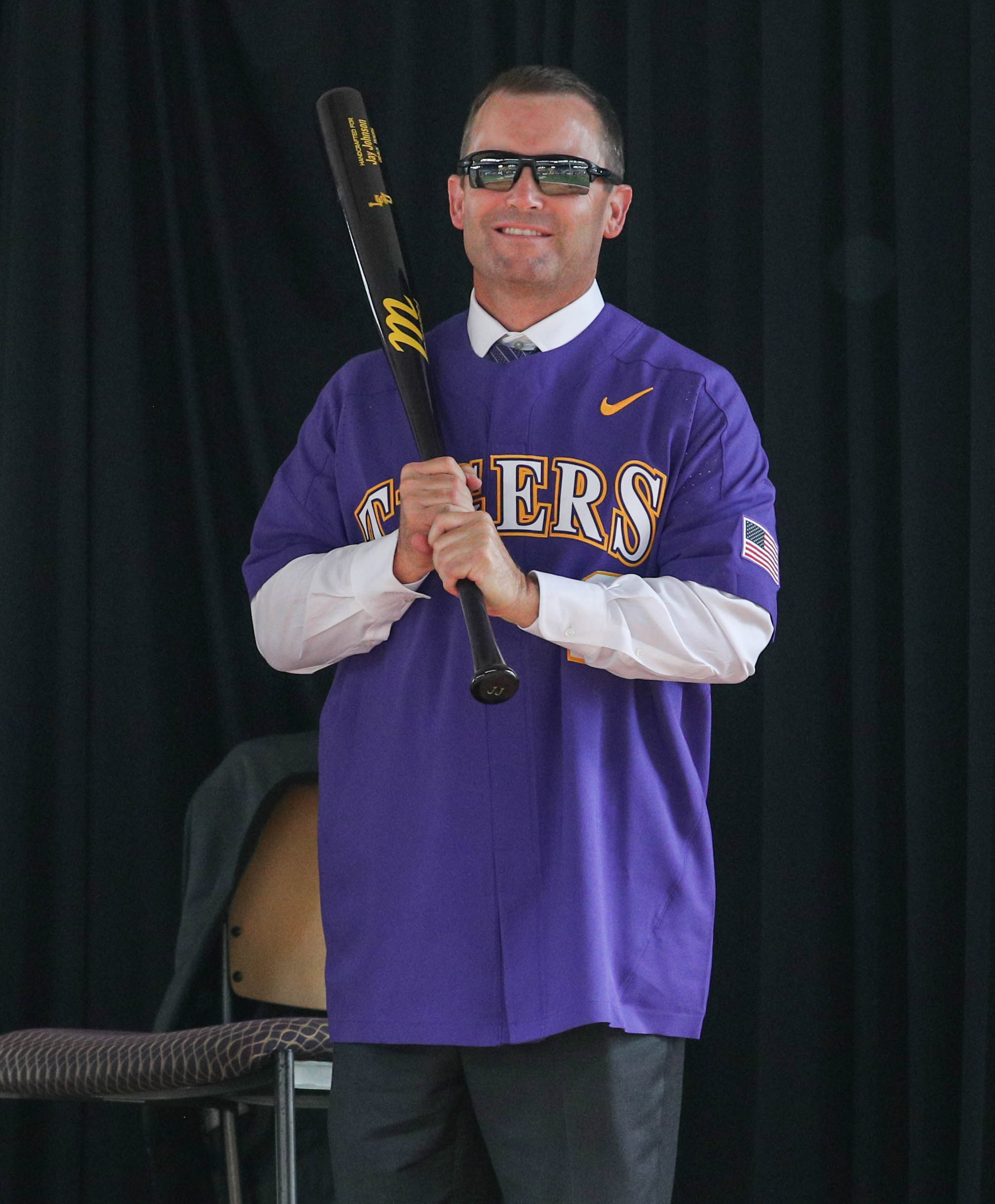 Jay Johnson has already learned the subtle differences separating his old job as Arizona's baseball coach and his new job as LSU's baseball coach.
First, there's the weather in Tucson.
"Bad weather isn't a concern (in Arizona)," Johnson said. "You might have a few flash flood rain days.
And then there's the weather in Baton Rouge.
"I've been surprised by the amount of rain," Johnson said. "It hasn't prohibited us from doing anything because the (Alex Box Stadium) field drains great. But I have thought about moving the players' class schedules to afternoon next fall because the weather is really good in the morning."
Then, there's the variances of selling to recruits a college baseball program like Arizona that has won four national titles and draws modest crowds to a city-owned off-campus stadium or to a college dynasty like LSU which has won six national titles and plays in university-owned campus stadium that helped the school annually lead college baseball in attendance for three decades.
"LSU is obviously a national brand that carries weight everywhere I go," said Johnson, who has 18 Class of 2022 recruiting commitments. from 10 states and Canada.
The Tigers are set to open six weeks of fall practice Friday after completing six weeks of conditioning and fundamentals work. Johnson said he's scheduled 19 intrasquad games as well as home exhibitions against UNO on Nov. 7 at 10 a.m., and UL Lafayette on Nov. 14 at 11 a.m.
"I'm looking forward to getting into team practice and getting rolling." Johnson said.
Intra-squad scrimmages will be open to the general public throughout the fall, beginning this weekend. The Tigers will scrimmage at 6:30 p.m. Friday, 1:30 p.m. Saturday and 11:30 a.m. Sunday. Gates to the stadium will open approximately 15 minutes prior to the start of each scrimmage, and fans will be admitted through the Gate 2 home plate entrance.
Admission and parking are free for all fall intrasquad scrimmages , as well as for LSU's two exhibition games.
LSU returns all its field position starters from its 38-25 2021 NCAA Super Regional finalist team, the 15th and final Tigers' squad coached by Paul Mainieri who retired.
But the Tigers lost all their starting pitching, which will be a point of emphasis in fall practice that is starting later than usual by design to help the pitching staff.
"It gives the pitchers the most amount of time at the beginning of the (school) year to get their arm ready to compete during fall practice," Johnson said. "They've had a good six weeks of throwing programs, bullpens, long toss, arm conditioning to put themselves in a good position to show us their best.
"I think that's important going into a first year because we need to see what we have."
Most of LSU's returning pitchers are relievers led by senior Devin Fontenot. A large majority of the Tigers' returning pitchers have mostly started mid-week non-conference games.
Four transfer pitchers will get a chance to impress in fall practices and scrimmage, led by sophomore righthander Eric Reyzelman from the University of San Francisco.
Though Reyzelman was just 3-3 last season with a 6.17 ERA after coming off Tommy John surgery in 2020, he has been named by D1Baseball.com as one of the top 100 college prospects for the 2022 MLB draft.
Reyzelman's stock trended upward when he was named to the Cape Cod League All-Star team this summer as a member of the Harwich (Mass.) Mariners. With a fastball clocking at 97 mph, he recorded a 2.66 ERA and 36 strikeouts in 23.2 innings, and he limited opponents to a .212 cumulative batting average.
Johnson is also eager to see in the intrasquad games how LSU's returning players perform.
"In general, there's some talent that can play better than maybe they did a year ago," Johnson said. "Some of that talent can become a more usable skill, some of it is a byproduct of experience at this level and some of it is hoping our development brand can help those guys improve.
"Like when I look at the pitching, there's not a ton of experienced starters returning. But I do see a lot of arm talent in the guys who are back and the guys we brought in."
Returning position starters, such as left fielder Dylan Crews and first baseman Tre' Morgan, a pair of sophomores who won All-American and freshman All-America honors last season, have certainly gotten Johnson's attention while working with them in September.
"Dylan is a special talent," Johnson said. "He can do things that you don't see every day on a college baseball field. I'm excited to have him for the next two years. He has high skill, appears to be a good team guy respected by his teammates.
"Defensively, Tre' has the making of an elite first baseman. Watching last season's video of him, he has incredible hand and eye coordination."
Johnson and his entire staff hit the road recruiting. The yield so far is a dozen and a half from 10 states stretching from Utah, California and Nevada to Canada to New York to a southern swing east to west from Florida to Texas.
Johnson spreading his recruiting net wide was not by accident. As with most things Johnson does, it was a well-thought plan.
"Wherever I coached, at Nevada and then Arizona, I looked at the roster makeup of the best teams those schools had relative where did the players come from and what led to that success," Johnson said.
"Here at LSU, I looked at the (national championship) teams (former Tigers' coach) Skip Bertman had in the early and mid 1990s and what was the makeup of those teams from a geography standpoint. We're trying to map some of that out and duplicate it."