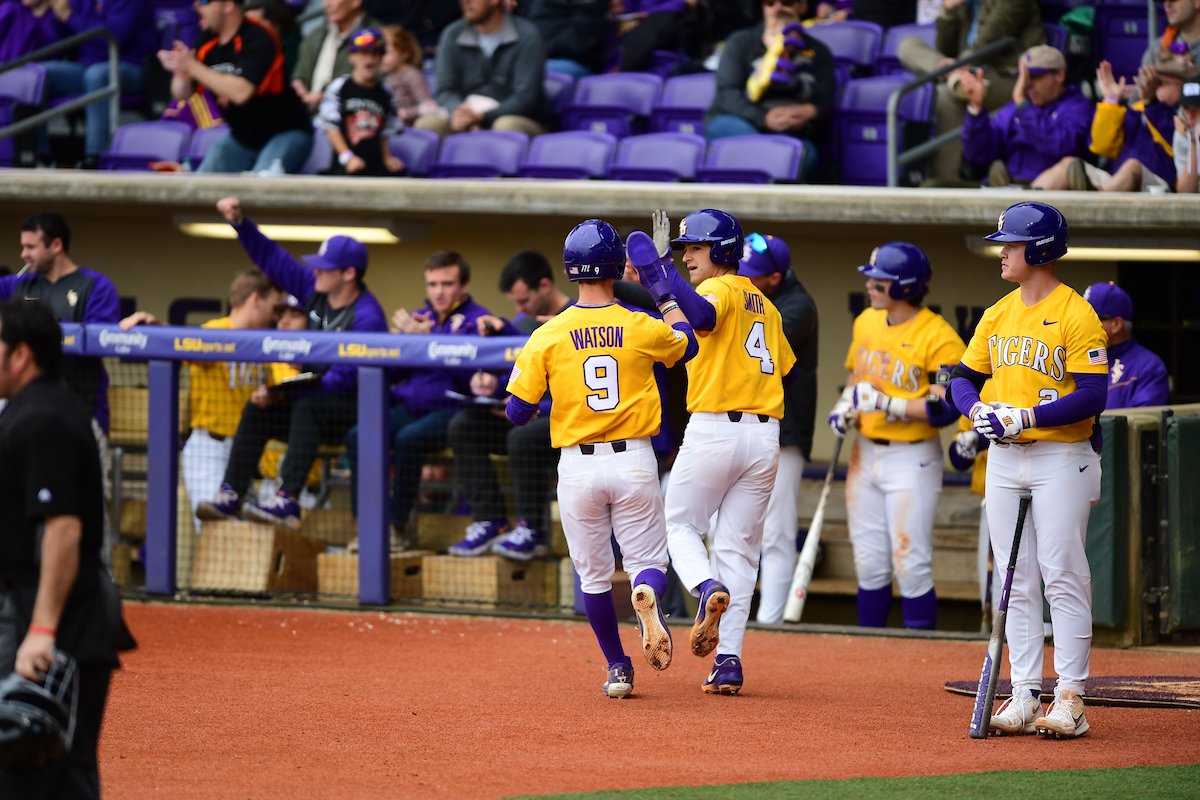 LSU trainer Cory Couture has been the bearer of bad news of late, his typed up list of injury updates seemingly growing longer and drearier by the day.
That wasn't the case Tuesday as Couture presented Paul Mainieri with news so good the coach's jaw dropped.
Mainieri announced Wednesday he now "feels good" about Chris Reid (hamstring) and Zach Watson's chances of playing in this weekend's series against Florida, and more surprisingly, Zack Hess (groin) could also be available to pitch.
"My jaw dropped honestly," Mainieri said. "As (Couture) was talking, I was like 'What? What?' I thought they were going to be out two-or-three weeks. And he's telling me how much progress they're all making, all three of them. I just couldn't believe it."
All three suffered their respective leg injuries in a span of 11 innings during last weekend's series at Missouri. LSU lost to UL-Lafayette 6-5 on Tuesday night playing with just 11 healthy position players and a severely compromised bullpen.
Rest seems to have done the trick for Watson and Reid, who took live batting practice against former LSU ace and National Champion Louis Coleman prior to Wednesday's practice.
"I felt like myself," said Reid, who felt pain while walking up until he received treatment on Monday. "I didn't feel anything in my hamstring, so that was really encouraging. So I felt well."
They're not out of the woods quite yet. Neither Reid nor Watson had run at full speed as of Wednesday's practice, though both had hit and practiced in the field without incident.
Still, even having a chance to suit up against Florida represents a marked improvement from where Watson and Reid were as of Monday afternoon.
"I feel a lot better," Watson said. "It was hurting me to walk the other day, but Cory has been hammering treatment every day to do whatever we can to get it right. I feel good to go."
Hess at this point remains a bit of a wild card. Mainieri thinks he'll be able to pitch after throwing a bullpen session on Tuesday, but LSU's starting pitcher for Thursday night is officially TBA at this point. A decision will be made on Thursday prior to first pitch at 6 p.m.
"He has made an amazing recovery," Mainieri said. "I think because he was so honest with me (last Friday) and didn't try to pitch through it, he's pretty close to being ready to go."
The lingering concern, according to Mainieri, is that Hess could re-aggravate the injury if he starts the game and becomes fatigued. The coach said it's possible that LSU could start someone else — Ma'Khail Hilliard being the obvious candidate — and use Hess out of the bullpen.
Mainieri and LSU pitching coach Alan Dunn will meet Thursday and decide on the pitching plan. Cole Henry and Eric Walker remain in place to start on Friday and Saturday, respectively.
Photo courtesy of LSU Sports Information