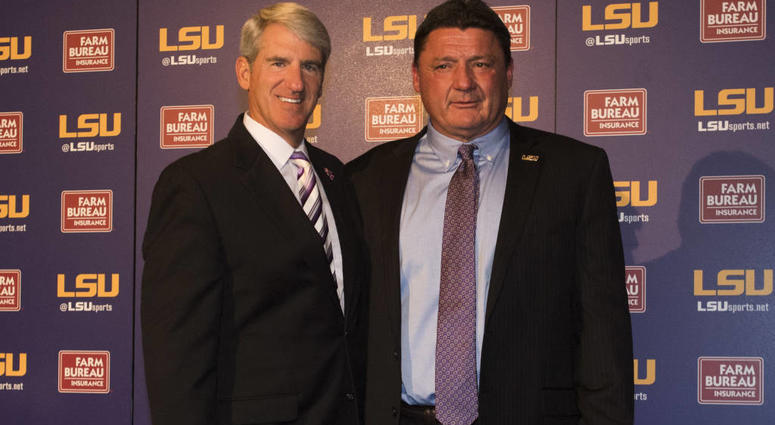 Change is coming to the LSU Athletic Department, and it starts at the very top.
LSU Athletic Director Joe Alleva will step down from his position after 11 years on the job, the university announced in a news release Wednesday afternoon, and he will take on a new role as special assistant to the president of donor relations.
According to the release, Alleva will continue to serve as the program's athletics director until the university names a new candidate to fill the position.
"We are grateful to Joe for his years of service and dedication to LSU," said LSU President F. King Alexander in the release. "Under his leadership, LSU Athletics has become even more nationally competitive and our student-athletes have reached new levels of academic achievement."

The news comes days after LSU reinstated suspended men's basketball coach Will Wade, who Alleva put on indefinite suspension at the instruction of LSU President F. King Alexander last month.
LSU suspended Wade for refusing to meet with university leadership regarding reports from Yahoo Sports that Wade had been caught on an FBI wiretap discussing illegal recruiting tactics with a convicted middleman.
Wade was suspended for more than one month before meeting with university leadership. Tony Benford served as interim coach as LSU advanced to the Sweet 16 of the NCAA Tournament before falling to Michigan State.
The LSU Board of Supervisors on Tuesday met behind closed doors in an executive session with no public comment of action. A university spokesman gave only "potential litigation" as a reason for the tight-lipped meeting, but sources confirm that both Alleva and Wade's situation were discussed.
Until recently, Alleva had enjoyed strong support from the board that serves as LSU's governing body. The Board has awarded Alleva with multiple contract extensions during his tenure, most recently a one-year bump in 2015 that extended his deal until June 30, 2020.
According to his contract, LSU would have owed Alleva a buyout in the event of his termination without cause. Alleva earned $525,000 in base salary under his current deal and $725,000 in certain annual compensation, according to payroll documentation.
Alleva would have been entitled to 100 percent of the base salary he was scheduled to earn over the remainder of the contract. Per the agreement, LSU would have had to pay a lump sum of 35 percent of what is owed within 30 days of termination with the rest to be paid out in equal installments over the remainder of the contract.
The Alleva Era at LSU will likely be remembered for massive facility upgrades and repeated controversy that has drawn the ire of a fan base that isn't shy about voicing its displeasure for the former Duke official.
On the positive side, Alleva has overseen a massive facelift to Tiger Stadium and the construction of several new facilities around campus. Football is coming off its strongest season in years, but that hasn't prevented Alleva from becoming massively unpopular with fans and boosters alike.
Alleva was at the center of the botched firing of former LSU coach Les Miles back in 2015. Jimbo Fisher, who Alleva wanted to replace Miles, is now the coach at Texas A&M.
He also took heat for promoting Ed Orgeron to head coach in 2016 after failing to hire Tom Herman, who is now at Texas. LSU and Orgeron recently agreed to a two-year extension that came with a raise.
Alleva, 65, came to LSU in 2008 from Duke University, where he had served as athletics director. He succeeded Skip Bertman and was chosen for the position from four finalists by then-President John Lombardi and Interim Chancellor William Jenkins.