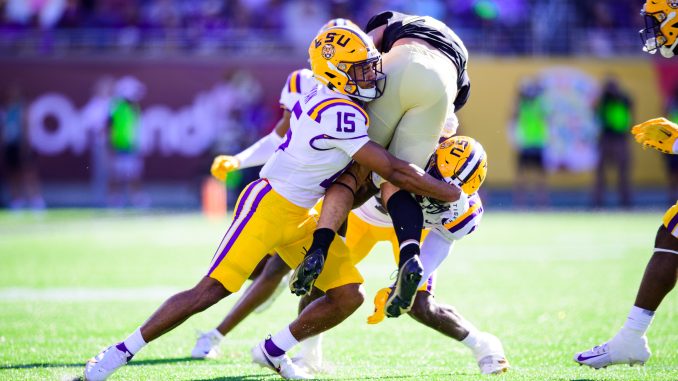 There was a distinct possibility LSU's Sage Ryan could play a position this season other than safety or nickel.
Not only did second-year football coach Brian Kelly discuss the option of having the 5-foot-11, 202-pound Ryan at cornerback, the redshirt sophomore played the position during the team's first major scrimmage in August.
When LSU opened the season against Florida State, Ryan started opposite of Zy Alexander at left cornerback – an experiment that lasted one game. He moved back to his customary role at safety and nickel but with the Tigers' diminishing depth at cornerback – Ohio State transfer JK Johnson was lost for the regular season with an injury; Syracuse transfer Duce Chestnut has been away from the team for two weeks – Ryan found himself back at corner for last week's road game at No. 21 Missouri.
"Sage is a reliable guy. He's a veteran guy," Kelly said. "He's been here, he knows our calls, he knows our defense. He's really playing the third corner when we're in nickel (coverage). We want to get our 11 best on the field."
While Alexander, a transfer from Southeastern Louisiana, has been a constant at right cornerback, the Tigers have turned to Ryan, Texas A&M transfer Denver Harris and true freshman Ashton Stamps to solidify the left cornerback position.
Harris made three consecutive starts between the Grambling State, Mississippi State and Arkansas games, but it was Stamps who got the start against Ole Miss and was part of a secondary that surrendered 389 yards passing and four touchdowns.
"I didn't have much experience," Ryan said Tuesday after practice of his previous time at cornerback. "I played a few snaps in the bowl game, and I liked it a little bit. The coaches saw that I could pretty much play any position on defense. I guess they moved me there. It's been fun. The opportunity presented itself and I just took advantage of it."
Ryan was part of a defensive effort that bent early, falling behind 22-7 in the first half, before producing a pair of interceptions and forcing another fumble that Missouri eventually recovered.
LSU limited Missouri to a pair of second-half touchdowns, forced a pair of punts, held the homestanding Tigers on downs and withstood a missed field goal.
"It gives us great confidence," said Ryan, who had three tackles in the 49-39 road win. "We came a long way, just taking it week-by- week, day-by-day and just improving. We're having a great week of practice this week and we're looking to going into Tiger Stadium and beating Auburn."
No. 22 LSU (4-2, 3-1 in SEC) hosts arch-rival Auburn (3-2, 0-2) in Tiger Stadium at 6 p.m. Saturday.
Ryan, who has started three of six games this season, is eighth on the team with 17 tackles with three tackles for loss and a minus-three yards. He registered a career-high seven tackles the previous week in his team's 55-49 setback at Ole Miss.

"I've played safety, nickel, cornerback," Ryan said. "I know every position on the field so that brings me confidence and just knowing who I have on the field with me, those guys like Harold Perkins, Maason (Smith) rushing the passer, Major (Burns), (Mekhi) Wingo. They all help communicate on the field, so my comfort level is high. I'm confident in those guys to do their 1/11 and they're confident in me."
LSU won a spirited recruiting battle with Alabama and landed the five-star Ryan out of Lafayette Christian Academy where he played for his uncle Trev Faulk, a former LSU linebacker. He was named Louisiana's Mr. Football and the nation's No. 2 safety by 247 Sports and made three starts in 16 games for LSU with 29 tackles, including 23 last season.
Ryan credited the transition to cornerback this year to a couple of key factors.
First, there's been the constant tutelage of position coach Robert Steeples and the daily work against one of the nation's top wide receiver corps – primarily Malik Nabers and Brian Thomas Jr.
"Coach Steeples has done tremendous job of leading me, guiding me to be the best I could be in that position," Ryan said. "It's coming along. It's different being on that island.
"Going against those guys helps prepare me tremendously for Saturday," Ryan added. "We've got the top guys in the nation. To get that comfortability with those guys helps me a lot."