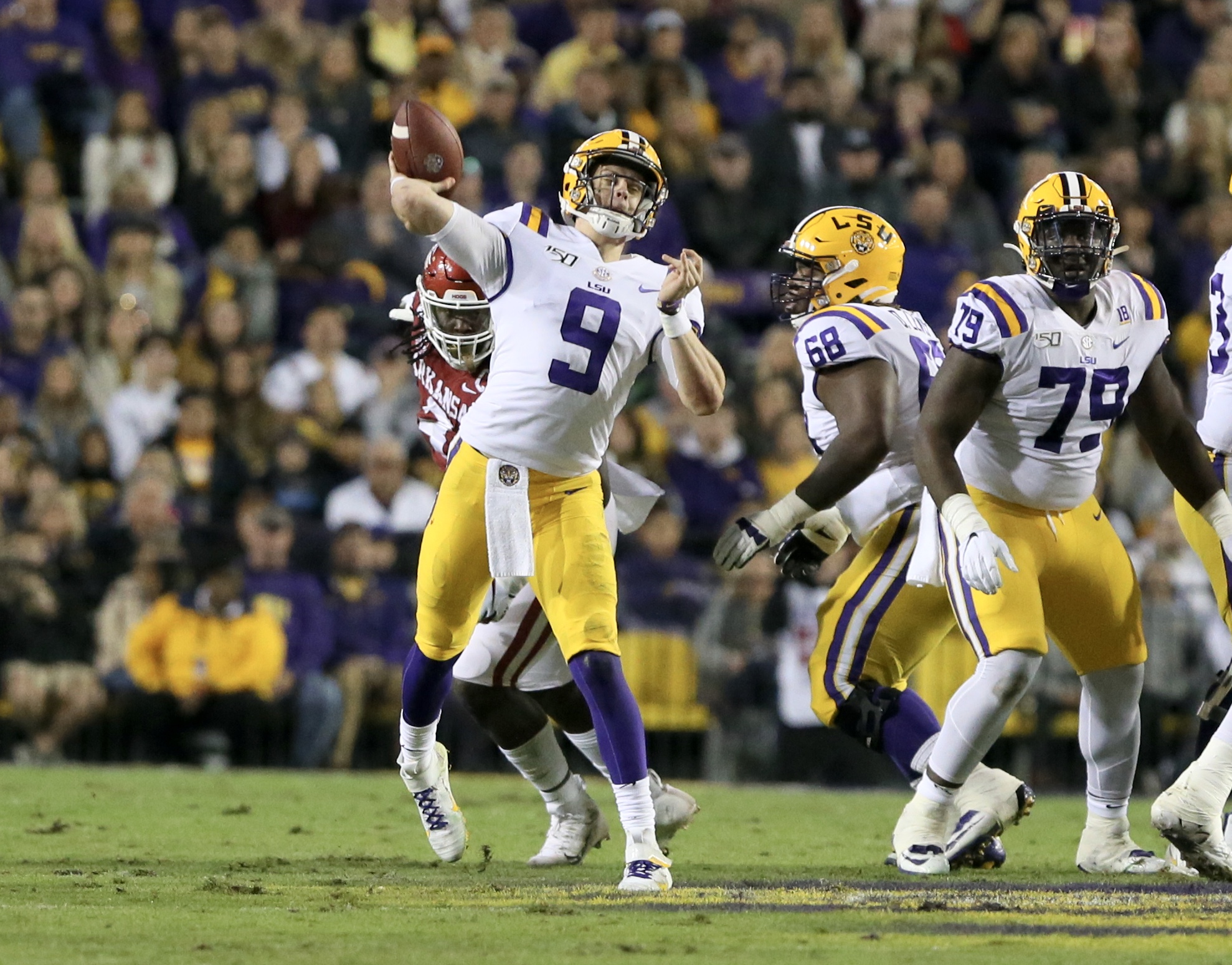 As LSU's only Heisman Trophy winner earning the award in 1959, the unofficial title of LSU's greatest football player of all-time has belonged to Dr. Billy Cannon for the last 60 years.
Cannon was proud to win the Heisman, but he often said how he wished another Tiger would join him in the club.
He died at age 80 on May 20, 2018. That's exactly one week after Ohio State graduate transfer quarterback Joe Burrow concluded a three-day visit to LSU where he decided to finish his college career.
The greatest Tiger ever left this world, never getting to meet his replacement.
If Cannon was still with us, there's no doubt he would be appropriately dazzled by Burrow on a weekly basis in No. 1 LSU's magically delicious 12-0 season that has an SEC championship game vs. Georgia on the agenda next Saturday.
Dr. Billy would be bursting with pride two Saturdays from now at about 7:55 p.m. CT when Burrow collects the 2019 Heisman Trophy as college football's top player.
That's right. The race unofficially ended Saturday night in Tiger Stadium with the fifth-year senior's 10th 300-yard passing game of the year in a 50-7 regular season finale beatdown of Texas A&M.
From the Senior Day pregame ceremony when Burrow wore a jersey with his name spelled B-U-R-R-E-A-U-X to LSU coach Ed Orgeron pulling Burrow from the game with 12:34 left so he could receive a final home curtain call, it was one of those nights you will cherish for being among the adoring masses returning the kisses Burrow blew to you .
"Since I was 10 years old, this is what I've wanted to do," Burrow said after his 352 passing yards and three TDs fueled LSU's biggest ever victory margin in the A&M series. "My goal was to never be a quarterback of an NFL team. I wanted to be the quarterback of a top 10 team playing in the national title game. We still have a chance to do that and that's a dream come true for me."
To Tiger Nation stuck in a decade long or more of plodding offensive concepts and predictable play-calling, maybe this season is more a hallucination than a dream. But as the weeks have passed, as Burrow and his merry band of playmakers have maintained averaging an SEC-record 48.6 points per game with the triggerman setting an SEC single season passing yardage record vs. the Aggies, it's all finally reality.
It wouldn't have happened without Burrow, the former Mr. Football in the state of Ohio where as a high school senior he envisioned a great college career at Ohio State.
Thankfully, he found his football nirvana at LSU in a city and a state he rarely, if ever, visited.
Burrow learned about crawfish and hurricane parties and summer mosquitos and how to pronounce any word ending in "eaux."
Raised playing in cold weather day games, he flawlessly transformed into a creature of humid Tiger Stadium Saturday nights.
"There's nothing like Saturday night in Death Valley, it's the best atmosphere in the country," Burrow said. "It hit me when I was jogging off the field for the last time."
He won the trust and respect of his teammates.
"I told him today he's the G.O.A.T. (greatest of all-time)," LSU center Lloyd Cushenberry said. "He better win the Heisman, it's not even close."
Burrow may never again have to pay for a meal in Louisiana.
"I'm not going to answer that due to NCAA rules," Tigers' defensive end Breiden Fehoko joked, "but the way he's going he won't have to buy anything in the next few months."
Burrow earned the love and admiration of a football-crazy state."Joe has meant a lot to Louisiana and Louisiana is very proud of LSU football," said Orgeron, born and raised among the south Louisiana bayous. "People in Louisiana have heart. When they love you, they love you. They love Joe and Joe loves them."
From the day he arrived, the Tigers' fan base immediately connected by spelling his name "Jeaux Burreaux."
He returned the affection with his specially made pregame jersey for his final home game.
"It (the idea for his Burreaux jersey) came to me early in the week," Burrow said. "I went to my equipment guys to see if they could get it done. I thought it would be a good tribute to the university and the state of Louisiana and awesome to wear it for Senior Night."
Then, he went out and did something for the 13th time in his 14 home games in Tiger Stadium.
He led his team to victory.
"I was kind of worried about it (the emotion of Senior Night)," Burrow said, "but when we got on the field it felt like any other game. Take care of business."
Burrow knows he's lucky to be surrounded by such like-minded individuals as himself. Respect and prepare thoroughly for every opponent. Play to a standard of efficient execution rather than look at the scoreboard.
The Tigers' coaching staff, particularly the offensive braintrust of coordinator Steve Ensminger and passing game coordinator Joe Brady, know they could not run their intricate scheme at such a high level without the experience of the extremely intelligent Burrow.
Without Burrow, wide receiver Ja'Marr Chase isn't a finalist for the Biletnikoff Award as college football's top receiver and running back/kick returner Clyde Edwards-Helaire isn't a finalist for the Paul Hornung Award as college football's most versatile player. Brady will likely become the first first-year assistant coach ever to win the Broyles Award as college football's top assistant.
It's not a shock to those who know Burrow the best that he's filled with gratitude how his college career has played out.
"It has been awesome not only for me, but my family as well," Burrow said. "They come back and tell me stories of them being thanked for sending me down here.
"My whole family is like, `Thank you for resurrecting my (son's) career.'"
Back at ya, Joe. Thanks for resuscitating LSU's program to a national playoff level and giving us a string of performances for the ages.