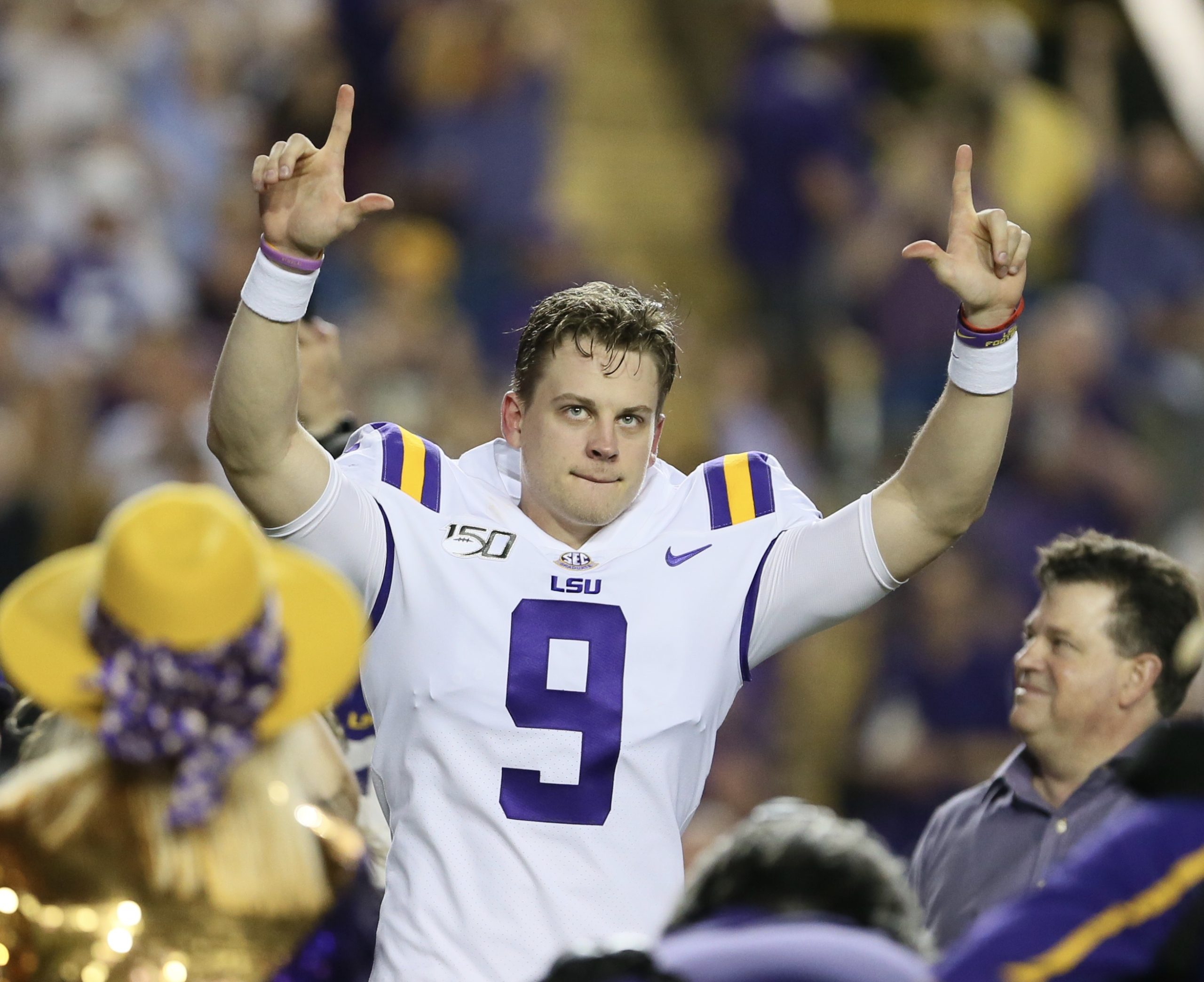 LSU head coach Ed Orgeron tried to warn everyone.
In front of media a week ahead of the Tigers' much-anticipated rematch with Texas A&M, Orgeron was very clear about how he expected his team to play a year after losing a 7-overtime war with the Aggies.
"Oh, it's goin' to be on," he said with a sneer.
It was indeed on, as the Tigers (12-0, 8-0 Southeastern Conference) finished a perfect regular season with a statement 50-7 win against the team that ripped their hearts out a year ago.
"12-0," Orgeron said after the dominant showing. "What a tremendous feat for our football team, by our coaching staff, by our 15 seniors. Our whole football team. … I think the number one thing that happened is we played 60 minutes of LSU-standard performance, and that's
LSU stormed out of the gates, scoring touchdowns in each of its first four offensive drives and limiting the Aggies (7-5, 4-4) to 40 yards of total offense in the first half to take a 31-0 lead into the break.
The Tigers' defense put together perhaps its best performance of the season, limiting Texas A&M quarterback Kellen Mond to 10 of 30 passing for 92 yards and three interceptions by Grant Delpit, JaCoby Stevens and Kary Vincent, in that order.
The Tigers also got to Mond for six sacks, led by outside linebacker K'Lavon Chaisson with 1.5.
When it was all said and done, the Tigers limited the Aggies to 169 yards of total offense and just one scoring drive.
"It was a great job by the defense," Chaisson said. "I feel like we finished the game like we wanted to finish. We got a ways to go still, but one thing about being a great defense is you have to be consistent. You can't peek-a-boo. You can't come and go. We had a great game, but this needs to carry over to the next game."
The near-shutout performance came at the end of a week in which the the College Football Playoff committee leapfrogged Ohio State over LSU, calling the Buckeyes a more complete team due to their defensive ability.
Orgeron brushed those comments aside, but it was clear the defensive players felt differently.
"It hit us hard," Chaisson said. "It was personal. Coach O kept preaching about not being into that, but there's only so much you can block out.
"We take that personally. There's too many great guys on this defense, high-caliber guys that are ranked at an elite level."
By the time Texas A&M's defense found a way to pressure LSU quarterback Joe Burrow and slow down LSU's offense, the game was too far out of hand for it to matter, and by the time the Aggies' offense got on the board, LSU's offense began clicking again, rendering the unlikely comeback attempt useless.
The performance represented complete domination by a team that had this game circled on the calendar since it's unfortunate plane ride home from College Station a year ago.
The senior night proved to be historic for Joe Burrow, who set a new SEC single-season benchmark for passing yards in a single season (he now currently sits at 4,366) and tied the league's passing touchdown record with his 44th of the season.
Burrow — who walked onto the field for senior night festivities wearing a jersey with "Burreaux" emblazoned on the back — finished his last night in Tigers Stadium completing 23 of 32 passes for 352 yards and three touchdown passes (a sub-par performance by the standards he has set this season).
"This has surpassed all my expectations," Burrow said. "We have great people, great coaches… and great fans supporting us."
His favorite receiver continued to be Ja'Marr Chase, who continued his Biletnikoff Award campaign with 7 catches for 197 yards and three touchdowns.
"If he doesn't win (the Biletnikoff Trophy)…. it's going to be tough to not give that guy that award," Burrow said. "I think we have three of the best receivers in the country, and Ja'Marr's been unbelievable. Nobody's been able to cover him all year. Not only is he a great player, but he's a better person and he works so hard. I couldn't be happier for that guy."
Running back Clyde Edwards-Helaire continued his storybook season with 18 catches for 87 yards and a touchdown.
LSU will now turn its attention to Atlanta, Ga., where the Tigers will face off with Georgia for the SEC Championship and a guaranteed spot in the College Football Playoff.
"We are happy we beat Texas A&M," Orgeron said. "We are happy to be 12-0. We are going to enjoy this for 24 hours and then on to Georgia, where we want to go play a big SEC title game, which means a lot to our university and a lot to our football team."