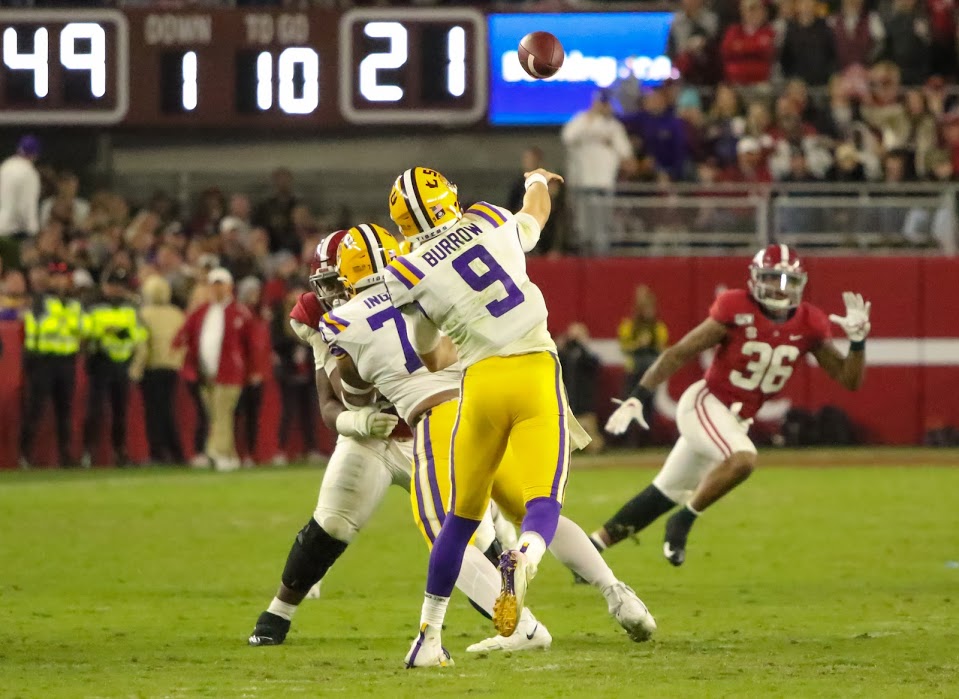 The legend of Joe Burrow grows by each superlative performance from the passing master from Athens. The LSU quarterback hails from a historic city in Ohio, but Burrow resembles a Greek God from ancient Athens in Tiger lore. The Heisman Trophy is in the offing and like Billy Cannon, his similarly honored predecessor in Death Valley, Burrow looks destined to depart the Ole War Skule with a national championship. Someday a film will capture his spectacular odyssey from bench warmer at Ohio State to one of the best there ever was at LSU.
Other than claims that he was an insensitive tweeter, Burrow is viewed by an adoring fan base as the perfect student-athlete. He not only is rewriting the SEC record book for a single year, he will complete 2019 with an advanced degree. Add wholesome good looks, competitive zeal and spectacular precision. The result is an image cemented in the minds and hearts of the faithful of a baby-faced assassin. Last year's Big Man of Campus looms larger than life and leaves the university as the most revered athlete in TigerTown since Pete Maravich exited the Parker Coliseum almost a half century ago.
Burrow is favored to lead LSU to its first SEC title in eight years this week in Atlanta against Georgia. Then comes the Heisman and national title prospects with a final crowning in New Orleans on Jan. 13 most likely against the team that dissed its native son, Ohio State.
A Hollywood writer would be fired for incompetence for proposing such a hokey scenario. But here we are with a story that fits the script. Burrow has three more games to continue his assault and conquest of the SEC single season record book. This observer believes Bayou Joe is better than Broadway Joe or Kenny the Snake or any member of the Manning clan who ever tossed a pass in the SEC before him.
But there is one SEC Heisman winner who retains statistics that are so good that Burrow still has numbers that his mighty right arm and nimble feet can pursue. It is sacrilegious in Louisiana to say this, but in his 26-game career at Texas A&M, Johnny Manziel was slightly better than Joe Burrow in his glorious 25-game victory march through the Southland.
Manziel captured the Heisman in his freshman season of 2012, leading the Aggies to a record of 11-2 and finished fifth in 2013 as A&M fell to 9-4. His overall record of 20-6 is not as strong as Burrow's 22-3 record, but Manziel arguably did not have a supporting cast as formidable as the current LSU superstar.
Here are the comparative numbers for Manziel in 26 games as a collegian and Burrow in 25 starts at LSU:


Att. Comp. Pct. Yds TD Int Rushes Yds TD Avg. Total Off. Total TDs
Burrow 780 533 68.3 7260 60 11 213 647 10 3.0 7907 70
Manziel 863 595 68.9 7820 63 22 345 2169 30 6.3 9999 93
Burrow stands to achieve a level of adulation reserved for LSU athletes a few times each century. He is great, and so was Johnny Football.
Orgeron Leads all LSU Coaches in Winning Frequency


Ed Orgeron has vaulted to the top of the LSU chart for coaches ranked by winning percentage. He is 28 games above .500 in his LSU tenure from 2016-19. Only eight coaches in LSU history since the advent of the SEC have won at least ten more games than they lost while leading the Tigers.
Coach Record More wins than losses PCT
Les Miles 114-34 80 77.0
Charles McClendon 137-59-7 78 69.8
Bernie Moore 83-39-6 44 68.0
Nick Saban 48-16 32 75.0
Ed Orgeron 37-9 28 80.4
Paul Dietzel 46-24-3 22 65.7
Bill Arnsparger 26-8-2 18 76.5
Biff Jones 20-5-6 15 80.0
Orgeron predecessor Les Miles holds the record for games over .500 for an LSU coach, but Miles struggled to a 3-9 record in his first year at Kansas and lost his finale to Baylor 61-6.
Miles' record at Oklahoma State and Kansas is 31-30 for an overall mark of 145-64, 69.4 percent.
Edwards-Helaire Season Comes in Response to Tragedy
Clyde Edwards-Helaire has produced a year that in any other season would have him presented as a Heisman Trophy candidate.
The junior from Baton Rouge Catholic has rushed for 1,233 yards and 16 touchdowns and caught 43 passes for 338 yards and another score. Edwards-Helaire is also a gifted kick returner and blocker and has LSU special assistant John Robinson comparing the Tiger star to USC Heisman winner Charles White, coached by Robinson from 1976-79.
This year has been notable in many ways for the LSU standout, who last December shot and killed an 18-year-old man in an incident in North Baton Rouge. District Attorney Hillar Moore says Edwards-Helaire responded with justifiable force when Kobe Johnson pulled a toy gun that appeared to be a real weapon. With Clyde was teammate Jared Small who attended CHS with Edwards-Helaire.
Baton Rouge police said the Dec. 22 shooting occurred as the players were attempting to sell an electronic item that was received prior to the PlayStation Fiesta Bowl in Glendale, Arizona. The item had been advertised on a web site, resulting in the fatal meeting.
Edwards-Helaire took the opening kickoff against Central Florida 77 yards as the Tigers closed the 2018 campaign with a 40-32 victory. Nick Brossette rushed for 117 yards on 29 carries in his last game as a Tiger, and Edwards-Helaire finished with 32 yards on ten rushes.
Funeral services at Winnfield Funeral Home in Baton Rouge were held on Jan. 5 for Kobe Ja'Vone Johnson, who was born on July 18, 2000.