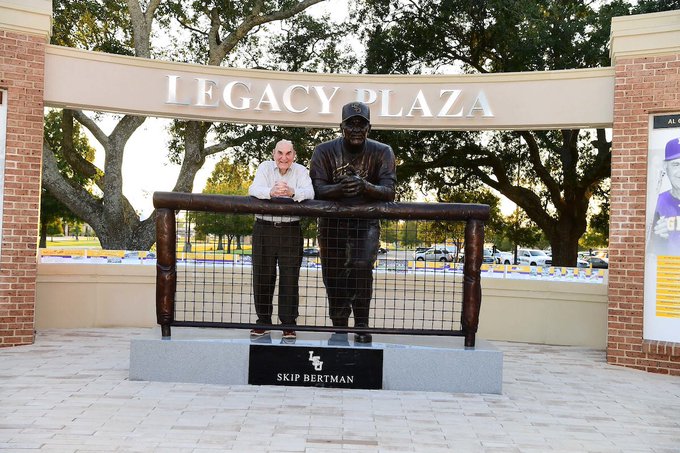 Skip Bertman remembers the days when he used to walk around Baton Rouge in his uniform to sell baseball tickets.
Then, as he recalls, the fans who'd show up in the stands at the old Alex Box would yell to alert "Slip Bertram" that his team needed to put more points on the board, the bad calls that dumb referee made be damned.
LSU Baseball was an afterthought both locally and nationally when Bertman left Miami in 1983 to create a program all his own. He attracted fans, interest and money to the program through sheer force of will, and once Bertman started to win, he won at a rate that nobody will ever match.
Bertman guided LSU to the College World Series for the first time in 1986, his third season at the helm. LSU won its first national championship in 1991 and it was history from there, with Bertman winning five championships in a decade's time before retiring from coaching as a living legend.
Before Bertman, LSU used to average fewer than 500 fans a game in attendance. The program he built has now led the nation in attendance for a staggering 24 consecutive seasons. For better or worse, the fan base has gone from not knowing where Omaha is to expecting a trip ever summer.
None of that would've been possible were it not for Bertman.
The legendary coach and athletic director already has a street on campus and the field at the new Box named in his honor, and yet it still felt long overdue when LSU unveiled a new statue of Bertman on Friday night, the main attraction in the newly-completed "Legacy Plaza."
"I am truly humbled by this honor," Bertman said in his remarks to a gathered crowd of family, friends, fans and former players. "I have to remember to breathe tonight."
LSU's Board of Supervisors formally approved the construction project last September, but the push to erect a Bertman statue began well before that.
Current coach Paul Mainieri has long pushed for the statue and is credited as a driving force in getting the project completed. It was completely funded through donations to the Tiger Athletic Fund.
"He's always wanted me to have this statue," Bertman said. "There's never been any resentment by Paul. I'm very proud of Paul Mainieri."
"This day is far overdue," Mainieri said during his time at the mic. "This is very special for the Bertman family, but it's special for the Mainieri family as well."
The statue itself is a fitting tribute to Bertman's larger-than-life presence around the program. It immortalizes Bertman leaning over the dugout railing and so perfectly captures his mannerisms that the old coach almost naturally assumed the same pose when it came time for pictures.
Master sculptor Brian Hanlon modeled the entire thing out of clay and then cast in bronze. The dugout railing and Bertman are actually two separate pieces made to fit perfectly together. The granite base came from his own quarry.
All told, the piece weighs somewhere in the neighborhood of 3,500 pounds.
Hanlon is world-renowned in his field. He's done all of the sports statues you'll find on LSU's campus. He recently completed a statue of Jackie Robinson as a football player that sits outside the Rose Bowl and a Bobby Cox statue for the Atlanta Braves' new ballpark.
Hanlon also did the famed Steve Gleason blocked-punt statue that sits outside the Superdome in New Orleans. As for the non-sporting world, Hanlon has immortalized the likes of Harriet Tubman and Susan B. Anthony in bronze.
But coaches have always been muses for Hanlon's art. His portfolio includes legendary Syracuse coach Ben Schwartzwalder, Georgetown coach John Thompson, Jerry Tarkanian at UNLV and Temple coaches John Chaney and Harry Litwack.
Hanlon makes a point of sitting down with his subjects — provided they're alive, of course — before beginning his work. His conversation with Bertman still sticks with his two years after the fact.
"This is by far the most interesting and successful coach I've ever spoken with," Hanlon said. "And more importantly, when I met with him the first time, he said the only way we're doing this statue is if it benefits LSU.
"These coaches are normally pretty humble guys, but to say that is such a profound statement his character. I think that's why I nailed the likeness so well. I respect him."
LSU achieved that stipulation by working the statue in as part of the "Legacy Plaza," which honors all of LSU's various SEC (regular season and tournament) championship teams.
It stands both as a celebration of LSU's glorious past and a constant reminder of the standard that was set before most of the team's current players were even born.
And most importantly, it is a long-overdue honor for the man that had a vision that LSU Baseball could be elite and built the program from an afterthought to a juggernaut brick by brick.
Photo courtesy of LSU Sports Information