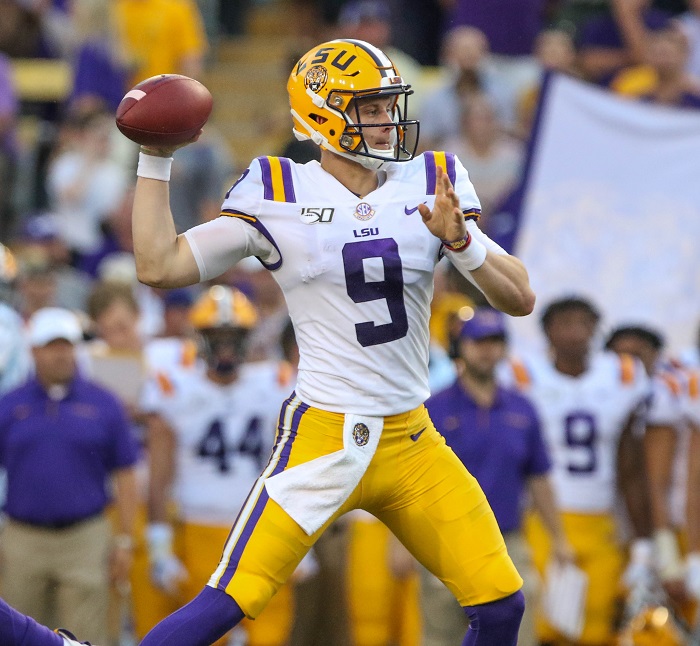 Shortly after player interviews began in the LSU indoor football facility, Joe Burrow entered and an LSU staffer announced he would do all of his interviews in front of the TV cameras, instead of splitting his time between TV and print as per usual.
A group of reporters had just sat down with running back Clyde Edwards-Helaire and spent a couple minutes discussing his teal-hunting trip to Venice early Sunday morning after LSU's 65-14 victory against Northwestern State, and upon hearing the announcement, one reporter visibly grunted, shook his head and got up from his seat to get a spot for Burrow's presser.
"That's alright," Edwards-Helaire said. "Go talk to Mr. Heisman."
Mr. Heisman, an LSU quarterback. How in the world did we get here?
"One, the receivers are catching every ball I throw to them, whether they're cover or not," Burrow said. "Two, the offensive line is giving me a lot of time to protect. Three, I worked really hard this offseason on my footwork and being more accurate.
"With the combination of those three things, the completion percentage is pretty high."
The numbers don't lie, and the oddsmakers in Vegas have taken notice.
After beginning the season as a 200-1 underdog to win the Heisman, Burrow has worked those odds up to a 4-1 near-favorite in the span of just three weeks, two of which he spent significant time on the bench after building insurmountable leads against Georgia Southern and Northwestern State.
He has completed a nation's best 83.3 percent of his passes for 1,122 yards and 11 touchdowns with just two interceptions one of which came off a ball tipped at the line of scrimmage against Texas.
The senior grad transfer who arrived in Baton Rouge last June has become a perfectionist, sometimes quite literally.
After LSU's victory against NSU in which Burrow threw 21 for 24 for 373 yards and two touchdowns and an interception, Burrow said the coaching staff had to calm him down.
"I was upset," Burrow said. "My goal of the game going into Saturday was completing every ball and I was kind of upset at myself for the interception and the two other incompletions. They kind of had to make me realize that we still completed 80 percent as a team, so were really goo on offense on Saturday. And, you know, I still feel like we can get a lot better."
It's not hard to see why everybody has been talking about the once-dark horse, now-contender for the most prized award in college football, but Burrow has kept a level head and consistency through it all.
"It's Week 3," he said when asked about the attention that's come with his early success. "This is the first SEC game, so I'm really not paying attention to it at all. The numbers are great, but I'm all about winning games. I told you that when my numbers weren't great last year, and when they're great this year, I'm going to tell you the same thing."
Another thing Burrow has going for him is the fact that he has a head coach that knows what it takes to win the Heisman.
During his journeyman days, he coached on teams such as Miami and USC that churned out multiple Heisman winners during his times there.
"Joe is becoming an elite quarterback, and I've been a part of three Heisman Trophy winners, Gino Torretta, Carson Palmer, and Matt Leinart — and I've seen a lot of similarities or maybe some things even better that I remember those guys doing."
So does he think Burrow has what it takes to bring the award back to Baton Rouge for the first time since Billy Cannon won the award in 1958?
"We all know the answer to that," he said. "It's yes, he is, and he's that good. You have to win the big game. I think that you have to win the big game. You have to take us to the SEC Championship and take us to the Championship. Not to say that you can't win it without it, but if you do those things, you've got a good chance of winning.
"Who says that we can do that? I don't know. But I've been a part of three National Championship teams, and that was a big part of those guys winning the Heisman, I'll guarantee you that."
Burrow seems to understand this as well. He was living in Ohio at the time, but he remembers when Leonard Fournette was essentially declared the Heisman winner at this point in the season, even making appearances on the covers of popular sports magazines, before LSU faltered at the end of the season, and by the time the ceremony rolled around, he wasn't even invited to New York to participate.
"The individual awards are going to come with winning games," Burrow said. "I think a big part of the reason (Fournette) fell is because LSU wasn't winning the big games late in the year. That's going to be critical for us."
Whether that translates into a trip to the College Football Playoff and New York for the Heisman Trophy ceremony is yet to be seen.
But he has all the tools to help the Tigers accomplish both of those goals. He just has to continue using them.
Photo Credit: Terril Weil