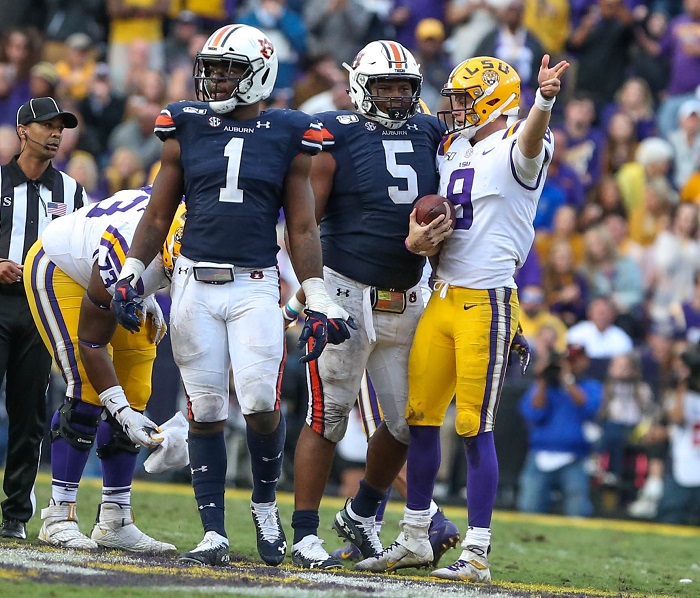 There's no one way for a quarterback for inspire his football team. Some just happen to be more painful than others.
Those are turning into a calling card of Joe Burrow.
His LSU offense was shut out in the first quarter for the first time all season. Auburn led 3-0, and LSU faced a third-and-long deep in its own territory. Burrow evaded the Auburn pass rush and scrambled for a first down, taking a shot along the sideline before stepping out of bounds.
Tiger Stadium and the LSU bench roared in disapproval. Burrow hopped right back up and led LSU on a business-like scoring march to take the lead, punctuated by a perfectly-thrown touchdown to Terrace Marshall.
LSU coach Ed Orgeron said after the game that it looked like a late hit from his vantage point, though he wouldn't know for sure until he got a chance to see the film.
Burrow didn't think the play was dirty. He thought he was still in bounds when the Auburn defender put a shoulder into his upper chest. LSU's Heisman frontrunner talked about the play with a semblance of a smile on his face.
"If a quarterback shows toughness like that, it can kind of get the team going," he said. "That's what I try to do every day. In the weight room, on the field taking hits and getting right back up. If you lay down on the field and don't hop right back up, it kind of shows your team that you're not really into it."
Burrow led LSU to a hard-fought 23-20 win against a ferocious Auburn defense at Tiger Stadium on Saturday. The victory propelled LSU to 8-0 and the No. 1 spot in the newly-released AP Poll, setting up a Game of the Century redux at Alabama in two weeks.
LSU's offense wasn't the clinic on ruthless efficiency it had been during the first seven games of the season, but Burrow was marvelous again nonetheless. He completed 32-of-42 passes for 321 yards with one touchdown and one interception.
Burrow also turned in some pivotal plays with his feet, including that scramble on the first touchdown drive. If you remove yardage lost on three sacks, Burrow ran for 47 yards. That includes a seven-yard touchdown run that helped ice the game late on a beautifully-designed run-pass option.
That touchdown run put LSU ahead by 10 points in the fourth quarter. Burrow pounded his chest as he ran around the end zone. It felt like a fitting moment considering the hit to the chest he'd taken earlier in the game.
"He's got that linebacker mentality," Orgeron said. "He's tough and our team believes in him."
The spark Burrow's toughness gave LSU felt eerily similar to last year's Fiesta Bowl. UCF blindsided Burrow in the midst of a pick-six and the quarterback laid motionless for a few moments on the turf in Glendale, Ariz.
Burrow didn't pop up as quickly that time, but once he did, the quarterback threw four touchdowns in leading LSU to a 40-32 victory. That game provided one of the first glimpses at the quarterback Burrow would become once LSU opened up the offense this season.
"I didn't get the wind knocked out of me this time," Burrow smiled after the Auburn win.
Burrow has proved this season that he's the leader LSU needs for any type of game. He can sling it with surgical precision in a shootout like the Texas game. He can also make tough plays in a gritty SEC slugfest on a sloppy track, like Saturday's win over Auburn.
In two weeks the college football world will tune in to see if he's also the quarterback capable of getting the Alabama elephant off LSU's back.
The Tigers haven't beaten the Crimson Tide since the last Game of the Century in Tuscaloosa. But Burrow's presence creates an air of optimism and possibility that didn't exist for many of the past eight meetings.
"I think we're a much better football team than last year," Burrow said. "I think we're more explosive. I think our defense is really starting to click on all cylinders, and I'm excited to get back to practice this week and fine tune some things we haven't been really good at the last two weeks."
DISASTER AVERTED
Last year's Alabama game lost some of its luster when LSU star linebacker Devin White got ejected for a controversial targeting penalty the week before. The ejection caused him to be suspended for the first half against Alabama, and the game was pretty much over before he played a down.
LSU fans were holding their collective breaths that history wasn't repeating itself when star defensive backs Grant Delpit and Derek Stingley Jr. limped off the field with apparent injuries in the fourth quarter against Auburn.
Disaster was averted, thankfully, as Orgeron said after the game that neither injury was believed to be serious. Both All-American candidates will have a bye week to rest up and two full weeks to get ready for Nov. 9 in Tuscaloosa.
"I don't think so," Orgeron responded, asked if there was any cause for concern. "I think we're fine."