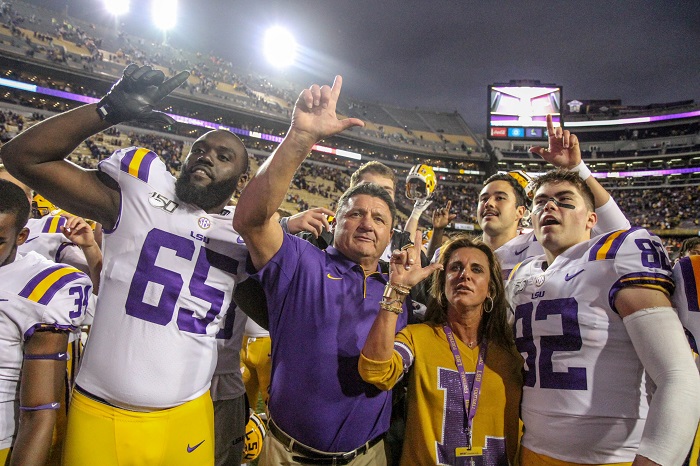 On the afternoon of Oct. 27, Edward Jim Orgeron reached the pinnacle of his profession. The 58-year-old journeyman coach from the remote Cajun outpost of LaRose is maestro of the team ranked No. 1 in the land. Orgeron's ascension to the peak of his game is 12 years removed from his abrupt firing at Ole Miss, where he lost 21 of 24 SEC assignments in three years.
LSU is 8-0 and ranked ahead of Nick Saban's Alabama monolith as the Tigers and Tide prepare for a Tuscaloosa duel a week from Saturday. Talk about David and Goliath. Orgeron enters the new Game of the Century with a career record of 22-28 (44 percent) in SEC play. Saban boasts a record of 116-25 (82.3 percent) in SEC competition.
Orgeron invades Bama Land with the best sharpshooter at quarterback for LSU since Bert Jones paraded into Birmingham 47 years ago. Joe Burrow is hoping for better results. The Ruston Rifle played well, but LSU lost 35-21, and Charlie McClendon chose to punt in the fourth quarter rather than have the best passer in the nation give it a whirl on fourth down.
Jones grimaced at his coach for giving up. There will be no repeat of that occurrence at Bryant-Denny. Orgeron and Joe Burrow enter the clash on the same page with both obsessed at avenging last year's 29-0 shutout at Death Valley.
Alabama's gifted quarterback Tua Taglovailoa is hobbling and will not be at full capacity for his date with LSU, but carries the Alabama mystique into the battle and it is that aura of invincibility that has enabled the Tide to win eight straight times against its storied rival.
Everything for 2019 rests on the Nov. 9 outcome with the NCAA, SEC and SEC West championships at stake along with the Heisman Trophy, which might as well be delivered to Burrow or Tua based on the final score.
Orgeron is also in range of eclipsing Saban in this year's recruiting derby. LSU has 23 commitments, including three five-star players who hail from California, Georgia and Washington D.C. Fifteen of Coach O's commitments are from out of state. It is an amazing collection of athletes from every part of the U.S.
Orgeron has 84-year-old USC legend John Robinson at his side as a consultant, and Robinson knows what is like to beat a great Alabama team on the road. Robinson directed USC to a 24-14 over Alabama at Legion Field in 1978. Unfortunately for USC, the 11-1 Trojans shared the NCAA crown with the 11-1 Crimson Tide.
Robinson was 43 when he captured national honors nearly half a lifetime ago. Here are the ages of the NCAA coaches to win titles in the last 40 years. When there are multiple championships, the age of the first crown is listed.
Year Coach Age at first NCAA Title
1979 Bear Bryant 37 at Kentucky in 1950
1980 Vince Dooley 48 at Georgia in 1980
1981 Danny Ford 33 at Clemson in 1981
1982 Joe Paterno 56 at Penn State in 1982
1983 Howard Schnellenberger 49 at Miami of Florida In 1983
1984 Lavell Edwards 54 at BYU in 1984
1985 Barry Switzer 37 at Oklahoma in 1974
1986 Paterno
1987 Jimmy Johnson 44 at Miami of Florida In 1987
1988 Lou Holtz 51 at Notre Dame in 1988
1989 Dennis Erickson 42 at Miami of Florida in 1989
1990 Bobby Ross 54 at Georgia Tech in 1990
1990 Bill McCartney 52 at Colorado in 1990
1991 Don James 59 at Washington in 1991
1992 Gene Stallings 57 at Alabama in 1992
1993 Bobby Bowden 64 at FSU in 1993
1994 Tom Osborne 57 at Nebraska in 1994
1995 Osborne
1996 Steve Spurrier 51 at Florida in 1996
1997 Osborne
1998 Philip Fulmer 48 at Tennessee in 1998
1999 Bowden
2000 Bob Stoops 40 at Oklahoma in 2000
2001 Larry Coker 53 at Miami of Florida in 2001
2002 Jim Tressel 50 at Ohio State in 2002
2003 Nick Saban 52 at LSU in 2003
2003 Pete Carroll 52 at USC in 2003
2004 Carroll
2005 Mack Brown 54 at Texas in 2005
2006 Urban Meyer 42 at Florida in 2006
2007 Les Miles 54 at LSU in 2007
2008 Meyer
2009 Saban
2010 Gene Chizik 49 at Auburn in 2010
2011 Saban
2012 Saban
2013 Jimbo Fisher 48 at FSU in 2013
2014 Meyer
2015 Saban
2016 Dabo Swinney 47 at Clemson in 2016
2017 Saban
2018 Swinney
If Orgeron becomes the fourth LSU coach in modern time to win the NCAA football title, he will become the third oldest man to earn the championship for the first time. Only Bobby Bowden of FSU and Don James of Washington were older when they reached the throne room, and in those cases, it was the culmination of long head coaching careers.
The LSU leader is a testament to tenacity in staying the course through wounds that in some cases were self-inflicted to be perched at the brink of immortality. Some exceptional coaches like McClendon and Bo Schembechler of Michigan toiled for a generation at top flight schools and did not win NCAA honors. LSU is so good this year that nobody will be stunned if their resilient coach hoists a trophy on Jan. 13, 2020 at the Superdome.
LSU Alums Vying for Governor
Louisiana voters will choose their next governor on Nov. 16 between incumbent John Bel Edwards and challenger Eddie Rispone, both graduates of LSU.
Governors often are seen at LSU games with a few like John McKeithen frequent visitors to the practice field. When LSU wins, Louisiana chief executives are usually there to hear the roar of the crowd. When the Tigers lose, defeat is usually an orphan produced by the beleaguered head coach.
Here are the LSU Records under the last ten Louisiana governors:
Governor LSU Record during their term/s Years as Governor
Kathleen Blanco 43-9 82.7 percent 2004-07
John Bel Edwards 35-11 76.1 percent 2016-19
Bobby Jindal 78-25 75.7 percent 2008-15
Jimmy Davis 31-10-2 75.6 percent 1960-63
John McKeithen                    63-22-3                 74.1 percent                       1964-71
Mike Foster                      65-33                     66.3 percent                       1996-2003
Edwin Edwards             114-67-6        63.0 percent     1972-79, 1984-87, 1992-95
Earl Long                            54-37-3           59.3 percent   1939, 1958-51, 1956-59
Dave Treen 22-21-2 51.2 percent 1980-83
Buddy Roemer 22-23 48.9 percent 1988-91
The three NCAA championship governors were Earl Long in 1958, Mike Foster in 2003 and Kathleen Blanco in 2007.