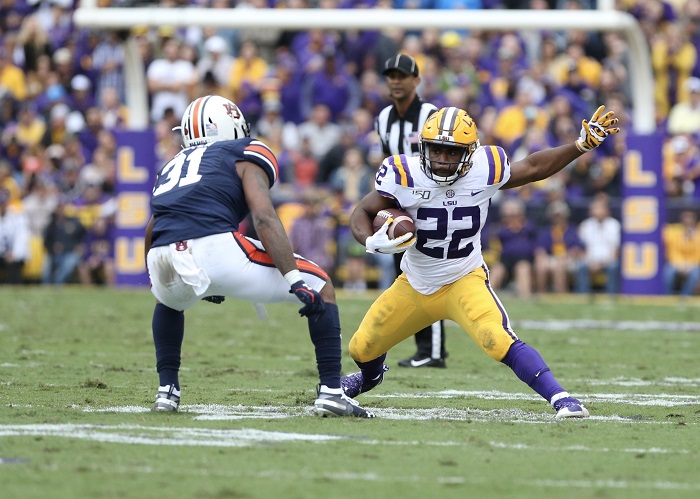 So much of LSU's roll to 7-0 and No. 2 in the country was about Joe Burrow and his crew of talented wide receivers.
They rewrote the LSU record books and shredded any defense in their path with relative ease, appearing nearly unstoppable at times. It became chic to wonder why Steve Ensminger and Joe Brady even bothered to dial up running plays at all. Doing so felt like a waste of time.
LSU's passing game finally encountered some tough sledding in the form of an Auburn defense that overloaded the boundary and got after Burrow with four- and five-man pressures. Suddenly it wasn't so easy to sling the ball around on a cold afternoon in Tiger Stadium.
That's why, with the game on the line, LSU went away from its Heisman frontrunner of a quarterback and his trio of future professional receivers in favor of the 5-foot-8 running back from right down the road.
"You never know when it's going to be your time," running back Clyde Edwards-Helaire smiled.
Trailing 13-10 in the third quarter, LSU took over at the Auburn 45 yards line. LSU's past two possessions had died inside the Auburn 5-yard line with a turnover on downs and an interception, but Ed Orgeron and Co. felt like they'd at least worn down the ferocious Auburn defensive front.
Edwards-Helaire broke free for a 22-yard run to get the drive going. LSU went right back to him and he rumbled for 12 more yards to set up first down at the 11. Two runs later Edwards-Helaire found the end zone to put LSU ahead for good.
"It's a special moment," Edwards-Helaire said. "And understanding the time in the game it was and the score, it's a moment I grew up always wanting."
"He made some key plays," Orgeron added. "He made some key first downs. It was kind of tough sledding with the passing game … Clyde enabled us to run the football. He made a difference."
The off-tackle running game with Edwards-Helaire seemingly opened up everything else for the LSU offense in its 23-20 win over Auburn at Tiger Stadium on Saturday afternoon. The victory propelled LSU to 8-0 and sets up a showdown at Alabama in two weeks with SEC supremacy on the line.
Auburn gummed up the works for LSU's passing game in a way no other defense had been able to this season. LSU countered with a heavy dose of Edwards-Helaire, which served both to move the ball and wear out the defense with a blend of tempo and physicality.
The junior tailback carried 26 times for 131 yards and that go-ahead score. He also chipped in with seven catches on nine targets for an additional 51 yards in the passing game.
Turning 33 touches into 187 scrimmage yards is workhorse material no matter how you slice it. And Edwards-Helaire did it with a highlight reel worth of jukes, spin moves and jump cuts along the way.
"It's a big thing for me, especially being from here and understanding I have a lot of people in the stands — mom, day and everybody," Edwards-Helaire said. "Being able to take over a game like this is something special."
Heading into the season, most expected Edwards-Helaire to wind up in a timeshare with highly-touted freshmen Tyrion Davis-Price and John Emery. The veteran fielded more questions in fall camp about his young understudies than about his own ascent to the top of the depth chart.
Orgeron frequently talked about getting Davis-Price and Emery more involved as the running game struggled to find traction in the early portion of the season. All the while he remained steadfast that Edwards-Helaire was his lead dog.
Edwards-Helaire maintained that it was all a matter of the way teams were defending LSU. Nobody knew how good the passing game would be, so they were still selling out to stop the run. After all, that's how you stop LSU.
Points are points, Edwards-Helaire would say, but the running game would have its day. As defenses adjusted, so too would LSU.
It's no coincidence that his two most productive games to date have come against the best two defenses on the schedule. Edwards-Helaire rushed for 134 yards and two scores against Florida and backed it up with 136 against Auburn. His only other 100-yard game came against Vanderbilt.
Florida and Auburn kept the box light and essentially dared LSU to run the ball on them. Edwards-Helaire and his blockers obliged.
"Clyde expanded our offense today," wide receiver Ja'Marr Chase said. "Either they could stuff the box or they play off us. So Clyde did a great job today."
"He opened it up a lot," fellow receiver Justin Jefferson added. "They was dropping a lot of DBs and only rushing their front four. Clyde is definitely a great back, and he did his thing tonight."
The breakout performances may have been surprising to the opposing defenses or fans in the stands, but not to LSU.
They'd seen it in practice going back to the fall. The defenders who'd had to tackle him in practice knew how slippery he could be in the open field. John Robinson, a consultant to Orgeron, likens Edwards-Helaire to some of the all-time great backs he'd coached at USC.
There had been glimpses of that game-breaking ability throughout his LSU career. But against Florida and Auburn, two defenses that LSU needed balance to defeat, it put the ball in the hands of Edwards-Helaire and let him show the world what he could do.
"Having those guys look at you in the huddle and say, 'Hey, we see it every day at practice. We know what you can do. Just show everybody else,'" Edwards-Helaire said. "Being able to have those guys in my corner, guys I'd literally go to war with — guys I fought through hell with in fall camp — having those guys in my corner, you feel unstoppable. That was me having my day."
After the win Orgeron talked a lot about balance. The important of playing complementary football between offense and defense, or the balance between pass and run. It wasn't pretty, but LSU found that balance against Auburn.
Opposing defenses will still probably elect to drop back and make LSU run the ball as opposed to letting Burrow and Co. fire at will.
Now they'll just have to do so knowing full well that LSU has a star running back capable of making them pay for that decision.