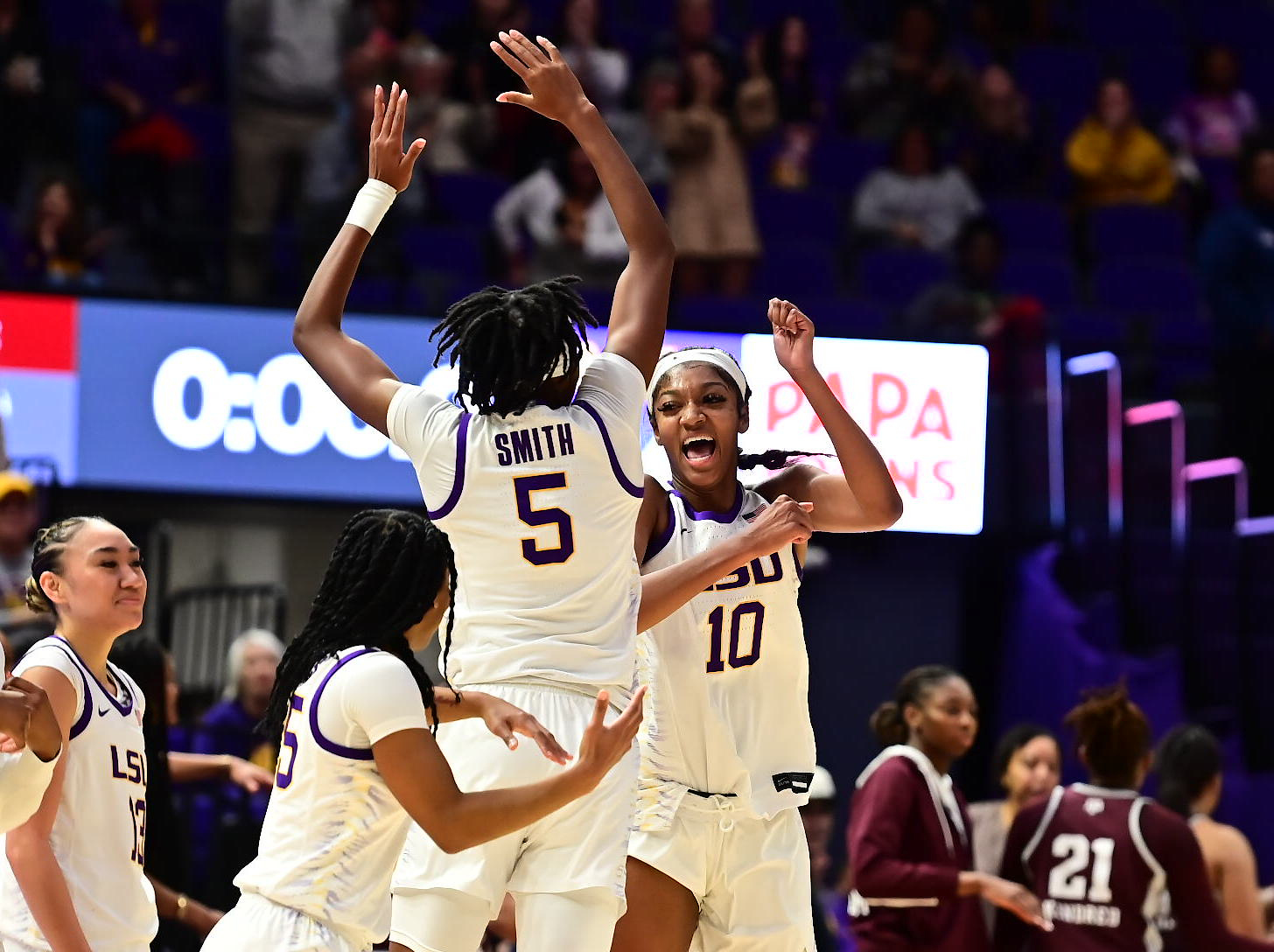 Angel Reese's first 3-pointer of the season won't soon be forgotten. Neither will her conquering of a 45-year-old school record.
LSU's interior force Reese, who struggled in the early stages of first quarter of Thursday's game with Texas A&M, made a steal at midcourt, gained possession two steps later and swished a 40-footer at the halftime buzzer. By that time the Maryland transfer already had her 15th consecutive double-double and wound up with 26 points, and set a school record with 28 rebounds in a 74-34 victory over the Aggies in Southeastern Conference before a crowd of 6,549 at the Pete Maravich Assembly Center.
"We came out slow in the first half but being able to come out in the second half, we brought some better energy and intensity and that went from our offense to our defense," Reese said. "I'm just happy that we won."
LSU (15-0, 3-0 in SEC) overcame a slow start to match the school's best start since the Tigers were led by freshman Seimone Augustus in the 2002-03 season. It was the Tigers' third consecutive win over the Aggies and the largest margin of victory in their 35-game series dating to 1979.
"There are a things we have got to fix," LSU coach Kim Mulkey said. "How we start the game and how we finish the game. The second and third quarters were fine. How we start the game and finish the game is not good. We are more talented than the last two opponents so you can slop around and win those games but that doesn't win you championships. That doesn't allow you to become an elite program and it starts with leadership."
Reese, the nation's sixth-leading scorer, paced LSU in scoring and surpassed the previous school record of 27 rebounds by Maree Jackson in the last four minutes of play. Her putback and three-point play with 4:11 remaining provided a 68-26 lead and enabled her to tie the mark which Jackson last accomplished in 1978.
Reese surpassed the school mark with her 16th defensive rebound with 2:35 to play, prompting Mulkey to call a timeout and substitute her for Amani Bartlett.
"A lot of great players have come before me," Reese said. "On the 15th, Seimone Augustus has a statute going up. I want to be like that. I want to set records. I want a statue one day. Being able to look up like that, players like Sylvia Fowles, I love to be able to be in those columns. I'm just grateful and blessed to be in the situation that I'm in."
Freshman guard Flau'jae Johnson, the SEC's Freshman of the Week, scored 18 points and had five rebounds and guard Last-Tear Pao had 10, including 8 of 8 from the free throw line.
LSU twice led by as many as 46 points, the latter coming with 1:56 left on Kateri Poole's two free frows to make it 74-28.
Texas A&M (5-8, 0-3) lost its fourth in a row and seventh in its last eight games. The Aggies, who didn't have a starter averaging double figures, were led by Sydney Bowles' 11 points.
A&M, which was limited to seven healthy players, was outrebounded 58-37 and limited to 21.2% shooting (14 of 66) and were just 2 of 22 from 3-point range.
LSU opened the third quarter with the first nine points for a 43-12 lead on a second chance 3-pointer by Johnson from the corner. The Tigers twice extended their lead to 30 points and scored the last 10 points of the quarter to make it 60-21 after Poa's two free throws.
Reese produced a double-double in the second quarter alone with 11 points and 10 rebounds, sparking her team's 50% shooting (8 of 16) and a 26-6 scoring blitz that resulted in a 34-12 halftime cushion.
"Her motor," A&M coach Joni Taylor said of Reese. "Every time she's on the floor she's going hard. It's fun to watch her."
The Tigers, which limited the Aggies to 14% (2 of 14) shooting, gained separation midway through the quarter with a 14-1 spurt that Reese capped with a free throw at the 5:56 mark.
Reese scored nine of her team's last 13 points of the half with LaDazhia Williams adding a putback and Poa a pair of free throws. That set the stage for Reese's highlight-reel final shot which came after she stripped A&M's Kay Kay Green.
Mulkey benched three of her starters – including Reese and senior guard Alexis Morris – in the first three minutes of the game and reserve Sa'Myah Smith provided energy off the bench with three blocked shots.
Both teams shot 17% (3 of 17) from the field with Reese giving LSU an 8-4 lead on a putback. It was the Tigers' lowest scoring opening quarter of the season.
"I started the game really slow and that starts in practice," Reese said. "I've been missing some layups in practice, and I missed some layups in the game. Coming out in the second half I was trying to be more focused and being able to hit some shots and make some layups. I was kind of in my head to keep going, keep going."