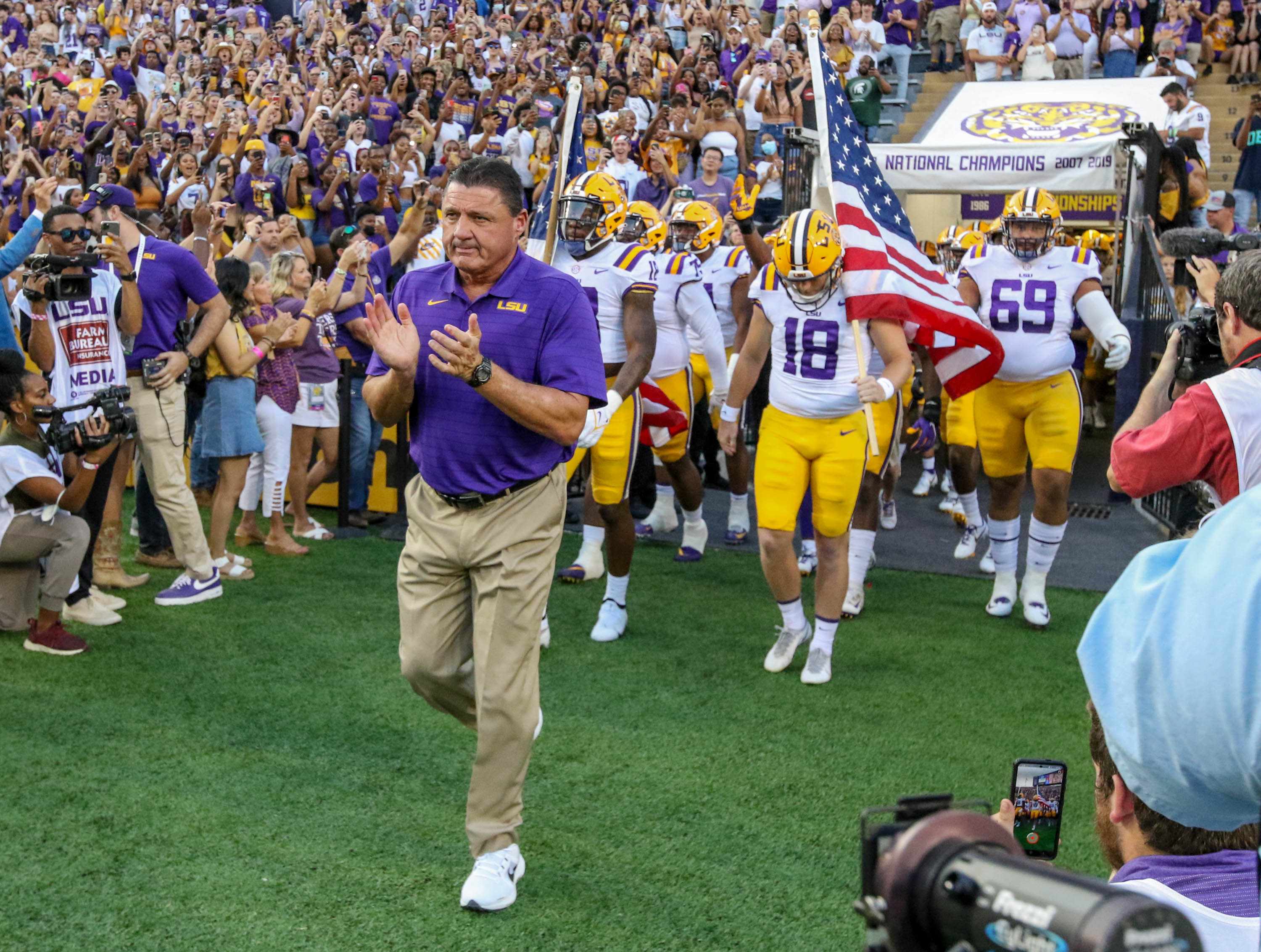 With LSU closing in on the start of Southeastern Conference play next week at Mississippi State, the Tigers have one final opportunity to shore up several areas of their team after a 1-1 start going into Saturday's home game vs. Central Michigan at 6:30 p.m..
One area that's grown into a talking point this week has been the Tigers ability to push the pace of the game offensively and play at a faster tempo with the hopes of getting quarterback Max Johnson into a better rhythm and eventually wearing down opposing defenses.
"I think we made some improvement in it," LSU head football coach Ed Orgeron said during his weekly Thursday news conference. "You're going to see it this week. You're going to see it at opportune times. It's going to be part of our package and we're going to use it more and that's not just for this week. As we grow in it, we're doing to it more. You'll see it some this week and I think we're going to be ready for it. I don't know what part of the game you're going to see it and then we're going to expound on it as the season goes on."
LSU's injury situation improved over the course of the week with the Tigers expected to regain the services of offensive lineman Austin Deculus and Chasen Hines, Orgeron said.
"We have our starting offensive line minus Cam Wire," he said. "That's the first time we've had those guys for a while and we're very pleased with that."
Orgeron also said that freshman running back Armoni Goodwin will not play because of an injury while sophomore cornerback Dwight McGlothern, who hasn't played this season, has been upgraded to questionable this week.
Here's what else Orgeron had to say:
Opening statement
"We've had a tremendous week of practice. Thought our guys were really focused on the task at hand and getting better on some of the things that we identified on Monday that we didn't do well on in the game. Our coaches did a great job of motivating our team this week. We had a very spirited practice all week. We're getting a lot of our guys back. We're ready to go."
On Central Michigan's running game
"No. 1 (they have) different formations, motions and shifts which gave us problems in the first game. We have to make sure we have that solidified. The motions and shifts cause maybe some confusion on which gap you may have. We've got to make sure we cover that. We worked very hard on doing that. When we have the gap, we have to make the tackle and knock them back. (CMU's) Lew Nichols has made most guys miss after the first tackle. His yards after contact are phenomenal. The offensive line does a good job with a zone and gap scheme and formation. We're going to get it all. We know we're going to get everything that we've seen that's hurt us. We're prepared for us."
On Cade York and the possibility of him going to the NFL after this year
"I do believe that but obviously he has to kick off and I think he can kick off. He has to do two things according to (special teams) coach (Greg) Mac (McMahon). I do believe he has a bright future, but I felt the same about Cole (Tracey) and Cole's not kicking right now. I think if anybody wanted a great kicker, they could have him. With the limited roster you have to do two things and I think Cade could do it."
On offensive coordinator Jake Peetz working with the running backs this week
"He's done a great job of coaching running backs, he's helping us with the running backs. We were able to have an analyst move into a full-time spot because Kevin (Faulk) was out with an emergency. Jorge Munoz is an experienced coach, has been an offensive coordinator and has helped us in that area."
On any similarities between the offensive backgrounds of Central Michigan's Jim McElwain and Oregon's Chip Kelly
"Very similar. I know he's going to see that stuff of film and he's going to see if we've fixed it. That's why we've been practicing. There's a lot of shifts and formations. He's an experienced coach. He knows how to get you in difficult formations that will maybe get out of your gap and make explosive plays available. We need to be very sound in what we're doing."
On the week of preparation
"I think our coaches have done a good job of motivating our team. I've seen more guys in the office studying on their own. We've had some spirited practices. Most of the practices have been inside because of the weather. We think that may have helped because we weren't in the heat out there. The guys are really working hard at the task at hand. They know the things we have to fix. They feel a sense urgency, so do I, about us getting better in a hurry. There are some things I think we're going to fix this week. I think you're going to see a big improvement."
On Central Michigan's secondary
"(They play) A lot of Cover 4, lot of press, good four-man rush. They're in the right spot at the right time. They're not giving up many explosive plays, only 17 points per game. I think they're doing a good job of playing sound defense. I do expect they're going to see somethings on film blitz-wise that have hurt us with some formations and we're probably going to see them again. They have a great defensive coordinator (Robb Akey). I know he's going to look at the tape and make sure that we fix it. There's going to be somethings they are going to show us that are challenging, and we better be ready for it."
On a timetable for Glen Logan's return
"Glen ran today for the first time. He's out of his boot. I'm guessing another two-three weeks."
On an updated timetable for Myles Brennan's return
"I haven't talked to Beau (Lowery) about it. I haven't talked to Myles about it. I'm thinking open date before Alabama, maybe. That should be around the time we get him back."
On the challenge Central Michigan QB Jacob Sirmon presents
"We can't give him a lot of time to throw. He's very accurate, very smart, has some great receivers. They run challenging routes. We're going to have to get to him with a four-man rush and give him some pressure and keep him in the pocket. That's going to be the key to the game. Can our corners cover man to man, which I think they can? Lock them up. Lock up their best receivers and get a great rush. That should be our plan most of the year."