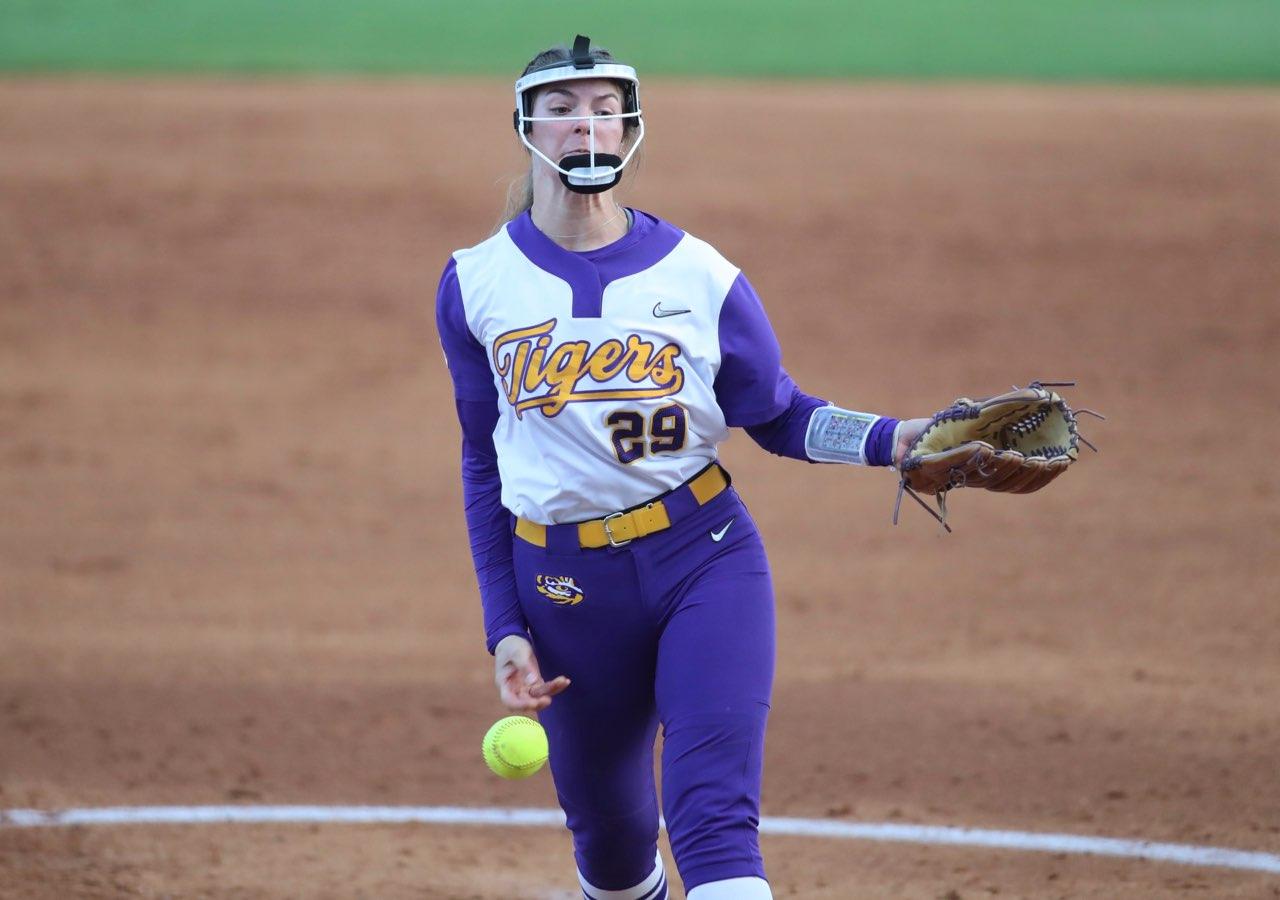 LSU freshman pitcher Sydney Berzon heard the chatter.
Just how would someone so young be able to impact the Tigers' pitching staff in her first season? Would she ever leave the bullpen for meaningful opportunities?
Berzon has delivered affirmative answers to both, where the native of Buffalo, New York, has been arguably LSU's most consistent starter and dependable pitcher going this week's Southeastern Conference matchup with Missouri at Tiger Park.
The three-game series begins at noon Thursday on the SEC Network. It continues at 6 p.m. Friday and concludes at 1 p.m. Saturday.
"Hearing that, I wanted to go in and do as much as I possibly could to be a player that gets innings as a freshman, and help the team win these games," Berzon said during a March 29 interview. "Once I committed, I set that as a goal of mine."
LSU softball coach Beth Torina traced Berzon's impact to the fall where the two-time All-America selection and Gatorade Player of the Year in Tennessee (she attended boarding school at Baylor High) turned heads. Her 70-miles-per-hour heat, and an assortment of secondary pitches, left her teammates gasping at the plate.
"She's extremely talented," Torina said. "For a freshman to do what she has done, with the consistency she's found, is really incredible. I think we knew that we had a special talent from the beginning when we signed her, and she's lived up to all of that hype and probably a little bit more for us."
Berzon doesn't look the part of first-time college freshman. At 6-feet tall, the right-hander casts an imposing figure and her ability to complement a blazing fastball with a variety of pitches in which she changes speeds and planes, has created a puzzle the opposition has yet to consistently figure out.
She ranks among the SEC's top 10 pitchers in victories (11) – tied for sixth – saves (3) – tied for third – earned run average (1.46) – eighth – and innings pitched with 81.1 – ninth.
"I'm not a big numbers person," Berzon said. "Even if I wasn't starting all of the time, just to get in there and get some experience to build off of that in following years. What I've gotten this far I'm extremely grateful and being able to be a part of so many innings this year.
"This is right for me," Berzon added. "I should be here. I can do it. Everyone knows I can do it. Having the support of my team and the coaching staff has allowed me to fully be confident in myself."
Berzon's appeared in 18 games, matching that of graduate student Ali Kilponen, but it's been her versatility – the ability to alternate between starting and relieving – that's made her an invaluable member of this year's pitching staff.
The first big opportunity came for Berzon on Feb. 17 in the Tiger Classic when Pac 12 Conference member Utah and LSU were tied 3-3 after four innings. She came in and held the Utes to one run over 3.1 innings in a game the Tigers won on Taylor Pleasants' three-run homer in the seventh.
Berzon also saved LSU's second outing against Utah (2-1 win) with 2.2 innings of one-hit relief. She's had three relief outings that helped produce two wins, including an outing of 6.1 innings that enabled the Tigers to rally for a 6-5 win over Loyola-Marymount on March 3.
Berzon was sterling in a 3-0 three-hit shutout win with eight strikeouts against Minnesota, and followed up her first subpar outings in losses to South Carolina and Tennessee, with consecutive wins over Ole Miss (5-0, 2-1) to earn SEC Pitcher of the Week honors.
"I've definitely developed as the season's gone on in those situations," Berzon said of her relief appearances. "In the beginning it was, 'Oh my goodness. I've got make sure I get in there and calm it down'. Getting that experience has helped me with starting games. The confidence, the trust the team has in me helps tremendously."