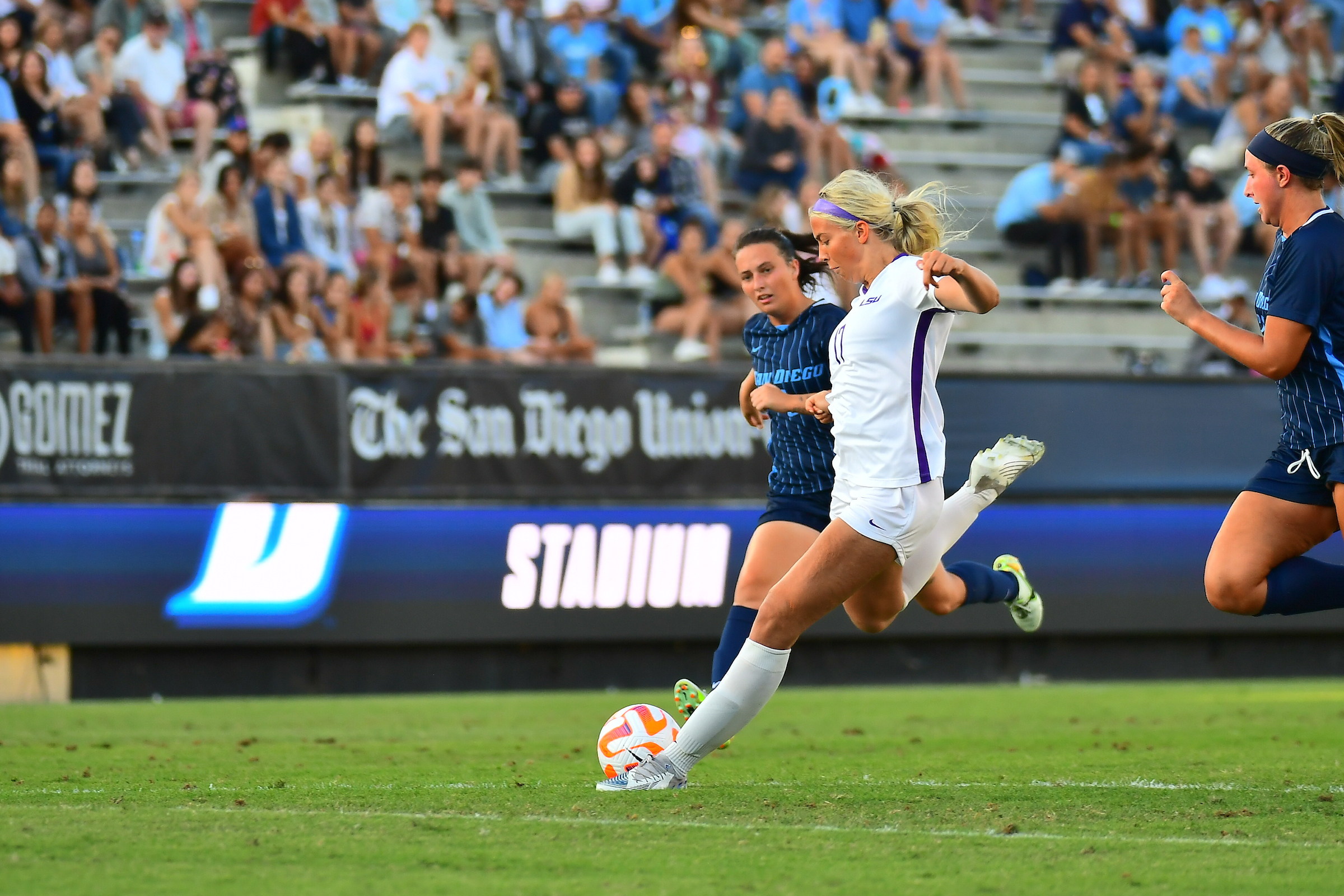 LSU responded in a big way to conclude its two-game California road swing.
Three days after settling for a 1-1 draw at No. 14 Pepperdine, the Tigers took a 1-0 lead in the first half and extended that margin with three second-half goals for a 4-1 victory Sunday at the University of San Diego.
Freshman Sage Glover had a goal and an assist to lead LSU (2-0-2) with other goals coming from freshmen Ida Hermannsdottir and Raelyn Prince and fifth-year senior Alesia Garcia.
"It was really good to come to San Diego and come away with a big win, and obviously, we had a good tie last Thursday," LSU soccer coach Sian Hudson said in a university release. "I'm overall really pleased with the trip. It was great to get four different goal scorers on the score sheet, three of which were freshman. I think that says a lot about the future. It was great to see so many of our attackers on the scoresheet. Overall, I thought it was a professional performance."
Prince, freshman Angelina Thoreson and fifth-year senior Brenna McPartlan also added assists.
LSU dominated the game from beginning to end with a 14-8 advantage in shots taken and 7-1 in shots on goal.
Senior goalkeeper Mollee Swift, who allowed a goal on a corner in the 72nd minute, wasn't credited with a save.
Hermannsdottir scored her first career goal after taking a perfect through ball from Prince. She beat her defender at the top of 18 and sent a ground shot past San Diego goalie Sophine Kevorkian into the left side of the goal.
"Great finish by Ida Hermannsdottir for her first goal of the season," Hudson said. "I think that came at a critical moment for us when maybe the game was even at that point in time. She took the goal well," said Hudson.
Prince converted a long chip, taking one touch to get by a defender and beat Kevorkian with a ground shot from just inside the 18.
LSU, which led 2-0 at Pepperdine before settling for a 2-2 tie, surrendered a goal on a header off a corner. The Tigers were able to answer with two goals in a nine-minute stretch when Glover perfectly sent a cross from Thoreson into the right corner of the goal at the 78th minute.
Garcia completed her team's scoring in the 87th minute, chasing down a long ball that was started by a goal kick from Swift. She rounded Kevorkian who came off her line and scored with a 10-yard shot.
LSU returns to action Sept. 2 at home at 6 p.m. against Grambling State.