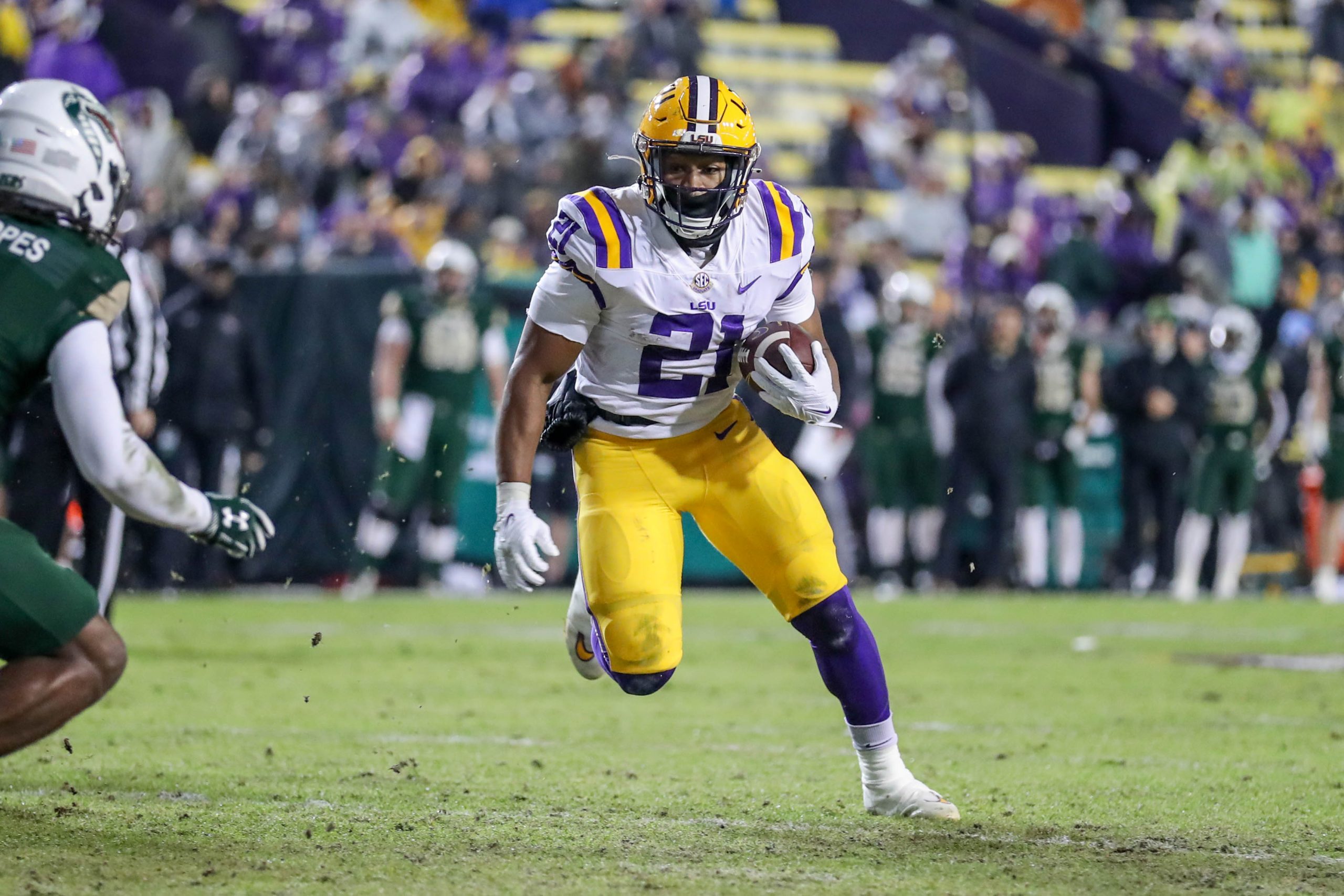 LSU's running back-by-committee grew in members for the 2023 season.
The Tigers were already scheduled to return their top five ground gainers from last season, led by quarterback Jayden Daniels, when they got busy in the NCAA transfer portal this offseason.
That followed a successful showing during the NCAA's early signing period with the signing of the state's career rushing leader Trey Holly of Union Parish and local talent, Kaleb Jackson of Liberty Magnet.
When LSU arrived for the start of fall camp, they did so with eight scholarship running backs that included transfer Logan Diggs of Notre Dame along with the return Tre' Bradford.
The biggest mystery of the offseason gained clarity in July when second-year coach Brian Kelly said he expected fifth-year senior John Emery Jr. to be part of this year's team. He joined the Tigers for the start of fall camp on Aug. 3 after missing all the 2021 season and this past spring practice because of academics.
"We like his versatility," Kelly said of Diggs, whom he recruited and signed for Notre Dame out of Archbishop Rummel High in New Orleans. "He played really well at Notre Dame when he was given the opportunity. He was a little bit limited with a hamstring last year. But he's a very talented player in all areas. Very smart. He can play on all three downs. He's tough. He's physical. He's a big back with speed, vision."
LSU averaged 183.9 yards per game rushing and 5.0 yards per carry in 2022. The Tigers also rushed for a school-record 39 touchdowns, 11 of which belonged to Daniels, who established a school record with 885 rushing yards.
LSU's next most productive running backs were Josh Williams and Noah Cain who averaged 48.4 and 29.2 yards per game, respectively.
They were both in the mold of what Kelly likes in his running backs: able to run, catch out of the backfield and pass protect. Those were also endearing traits that made Diggs so valuable along with the return of Emery. Oft-injured Armoni Goodwin is also returning from an injury that kept him out of spring practice.
Williams was also slowed by a knee injury that cost him three games and required offseason surgery. He carried 97 times for a career-high 532 yard and six touchdowns to go with a career-best 21 receptions for 132 yards. His first career 100-yard game (106 yards on 14 carries) came in a 45-35 victory at Florida. He's gained 727 yards and rushed for 6 TDs in his career.
"That was a big deal for me," Williams said of receiving the game ball from Kelly. "It was the first time I ever actually noticed that I actually had some accomplishments."
Cain played in all 14 games and increased his career rushing total (including his first three years at Penn State) to 1,215 yards and 22 TDs. He rushed 76 times for 409 yards and a team-best (among running backs) 10 TDs last season.
Emery appeared in 11 games a year ago with 76 rushes for 379 yards and 6 TDs. He also caught 13 passes for 129 yards and a pair of scores.
Goodwin, who missed time in 2021 with an ankle injury, was limited to seven games last season and was forced to miss spring following surgery. He had 45 attempts for 267 yards and 5 TDs.
Kelly was able to capitalize on his existing relationship from Notre Dame with Diggs who was also looking for an avenue back to his Louisiana roots.
Diggs found that in LSU where Kelly's moving into his second season after guiding the Tigers to a 10-4 record and SEC Western Division title in 2022.
By the time the season's evolved Diggs may contend for top billing in the team's backfield with his blend of size, strength and power. He started in eight of 12 games last season for the Irish, gaining 822 yards on 165 carries and scoring four touchdowns to go with 10 catches for 211 and two scores.
Diggs, who rushed for 1,052 yards in two years for Notre Dame, enjoyed three games with 100-plus yards in '22 with a career-best 28 carries for 130 yards in a 44-21 win over UNLV. He added 100-yard rushing games against Clemson (17-114) and Boston College (15-122).
Holly set the state's five-year career rushing record with 10,523 yards and 160 touchdowns. An early enrollee, he took part in spring practice and with a limited number of running backs available in the spring game, led all rushers with 26 yards on eight carries and caught two passes for 19 yards and a TD. Jackson, who missed the majority of his senior season because of an ankle injury, led Liberty with 2,031 yards and 29 TDs in '21.
"It just adds to that room with experience, and that's kind of what we were looking for," Kelly said of Diggs.