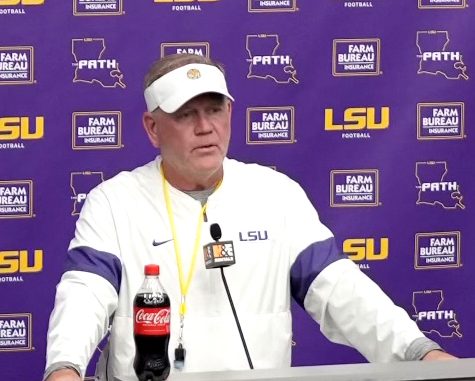 The memory of that superlative season for LSU football in 2019 is still fresh. Tiger fans are still living off the fumes of a year where LSU won nearly every major individual award along with the big enchilada.
The seeds for that dream season were planted the year before with a 10-3 finish, capped by a big bowl victory and a returning starting quarterback among a host of draft eligible players making a U-turn rather than an exit.
That sounds strikingly similar to the 2022 season minus the West Division title the Tigers surprisingly won, and it's the reason LSU is more than just a dark horse for a fifth natty.
The odds are against LSU ever having another 2019 in terms of dominance and even going unbeaten. But you don't have to do either to win the College Football Playoff title and at least in the minds of preseason prognosticators, LSU is squarely in the conversation.
Only three teams garnered more than five voting points for an SEC title at SEC media days in July: Georgia and Alabama, along with LSU. The Bulldogs are far and away the favorite to repeat as SEC champs and aim for an unprecedented third consecutive national title.
Alabama was picked to win the Western Division in the final season before Oklahoma and Texas join the fold, but LSU was a serious second by only 61 voting points. The Tide got 165 first-place votes to 117 for LSU, and it wasn't nearly that close in 2019.
With all the returning talent, including 8 offensive starters, and Brian Kelly's staff in their second season, expect LSU to come out hot, at least hotter than last year when it stumbled through a season-opening loss to Florida State while nearly winning it.
"Where we are in year two is that we have a football team that's coming," Kelly told the media on July 17. "They're moving in the right direction. We still have some weaknesses that we're working on. We still have some roster development that still needs to take place.
"We're excited about what we've done in a very short period of time. The foundation of success is built-in consistency. Alabama and Georgia continue to hold that mantle of consistency in terms of playing for championships, and that's what we'll be looking to be at LSU, is playing for championships consistently, year in and year out. You don't do it by just being a one-and-done. You've got to be able to do that over a period of time, and that's really the transition from year one to year two."
Coaches like to talk about teams improving the most from game 1 to game 2 and the same goes for programs entering the second year with a new coach.
Kelly built a good enough team culture that players who could have left for the NFL Draft were encouraged by teammates to return, most notably quarterback Jayden Daniels.
It says a lot for LSU's chances that Daniels was voted pre-season first team All-SEC. Joe Burrow didn't even scratch as much as a third-team spot in 2019. Daniels showed vast improvement in the second half of 2022 and spent the summer honing his skills. If he becomes more aggressive throwing the ball downfield without adding much to his low turnover numbers (six), he could approach, if not equal, Burrow's Heisman season.
Daniels is clearly the SEC's best returning quarterback, which means a lot. Alabama is starting over there and will have to replace lots of other key players on both sides of the ball. Georgia's pressure to three-peat will bring enormous pressure on its new starting quarterback.
Defensively questions for LSU go to the secondary, which is a scary thought in today's pass-oriented offenses. But the front seven is as good as any in the league. If Maason Smith returns to form at defensive tackle and Harold Perkins Jr. develops alongside Oregon State transfer linebacker Omar Speights, it could make up for a defensive backfield likely to have cohesion difficulties, at least early on. The talent will be there with a modicum of experience. The more it plays together, the better it will be, and it won't face nearly as many experienced, top-rated quarterbacks as last season.
Like the secondary, the special teams will be an area of concern after some disastrous happenings. The Tigers made a season's worth of blunders in the opener against Florida State and kept making them through the season. Some reassignments on the staff show Kelly and staff putting a lot more energy and attention into raising the level of play. Having a much deeper, experienced roster will take care of some of the issues.
On the surface, the schedule looks a bit softer than '22.
LSU won't sneak up on anyone, but I don't see that as a big factor. Instead of Tennessee, the Tigers play at Missouri and although the Alabama series shifts to Tuscaloosa, Auburn, Florida and Texas A&M all come to Baton Rouge. Outside of Florida State and Alabama, LSU looks to be a favorite in the rest of its games.
High expectations from the opener onward will create instant energy when the season kicks off on Sept. 3 against Florida State. That should make Tiger Stadium an even more electric atmosphere than last season and tickets harder to get. Tailgating spots will also be at a premium.
Nobody saw the 15-0 dream season coming four years ago, although expectations were high. They're a lot higher this time. A lot of fans are going to be disappointed with anything less than a College Football Playoff spot and maybe that's not fair. But part of the reason is the lingering memory of 2019.
It's a nice problem to have.