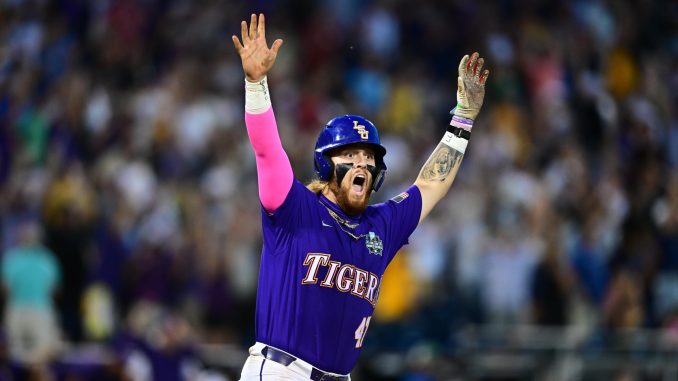 LSU's national championship baseball team will be part of the six-team Astros Foundation College Classic (formerly the Shriner's College Classic) on March 1-3, 2024 at Minute Maid Park in Houston.
The Tigers, who won their seventh national title on Monday with an 18-4 victory over Florida, will play single games each day at the home of the Houston Astros. It will mark the fifth appearance for the program in the event.
All nine games of the tournament will be carried live on television in the Astros' five-state viewing area and games will also be streamed online. Information on tickets and the official TV schedule will be released at a later date.
Coach Jay Johnson's team begins play on March 1 at 7 p.m. against the University of Texas, a future Southeastern Conference opponent. The Tigers continue the following day at 7 p.m. against UL-Lafayette and will wrap up play on March 3 at 3:05 against Texas State.
LSU completed a 54-17 season with a best-of-three series win over Florida.
The Tigers are expected to be led offensively next season by All-American third baseman Tommy White who hit .374 with a team-high 24 homers and 105 RBIs and freshman All-American Jared Jones who batted .304 with 14 homers and 45 RBIs. Expected to lead the team's pitching efforts next year will be starter Thatcher Hurd, the winning pitcher in the national championship game, and relievers Nate Ackenhausen, Riley Cooper, Gavin Guidry, Griffin Herring and starter/reliever Javen Coleman.
2024 Astros Foundation Classic
At Minute Maid Park, Houston
March 1
11:05 a.m. – Texas State vs. Houston
3:05 p.m. – UL-Lafayette vs. Vanderbilt
7:05 p.m. – LSU vs. Texas

March 2
11:05 a.m. – Texas State vs. Houston
3:05 p.m. – Texas State vs. Texas
7:05 p.m. – LSU vs. UL-Lafayette

March 3
11:05 a.m. – Texas vs. Vanderbilt
3:05 p.m. – LSU vs. Texas State
7:05 p.m. – Houston vs. UL-Lafayette